Maybe this really is the iPad era. Sales of tablets and e-readers surged over the holiday period, and almost a fifth of U.S. adults now own one of the devices, according to research by the Pew Internet and American Life Project.
Based on survey data collected in December 2011 and January of this year, the share of adults age 18 and older who own either device nearly doubled, month-over-month, growing from 10 percent to 19 percent.
That is a remarkable statistic. Apple first began selling the iPad, which gave life to the tablet market, only back in 2010.
Pew attributes that growth to the holiday gift-giving period, of course, but also to the fact that price points of the devices began to fall dramatically towards the end of last year. Amazon's Kindle Fire and Barnes & Noble's Nook Tablet were introduced at around $200, for example, representing a considerable saving versus Apple's $500 iPad 2. Meanwhile, basic e-readers including the Kindle, the Nook and others are now available for less than $100, too.
The rapid growth in sales of tablets and e-readers appears positive for the content-focused revenue models being pursued by Amazon and others, which essentially sees those companies selling hardware at cost in the hope that they can draw profit from the purchase of media and software to use with it.
Essential to that model, therefore, is the companies' ability to build a sizeable audience to which they can sell content. Judging by Pew's numbers, things look like they're on the right track.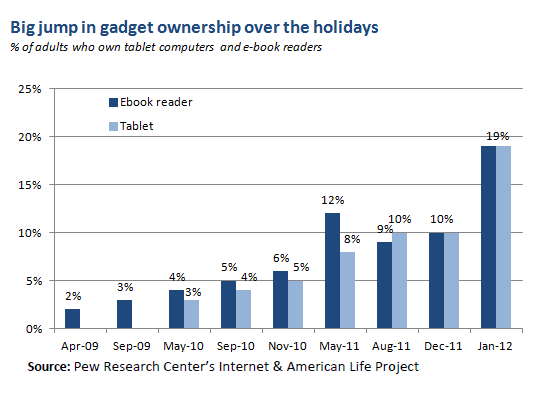 https://digiday.com/?p=5180