Here's how hot Hollywood is to make digital video a viable business: Zachary Quinto, former Heroes star and
Spock from the recent Star Trek
reboot, was practically begging advertisers to tell him what to do with his new proposed Web series. Speaking at the fourth annual NewFront event in New York, Quinto — in search of sponsors for his production company's series The Last Guy on Earth — did everything short of hold up a sign that read Will Change The Plot for Ad Dollars.
After showing a clip for Last Guy, a comedic look at a guy trying to bed a blind date following a nuclear holocaust, Quinto told the NewFront audience that he'd be willing to change just about  anything, including character traits, setting and storyline of the show in order to make the show work for a brand or a slew of brands.
The NewFront is an example of how hot Hollywood has become for Web video. The choice to do a Web series was, not long ago, somewhat eccentric. Plenty turned their noses up at Will Ferrell's Funny or Die project. But now, high-powered stars see the Web as a viable way to get out of the Hollywood trap, where they exert little control and ownership over their endeavors.
While the potential is there, few Web series have become hits. That isn't detering stars that came to the Digitas event in the hopes of wooing advertisers.Quino, for instance, is eager to play ball with brands. i
The show, he said, "could be manipulated to needs of many brands … one idea is for the guy to be much more extreme."
So, changing the main character is on the table — or even the show's setting or premise. Dodson said that one idea the team had kicked around for Last Guy is that instead of everything on earth having been destroyed, the world could simply have been emptied of people, with all things — particularly brands and products — having been left intact. The male lead may then, for example, be sent on a quest to find the last unexpired yogurt on earth for his date.
Beside malleability, Quinto and Dodson said they envision The Last Guy on Earth to be interactive — perhaps highly interactive. "The audience could help us guide him," said Quinto, echoing a similar concept for the Digital Broadcast Group series
Control TV
, which is approaching its second season.
Last Guy was one of several Web series concepts presented at Thursday's New Front, which is hosted annually by Digitas. Among the more intriguing projects were a pair of scripted shows from
Vuguru, the Michael Eisner-founded company
responsible for several early online originals, including
Prom Queen
.
Also from Vuguru is Little Women, Big Cars, a scripted series about four moms of different personality types. According to Kristen Jones, Vuguru's chief creative officer, Little Women is currently seeking distributors, with AOL in the mix. Both shows could also end up on TV or DVD in the U.S. and international markets.
Why is Vuguru confident that the marketplace is ready for scripted series? "Digtial is definitely established now as that third platform," she said. "And scripted is going to be a big part of that. In the past I think there was some confusion in the market, and the market moved toward talk and reality. But at the end of the day it's all about quality. We are really aiming high."
One clip that aimed for and achieved major laughs from the NewFront crowd was Funny or Die's Stiller and Meara. That show, produced by Ben Stiller's company Red Hour, featured the classic comic husband and wife duo opining on subjects ranging from Jersey Shore to Justin Bieber.
Other shows seeking advertiser attention (though not nearly as overtly as Quinto) were Alloy Entertainment's The Blame Game, which blends elements of procedural crime shows with sitcoms, and The Collective's Video Game Academy, which was described in a promotional reel as "Harry Potter Meets Glee, but with death matches instead of Madonna covers."
Besides video pitches, several recognizable stars and media executives showed their faces at the New Front, including Clive Davis, Tori Spelling, Jane Pratt and Tyra Banks. Demi Moore was on hand early in the day promoting a Lifetime series, The Conversation, which is based on a Web talk show.
"I'm repulsed by online ads," Kutcher said as he kicked off. "I have never purposefully clicked on a banner ad, and whenever I do I'm just irritated. But some marketers break that mold by developing really exceptional content."
https://digiday.com/?p=4343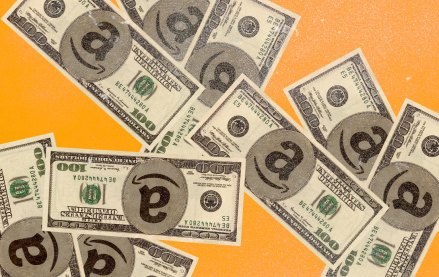 September 27, 2023 • 6 min read
The agency accused the e-commerce giant of conducting a range of anticompetitive behaviors that hurt both shoppers and sellers.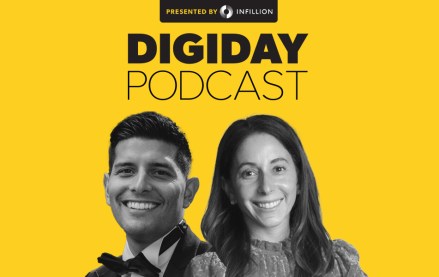 September 26, 2023 • 3 min read
In a live recording during the Digiday Publishing Summit, the news executives called for more nuanced conversations with advertisers around their brand safety concerns.
September 26, 2023 • 4 min read
After investing in one generative AI startup and suing another, the company will let customers create images on its website and an API.