5 charts: The shifting landscape of digital video consumption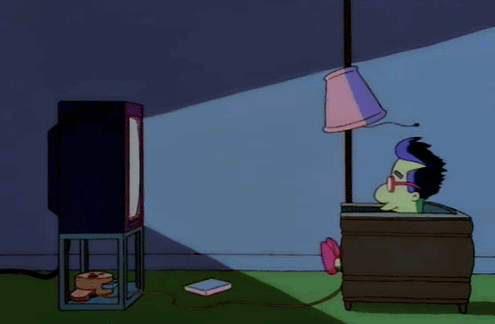 Mobile, we've been told by publishers and consumers alike, is the future. But that shift to mobile brings with it another trend: a seismic shift in the way video is consumed. As more people have access to their own personal viewing devices, they're using them to consume all content — including video — at an increasing rate. This has not escaped the attention of advertisers, who are eager to chase video consumption trends in an effort to reach new audiences.
Here, then, is how video-consumption trends look today.
Online video viewing continues to climb, but TV is far from dead.
A report from Nielsen this week found that Americans aged 18 to 64 have doubled their digital video viewing from 13 minutes a day in the second quarter of 2012 to roughly 27 minutes today. A caveat: Digital viewing is, on the whole, still dwarfed by television, which is still dominating upwards of 4.5 hours of people's days.
As expected, much of this increase can be attributed to mobile, where mobile pageviews have increased 81 percent compared to the same time last year, according to KPCB analyst Mary Meeker's 2014 Internet Trends report. What's more, mobile now accounts for 22 percent of overall digital video consumption.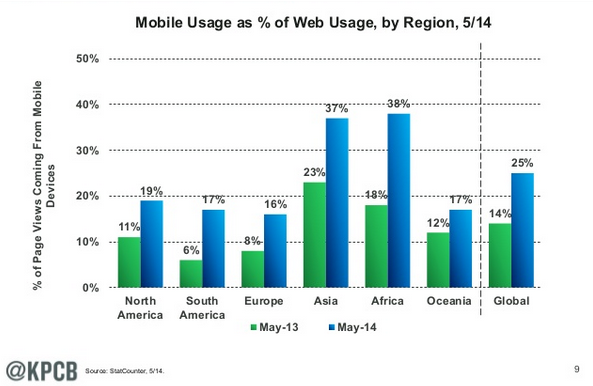 Mobile video is fueled by the young, but older folks are catching up.
There are also some notable shifts among specific demographics. While people aged 50 to 64 were watching 11 minutes of digital video a day at this point last year, today that number is closer to 19 minutes. At the same time, adults have slightly cut back their time in front of traditional TV to 6 hours and 12 minutes a day.
"The fact that we are seeing these year-over-year increases of digital video viewing among older viewers means they, too, are adapting and adopting to new technology much like their younger counterparts," said Dounia Turrill, svp of Insights at Nielsen.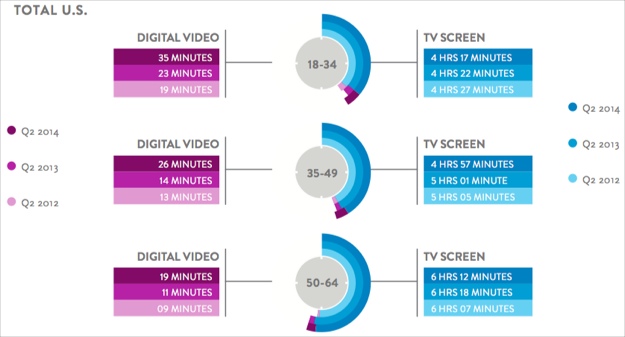 Mobile video means shorter video.
Mobile video viewing lends itself to the short and snackable. Over 60 percent of overall ad views are for video less than 20 minutes, according to data from video ad platform FreeWheel.
These trends are affecting even Netflix, which is also learning what its users want while on mobile devices. Netflix design manager Dantley Davis said at a press event last week that nearly 90 percent of the service's mobile sessions last less then 10 minutes. This stands in spite of the fact that the shortest Netflix content tends to hover around 22 minutes. As a result, the streaming giant plans to slice up its movie and TV content into five-minute clips that mobile viewers would find more digestible.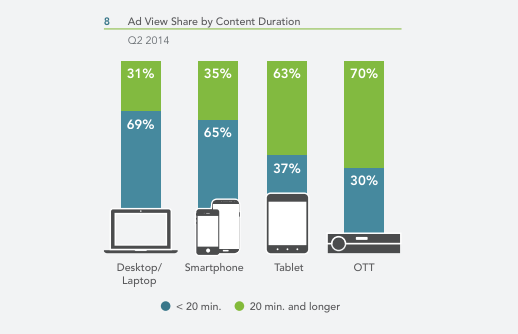 Larger mobile screens are helping to boost mobile video consumption.
A good rule of thumb is that the bigger the mobile screen, the more video people are watching on it. Data from NPD group, for example, found that Wi-Fi and cellular data consumption on smartphones with screens larger than 4.5 inches was 44 percent greater than that on smaller phones. This sentiment was echoed in a recent poll from Strategy Analytics, which found that 42 percent of phone owners would watch more videos on phones with larger screens.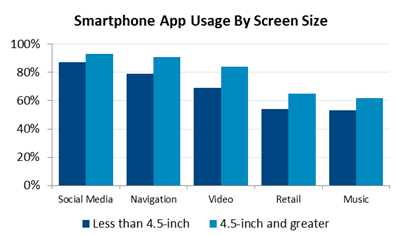 The result: Digital ad spending is growing, but TV spending is growing more.
The rapid rise in mobile video consumption means that the mobile video ads are rising just as quickly. Video ad revenue is expected to climb from $5.96 billion this year to $12.71 billion in 2016, according to eMarketer. Again, that spending is still far outpaced by the growth in TV spending, which echoes the overall disparity in digital viewership compared to TV.
https://digiday.com/?p=87277