'Scale for scale's sake is almost meaningless': Axios CEO Jim VandeHei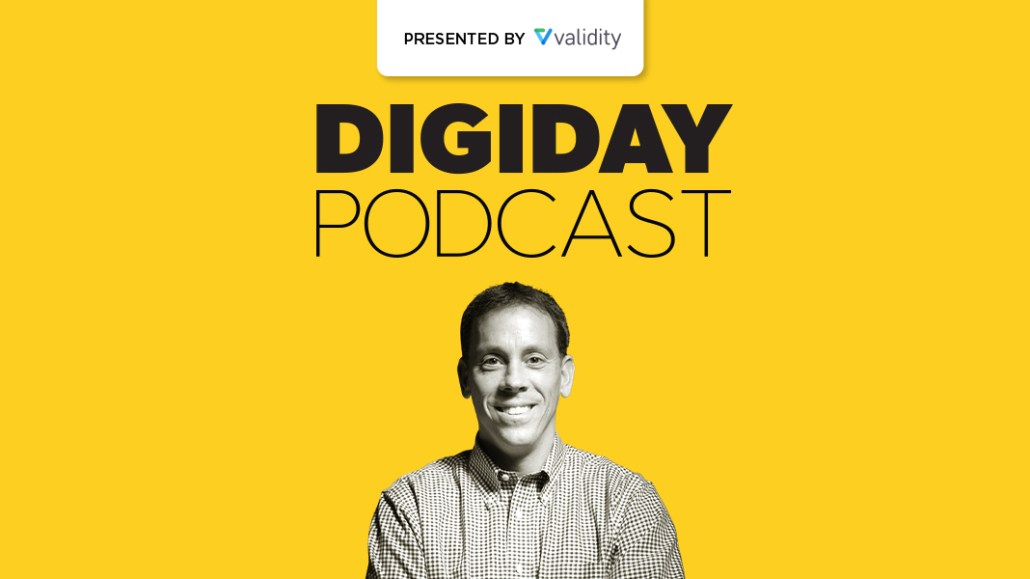 Subscribe: Apple Podcasts | Stitcher | Google Play | Spotify
For Axios CEO Jim VandeHei, the unquenchable firehose of outrageous news from the Trump White House — and the 2020 presidential election in general — is a distraction.
"My hope is we do very little coverage or analysis after the next debate if there's nothing substantive to say," VandeHei said on the Digiday Podcast (a few days before the president's coronavirus diagnosis would put future debates into question).
He added that Axios won't be "made or broken by whether Trump wins or loses" in November.
For him, the major stories of the 21st century include artificial intelligence, climate change and China's actions on those issues — and in the world at large.
And Axios seems to be proving there is in fact a market for the concise coverage it provides on those issues and more. The company will make a small profit for the third year in a row, VandeHei said. For 2020, he forecasts revenue above the Wall Street Journal's recent estimate of $58 million.
That has made an optimistic CEO out of VandeHei, which is new. "I've been a pessimist about a lot of media for a long time," he said. "What we are seeing are a couple of trends that are really positive for high quality media companies." For one, her said, Google and Facebook have gone from threat to being "a net asset" for companies like Axios as they can bring big audiences and are themselves big sources of a specific kind of advertising.
"Call it corporate image or corporate social responsibility type advertising, which is ads from companies about something other than selling a product," VandeHei said. "It's 'what do we stand for? what are we trying to do as a company as a corporate citizen?' That's a boom market. That market has turned out to be a lot bigger than we had anticipated."
Here are highlights from the conversation, which have been lightly edited for clarity.
Profit beats scale any day
"There's a little bit of a myth that is tethered to a reality that I don't think exists anymore. And the myth is that media companies do well with scale. Look at the companies that did scale. They're almost all out of business our they're going out of business. Scale for scale's sake is almost meaningless, unless you can convert it into something of value. What you're seeing replace that is companies that are doing serious journalism [and] have a real business model behind them."
The big stories that transcend any White House
"I hope and pray that people consume less of the political part and pay more attention to AI and China and climate and these other topics that I think are epic. They are transformational. They are going to do more to explain what this country — this world — looks like ten years from now than who's sitting in office. This is the interesting thing: media and politics use to kind of sit separately. And now they're smushed together. You can't understand politics without understanding what's happening in media and technology, mainly on the social platforms. That means that even for politics to get normal again, we have to have a healthy media. And then we're going to have to have some kind of healthy rules, restrictions, habits around what's happening on social media where the vast majority of people are getting the vast majority of their information. Huge challenge! It's a regulatory challenge, it's a social challenge, it's a corporate challenge. And we haven't done a very good job as a society of fixing this one even though we've known for some time that it's a growing problem"
Positive trends in media
"I've been a pessimist about a lot of media for a long time. What we are seeing are a couple of trends that are really positive for high quality media companies. Facebook and Google, that used to be massive threats to so much of media… I don't think they work against us anymore. I think we benefit tremendously from both in terms of amount of audience you can accrue; they're big advertisers with a lot of media companies [and] obviously big targets of coverage for media companies. While that was a threat before, I think it's now a net asset for high quality media companies."