Why the National Journal is doubling down on long-form journalism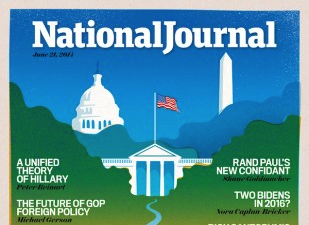 As most publishers have embraced the snackable content trend set by viral sites like BuzzFeed and Upworthy, the National Journal is about to double down on a counterintuitive approach: long-form.
The magazine is unveiling a new look today, designed by Joe Heroun, which is meant to elevate the wonk publication with its 15,000 subscribers. But just as important, it's taking the long-form approach online, where the National Journal hopes to grow its audience outside the Beltway.
You have read the maximum number of free articles.
Digiday
+

Membership

Subscribe now for access to unlimited Digiday content, premium research reports, exclusive newsletters, invitations to member-only events and more.
This content is available exclusively to Digiday+ members.
Digiday
+

Membership

Subscribe now for access to unlimited Digiday content, premium research reports, exclusive newsletters, invitations to member-only events and more.
"Right now, the magazine content does not drive a big part of Web traffic," said Tim Grieve, National Journal editor-in-chief and co-president. "I believe really strongly that great journalism and great traffic can go hand in hand. People would say it's counterintuitive to even invest in a print product. It's important for our subscribers, but also gives us the time and space and resources that will feed our website."
The National Journal is not alone. Other publishers are seeing long features help Web traffic, going against the once-held idea that the Internet would wipe out attention spans. That's given rise to the Snowfall treatment at The New York Times and its imitators elsewhere (which, some would say, has run its course).
Advertisement
Over at The New Republic, long features, with original reporting and often carrying a well-known byline, are three to four times more likely than a short post to get 50,000 to 70,000 pageviews, the point at which the story is getting viral pickup and is more likely to bring in first-time readers, said Noah Chestnut, director of New Republic Labs.
"New readers come to us because other sites are more likely to pick up long-form pieces," Chestnut said. "They're the first point of entry for many new readers."
The New Republic tries to capitalize on that traffic by assigning stories that are related to the main feature and by promoting other trending stories alongside the features.
Even BuzzFeed is going long on content. The site best known for popularizing shareable quizzes, listicles and branded content has its roots in viral lifestyle fare. But lately the site has been encouraging ambitious journalism, hiring Spin vet Steve Kandell as its long-form editor in 2012. BuzzFeed publishes one long-form article a week on Thursdays — to capitalize on the weekend — and has seen a number of them go viral, like a first-person account of a man's gamble on broken-down Detroit and a feature on a Chinese activist.
Advertisement
"A profile of an 86-year-old AIDS activist would not have struck me as being a wildly populist story," Kandell said. "But it went everywhere."
That's the kind of success they're hoping for at National Journal, where Richard Just, the magazine's editor, is emphasizing narrative storytelling by well-known writers. There are five such features in the issue out today, including a piece by Peter Beinart on what a Hillary Clinton presidency would look like, a profile by Tim Alberta of Gov. Scott Walker, and Marin Cogan on Gov. Brian Schweitzer.
Online, the features will look different. They'll be given an elaborate presentation for maximum effect.
Advertisement
Ultimately, the goal is to continue to grow National Journal's audience of 2 million multi-platform uniques (according to comScore) by reaching beyond D.C.
"We have a membership model," Grieve said. "You also have an ad model. To have the ad-supported model, you need to show advertisers you're reaching an influential audience and a big audience. Even if we were reaching every person in the Beltway, it wouldn't reach that number."
Sign up to get the day's top stories at 6am eastern.