At a time when publishers are grappling to diversify their revenue beyond advertising, Politico has an enviable business model. The political news publisher supplements its ad sales with hefty subscription fees, which are on track to hit 50 percent of the revenue next year, projects Jim VandeHei, Politico's co-founder, president and CEO.
The model is core to Politico's statehouse news and European expansion plans. In our latest installment of Executive Summary featuring top media movers and shakers, VandeHei talks about transitioning from journalism to the business side, the perils of chasing scale and what Recode should have done. Excerpts:
You're expanding Politico's statehouse coverage, which you've said will fill a void in state government news. Given your model aims for Politico to be read by an influential audience, are you just serving the elites?
Our goal is not a hyper-mass audience. We readily admit, 90 percent of people could care less about what's happening in the statehouse and Washington. That's why we're excited about spreading the business model. Are we saving the old model? I don't put any thought into that. What we think about is what works. We're a company with business ambitions. Yes, the vast majority will be aimed at influencers. What we've found is a model that can do it better than it was done before — half your revenue from subscribers and half from advertising and events. We believe a lot of the models out there aren't going to sustain high-end journalism.
A lot of those are chasing scale, which is what was a factor in Recode selling to Vox. Where does scale fit into your strategy?
There's no doubt, there's a trend toward scale now. The danger with scale is, the easiest way to get scale is to cheapen the quality of your content. When you do that, it's a deal with the devil. Recode — I get the calculation they made. Recode has a fantastic brand. My personal view is, Recode would have made a much better bet going after an elite audience.
Why do you think more aren't taking the long view?
Even with scale, it's hard to generate a lot of revenue. If you're not going to go for scale, you have to figure out other ways to diversify your revenue. It took us years to built up the infrastructure to do high-end subscription sales. By next year, we'll be 50-percent subscription revenue and 50-percent advertising, and of that, print will be a fraction.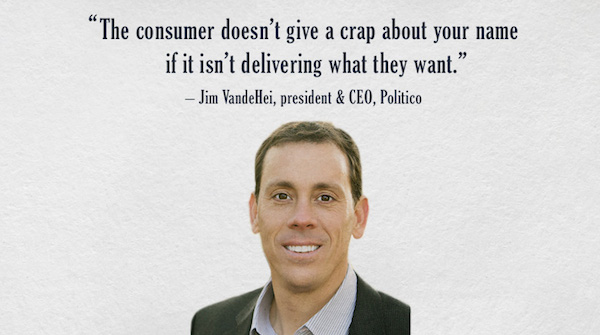 Another reaction to the Recode sale to Vox was that it proves you need more than great journalism credentials to create a successful media company. As a former journalist running the business side, how did you make the transition?
It's very hard to do both. They're two full-time jobs. The danger is in doing them in a half-assed way. John [Harris, Politico's editor-in-chief] and I made a decision several years ago that he would focus on edit and I would focus on the business. That's a transition a lot of other companies are going to have to do if they're founded by journalists. I don't think there's too many people in journalism who happen to be good at doing business.
Politico just announced a new branded content department, Politico Focus, and hired Stephanie Losee, managing editor of Dell Global Marketing, to head it. What's the specific branded-content opportunity for Politico?
The opportunity for us is not unlike others. The difference is, we connect with a very elite policy audience. That group of people has a disproportionate effect on how people see brands, so you end up with a different type of advertisement. It might be data, or the content of the data.
Other publishers are using editorial staff to varying degrees in creating branded content. What's your approach going to be?
It's a distinctly business-side unit. I think it's important to have a real distinction [between the business and editorial sides]. There's nothing more important than the sanctity of our editorial content. Once you go down the road of having the editorial side working on business initiatives, it blurs the line and it cheapens the business product and cheapens the editorial product. You can't have people doing it as a side gig.
People start their day on Facebook and Twitter. How much do you feel you need to have a presence on those platforms?
We don't need a huge audience. I'm not saying we don't want the traffic. My point is, we don't need that. So the bulk of our focus is still on whether the Speaker of the House is reading our content. We entered a market when it was easier to have brand loyalty and identification. Today, it's a lot harder. A lot of new media companies are so dependent on social media as a fire hose. Half our traffic still comes direct to the site. I do not need drive-by readers; I don't really care about them. What I want is people who come to our content multiple times a day. Most other people need that big group of millennials.
So new companies are vulnerable. Isn't there some value to old brands, then, at companies like Time Inc.?
I wouldn't assume there's a lot of long-term value to old brands. The brands that will be big are the ones that are evolving for their audience. The consumer doesn't give a crap about your name if it isn't delivering what they want.
Photos courtesy of Politico.
https://digiday.com/?p=120751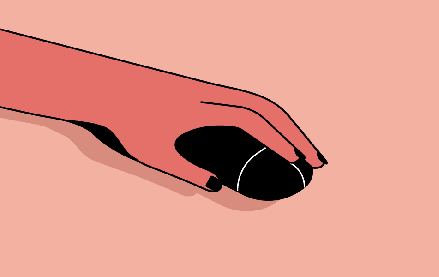 December 1, 2023 • 3 min read
People claim that the role of chief diversity officer is vanishing. However, AI is booming, and the CDO can help ensure responsible AI.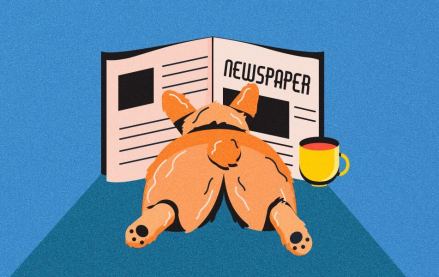 November 30, 2023 • 4 min read
Digiday+ Research found that publishers' programmatic ad revenue didn't quite live up to expectations this year, but they still see it as a growth area.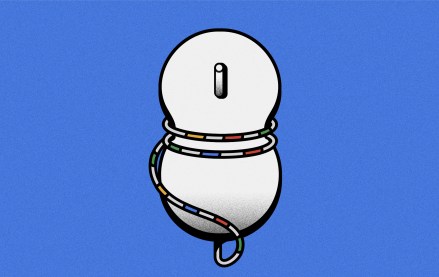 November 30, 2023 • 13 min read
For a couple of publishers, referrals from Google are down upwards of 60%.