Pandora's priority: Engagement, not new listeners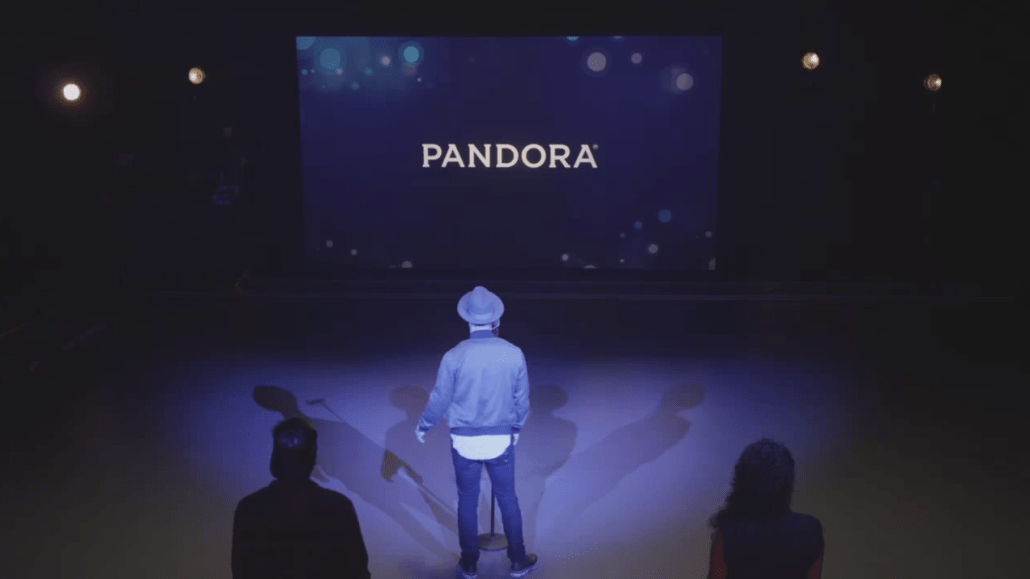 Pandora
Among the digital music streamers, Pandora has become the old guard, its hype usurped by newer players like Spotify and Beats Music. Some investors have gotten skittish, sending the company's stock plunging following news of decelerating user growth in late October.
But Pandora is hardly down and out, with a giant active user base and hundreds of compatible devices. Digiday talked to Pandora's vp of digital, Lizzie Widhelm, to learn about the company's strategy in the increasingly crowded music streaming market. Excerpts:
How does Pandora differentiate itself?
It's important to differentiate categories within the music-streaming space, as not all services offer the same listening experience. For us, it's personalized, it's music discovery, it's easy — those are some of the key differentiators. You're not having to curate a playlist or be your own DJ. When it comes to personalized radio, we do it better than anybody, and our scale proves that.
In comparison to services like iTunes Radio, Spotify Radio or Beats Music, however, Pandora's library of 1.5 million songs is relatively small. Is that holding the company back?
I don't think it's holding us back, because if it was, we would fix it. If there's a specific song that a lot of people are requesting, it gets added. Same thing for stations. But we want the very next song you hear on any station to be the best song. Curating a really great art experience doesn't mean you need every piece of art ever made.
Pandora's active user growth has begun to plateau. How do you intend to keep growing?
There's the number of uniques, and there's the time spent [on Pandora]. There's 316 million addressable Americans, and we have over 250 million registered users and over 76 million monthly active uniques. At some point, it's about time spent, because there's only so many Americans. I'm most excited about getting those 76 million to listen for longer, and we're seeing that happen.
How are you making that happen?
In-car integrations are a huge opportunity. And over 1,000 connected home devices, from your speakers to your fridge, means Pandora is so well positioned to reach all of those users and convert that attention to time spent with advertising.
How many people listen on their fridge?
Well, there's only one fridge [model with Pandora], so I'd have to look it up for you. You can laugh about the fridge, but look at Sonos [speakers]: As people replace their home devices, we're going to be there.
What's Pandora's response to the recent artist backlash against music-streaming service royalties?
We are the most well-paying distribution outlet for artists in the entire radio landscape. And in terms of availability of Taylor Swift's music, you can listen to her on Pandora today; that "1989" album is there.
Pandora's new "Artist Marketing Platform" also seems relevant here, right?
Yes. So if I'm an artist — say, Emancipator — and I'm going on tour, I'd like to understand where I should perform. Partnering with us to understand who listens to Emancipator, what areas they live in, that would help them get optimal sell-through of tickets. Understanding whether artists are similar to them is interesting data for them, too. Delivering for the artist and the fan is going to be what allows our advertiser to win, too.
Like Spotify, Pandora has begun to roll out video ads with its new "Sponsored Listening" ad product. What does that mean for your listeners and your advertisers.
A lot of millennials think ads suck, but marketers very much need that audience to be the future consumers of their products. With "Sponsored Listening," we get listeners into the habit of giving a little bit of attention for a lot of value. FOX really wants guaranteed impressions on trailers for its fall shows, "Gotham" and "Mulaney." We offer mobile listeners the opportunity to watch a trailer for an hour of ad-free listening. We're helping marketers solve for viewability, but we're also taking the power of our logged-in user base and helping them find the right audience.
How does Pandora leverage its data for advertisers?
Advertisers love to know they can buy moms, Hispanics, Republicans. Terrestrial radio does not deliver on that. The power of the logged-in user is so important to help them get to that right customer. A company like Lexus has lots of potential customers, but messaging to a mom or a dad might take different creative: For the exact same car, safety might resonate with mom versus tech for dad.
Speaking as a user, I still hear Pandora ads for Salem State College, even though I moved out of Massachusetts five years ago. That seems to align with recent criticisms regarding the accuracy of Pandora's location data. How would you address those concerns for your advertisers?
We collect registration data, and we absolutely watch user data in terms of music they like. On the geolocation issue, we are constantly watching for cues that tell us someone has moved so the info we have on record might be as accurate as we like. We call it the nag bar. It's an API element that zeroes in on those users and asks them to update their information.
What do you think about YouTube's just-announced Music Key streaming service?
As a music lover, I think it's great that artists have more ways to find fans than ever. But in relation to Pandora, I am focused on that user-specific to radio, music discovery and personalization, so I don't spend too much time thinking about what YouTube is doing. There's always been a lot of competition in the space, which I think everyone loves to forget.
What's your favorite Pandora station?
It's so embarrassing, but I love our genre stations. That "Top Hits" station: I love it. My second favorite station is the Lindsey Stirling station. My third is a genre station called "Spa Sounds," which I challenge you to listen to at work. Seriously, it is the best background music for Excel spreadsheets work, hands down. All the noise in the office just floats away.
https://digiday.com/?p=96141