Both of Eric Nuzum's Tuesday morning meetings started with the same question: Has everyone heard the latest episode of "Serial"?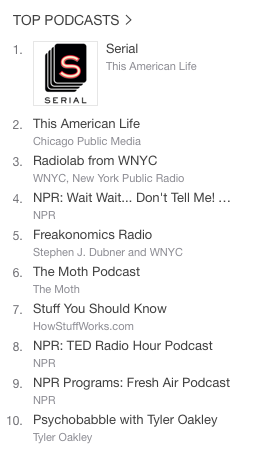 Granted, Nuzum is NPR's vp of programming, so his colleagues don't represent the average American media consumer, but this same conversation has played out at countless water coolers, bar tops and dinner tables over the past few weeks. A serialized investigation of a 1999 Baltimore murder, "Serial" has catapulted into the national conversation. It has reached 5 million downloads and streams on iTunes, making it the fastest-growing podcast ever, Apple announced on Tuesday.
That record speaks to the moxie of the "This American Life" crew, which produces the ambitious podcast, but it's also indicative of a broader trend: Podcasts are more popular now than ever. Apple, which added a default, non-deletable "Podcasts" app in iOS 8, expects iTunes and iOS users to listen to 7 billion podcasts this year. In September, podcast data research firm RawVoice (which tracks 20,000 shows) said there are 75 million monthly unique podcast listeners, up from 25 million five years ago. Back in March, market research firm Edison Research found that weekly podcast consumption has grown 25 percent year-over-over, from 12 percent in 2013 to 15 percent in 2014.
The rise of the podcast been fairly consistent over the past decade, said a handful of media executives, investors and producers in conversations with Digiday. That is poised to continue, they stressed, every one of them bullish on audience growth and monetization opportunities.
"This is a golden age of audio," said Tom Hjelm, evp and chief digital officer at New York Public Radio. "Our backbones, our radio stations, are still going strong, but we're seeing this tremendous growth in the on-demand part of the business."
A variety of factors are conspiring to make podcasting a much bigger industry, said John Borthwick, CEO of Betaworks, which invested in podcasting startup Gimlet Media. Many of them are technical: Podcast apps keep improving, including the now-default "Podcast" app for iOS; 4G LTE connections make it viable to download podcasts anywhere; Bluetooth has become power-efficient in smartphones, making them easy to pair with newer in-car audio systems. In-car listening in particular is a huge opportunity for future growth, said PRX CEO Jake Shapiro, who operates the Radiotopia podcast network.
"Public radio listening has been a huge share of in-car listening," he said. "As people get more comfortable with apps and car manufacturers improve the experience, podcast listening is going to be a really good use case for that, because you actually have a source that can design for commute-length listening."
The economics of podcasts have never been better, either. Not only are crowdfunding and philanthropy proving viable — PRX just raised $620,000 on Kickstarter for its Radiotopia network — but brands are paying hefty rates for ad placements, rivaling or even surpassing some digital video ad rates. Midroll Media, which sells ads for roughly 145 podcasts, typically sets its CPMs between $18 to $40, depending on the show and placement, according to the company. But despite the high rates, Midroll's 200 active advertisers keep coming back because podcast ads have proven effective, said Midroll business development vp Erik Diehn.
"Our [host-read] spots are truly native ads, spots that fit with the content, remain part of the flow," he said. "We have an incredible 97 to 98 percent renewal rate from our ROI-driven direct-response advertisers because the audience responds so well to these spots."
Despite increasing brand interest, it's not easy for full-time podcasters to make their shows sustainable. Diehn estimates a weekly podcast needs at least 50,000 regular listeners to have some amount of financial sustainability. That makes alternative revenue sources a priority for most audio producers, he said.
Luckily, podcast listeners tend to be extremely loyal, which makes live events and other forms of monetization viable, said NPR's Nuzum. "Jesse Thorn, who does 'Bullseye,' did a national meetup tour. He even did a cruise. There's a sense of community around these," he said.
Podcast networks like Radiotopia, SoundWorks and Infinite Guest are emerging to create larger, more structured communities between audiences and a group of podcast hosts. They're also proving pivotal in helping creators market their podcasts, slotting in mentions and even excerpts for them in other programs.
"This is where Radiotopia has been huge," said Lea Thau, creator and host the "Strangers" podcast. "If other people whose podcasts I love and listen to say, 'Hey, I think you would also like 'Strangers,' that's the kind of marketing that money can't buy."
That's particularly helpful for podcasts without an equivalent radio show, such as "Strangers." High-quality podcasts without a radio counterpart are becoming more common as the industry matures, said Thau, attracting more talented producers in a virtuous cycle.
"That's the era we're living in right now; that's what's new: the legitimacy for people who are highly talented, highly skilled producers," she said. "Now I feel like I can say podcast with pride."
https://digiday.com/?p=96611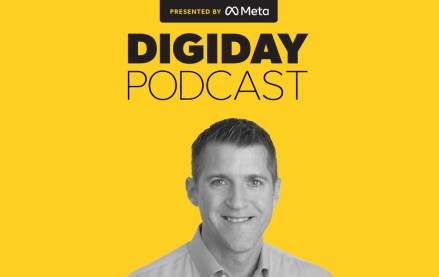 November 28, 2023 • 4 min read
Google's vp of global ads is confident that cookies will be gone from Chrome by the end of next year, despite all the challenges currently facing the ad market.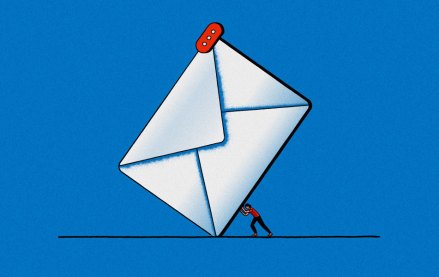 November 28, 2023 • 6 min read
Some email newsletter platforms' click-through rates are actually click-to-open rates, which are measured against the number of emails opened rather than the emails sent. But buyers seem to prefer it that way.
November 24, 2023 • 5 min read
Publishers' events businesses picked up pretty significantly during the back half of this year — and they will focus on sustaining that lift into 2024, according to Digiday+ Research.