New York Daily News stirs controversy over 'thoughts and prayers' cover
December 3, 2015 • 2 min read
•
•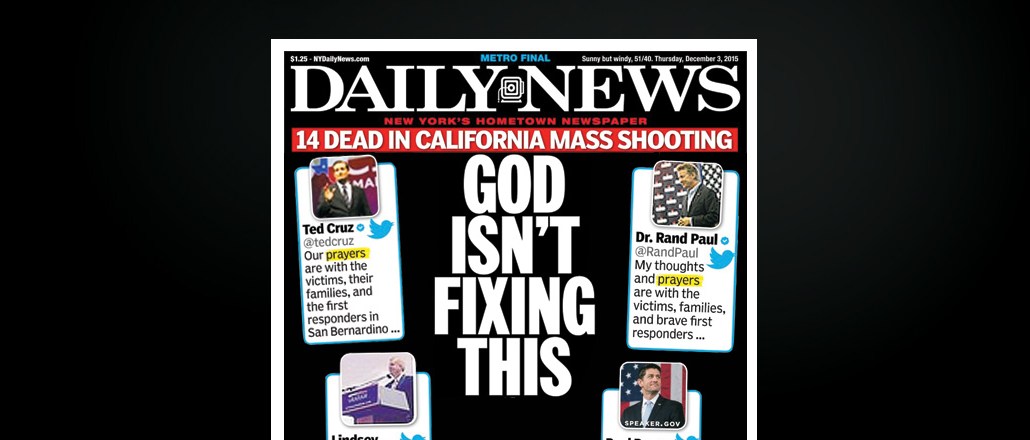 In the immediate aftermath of the mass shooting in San Bernardino, California, which left 14 people dead and 17 injured, several politicians came through with the same flimsy reaction, offering their "thoughts and prayers" to the victims.
Judging by today's cover of New York's Daily News, the boisterous tabloid wasn't having it:
An early look at tomorrow's front page… GOD ISN'T FIXING THIS: https://t.co/eKUg5f03ec pic.twitter.com/j4gEFg9YtJ

— New York Daily News (@NYDailyNews) December 3, 2015
Framed with tweets from Republican politicians, including Rand Paul and Ted Cruz, the left-leaning newspaper's proclamation punched back at the GOP's response, blasting its "meaningless platitudes" and taking them to task for their inaction on implementing tighter gun control laws.
The tweet garnered 18,500 retweets and 13,800 likes, making it one of the most shared tweets from the paper's account this year. Reaction was predictably mixed, riling up people all along the political spectrum.
Some people praised the News' stance, while others slammed it for being offensive. Here's a sampling of the varying reactions:  
@NYDailyNews Shame on you. Proof u r out of touch w Americans on this. Please continue to prove ur lack of objectivity. — Chris Tsotsoros (@ctsotsoros) December 3, 2015
@NYDailyNews why isn't every media outlet saying this?

— kara vallow (@teenagesleuth) December 3, 2015
Gotta hand it to @NYDailyNews for taking no prisoners with this one. pic.twitter.com/Z6qGKF9xjN #gunsense

— Adriane Farray (@AFarray) December 3, 2015
The Daily News' front page is only the latest in which the newspaper took a stance on guns. When the Virginia news crew were murdered live on-air, the paper's front read "AMERICA'S FULL OF IT." Another recent headline blasted the NRA. 
The cover debuted while the hashtag #thoughtsandprayers was trending on Twitter last night. Igor Volsky, a contributing editor for Think Progress, took the phrase and ran with it. In a series of tweets, Volsky contrasted statements from politicians that included the "thoughts and prayers" refrain with the fact that many of them accepted donations from the NRA and voted against gun control laws.
"My thoughts and prayers are with lawmakers actually passing gun reform in my lifetime," he first tweeted before lunging into a highly praised tweet storm.
Got $4,000 from NRA during the 2014 election cycle to address gun violence by "praying" https://t.co/geXCXRDHDS — igorvolsky (@igorvolsky) December 3, 2015
Got $3,000 from NRA during the 2014 election cycle. Unlikely to address gun problem with anything other than prayer https://t.co/lQ1CxtNnk4

— igorvolsky (@igorvolsky) December 3, 2015
Got $1,651 from NRA during the 2012 election cycle. Unlikely to address gun problem beyond "heartbreaking" tweet https://t.co/uhfsiBmegm — igorvolsky (@igorvolsky) December 3, 2015
Volsky's tweets were folded into a Twitter Moments titled "Fact-checking politicians' 'thoughts & prayers.'"
While the Daily News cover was polarizing, the Twitter Moment was widely praised, perhaps signaling a breakthrough moment for the fledgling feature (or at least the self-selecting audience of Twitter Moments readers).
"Twitter is becoming what it was meant to be," tweeted a Google employee.
https://digiday.com/?p=149777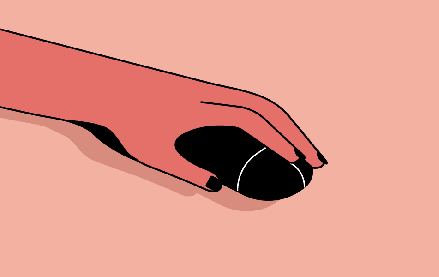 December 1, 2023 • 3 min read
People claim that the role of chief diversity officer is vanishing. However, AI is booming, and the CDO can help ensure responsible AI.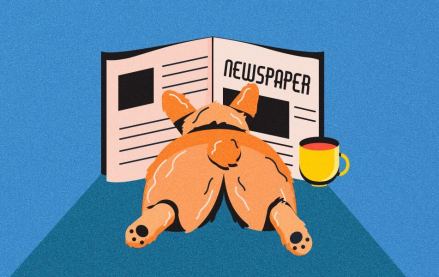 November 30, 2023 • 4 min read
Digiday+ Research found that publishers' programmatic ad revenue didn't quite live up to expectations this year, but they still see it as a growth area.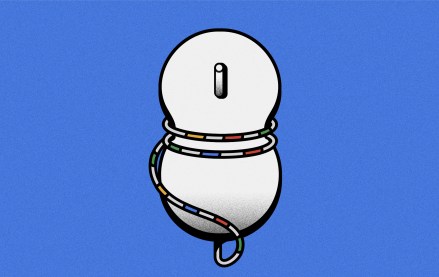 November 30, 2023 • 13 min read
For a couple of publishers, referrals from Google are down upwards of 60%.