Masuma Ahuja's feet may be on the ground in Rio de Janeiro, but she has to be in several places at once for CNN. As the social apps producer in charge of the news publisher's Line, Kik and Facebook Messenger accounts, Ahuja isn't just responsible for getting content onto these new platforms: She is also figuring out the next phase of CNN's presence on them, trying to get people to weigh in on what reporters show them, and when. (She also produces social content for CNN's Snapchat, Instagram and Twitter accounts).
"This is one of those experiments to get people into a bigger story," Ahuja said.
Since the start of the Olympics, Ahuja has been acting as several different sets of eyes and ears through both platforms. On Friday, she took Kik users on a choose-your-own-adventure tour of Copacabana beach. The same day, she showed CNN's Facebook Messenger followers around inside an official Olympics fan zone during the opening ceremony. Deciding where to publish each experience fell to Ahuja.  
"There are different audiences on these different platforms," Ahuja said. "On Kik, we're trying to explain what's happening [down here] to 13- to 17-year-olds."
Facebook Messenger's audience is different, Ahuja said, with a wider array of interest than Kik's. CNN also publishes more content on Messenger every day. But the goal on both apps is the same: to publish content its users can lean into.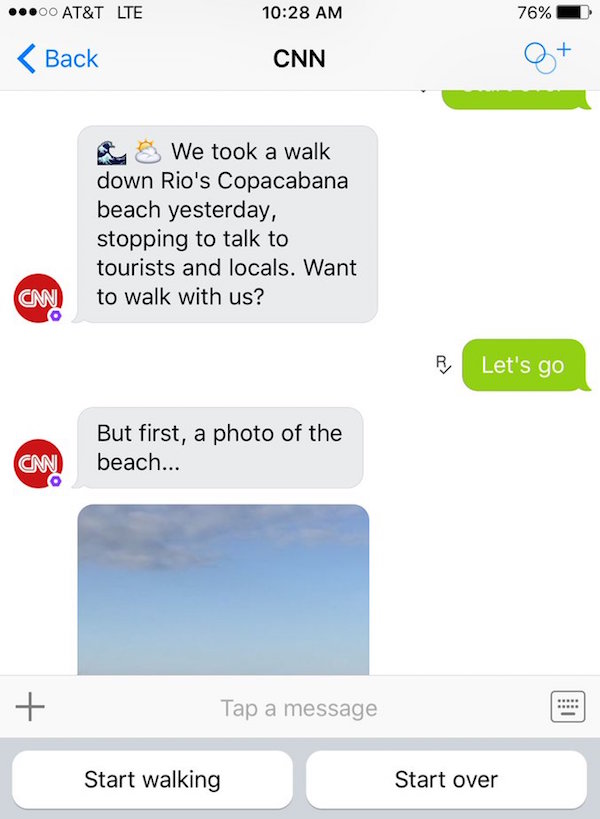 Mobile messaging app use has grown substantially since the Winter Olympics were held in Sochi two years ago. In the United States alone, nearly half of all mobile phone users use apps like Facebook Messenger, WeChat or Kik to communicate, according to eMarketer; that total is up 58 percent from 83 million in 2014. In countries like Japan, mobile messaging is even more widespread.
As a result, publishers have been trying to figure out how to connect with these apps' users. First came chatbots, automated pieces of software that serve up digital content based on user queries. Everybody from Funny or Die to The Wall Street Journal built one, including CNN. Its first chatbot was built by Outbrain, an article-distribution widget used primarily to circulate sponsored content.
But with bots proliferating, some publishers have toned down the automation, put their accounts in reporters' hands and asked followers what they'd like to see next. "We have boots on the ground around the world," said Samantha Barry, CNN's head of social news. "As we experiment on new platforms there is an increasing need for a social presence to bring our users directly into the live events."
CNN first tried this at the Republican National Convention, where Ahuja introduced viewers to convention attendees and tried to give people a sense of the "sights and sounds" of Cleveland.
Down in Rio, CNN isn't the only publisher letting users shape the Olympics coverage they get. The New York Times, for example, used Twilio, a text-messaging service, to build a tool that allowed one of its sports reporters to text readers from Rio, sending different messages to different groups of readers based on how they responded to his questions.
Ahuja's Kik coverage works in a similar way. She asks users what they want to see as she shows them around a part of Rio. While she sees her work being in the early stage, she expects it will become a regular part of CNN's coverage of big events.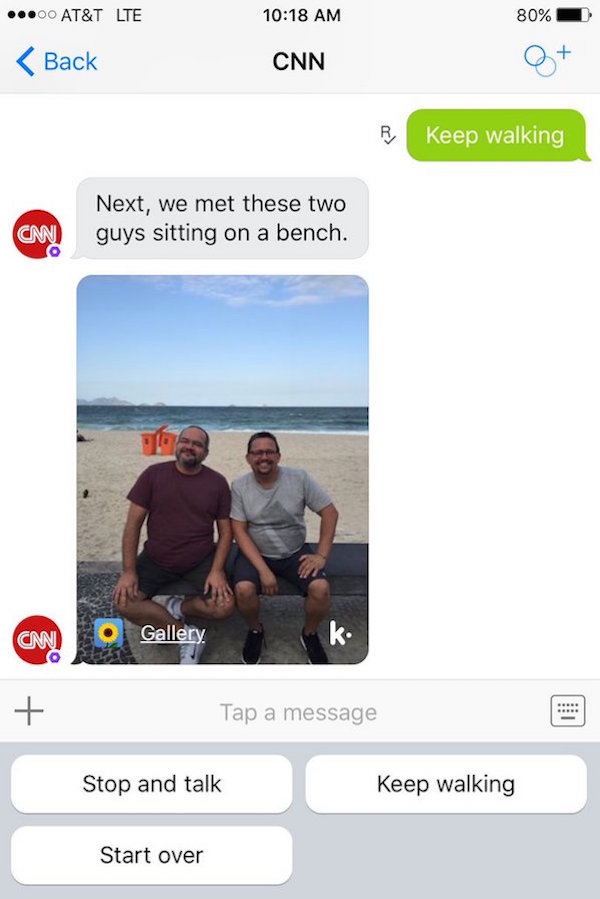 Until it becomes a staple, Ahuja isn't under any pressure to file a set number of stories while she's down in Rio. "When it feels right, we put something up," she said.
It's not clear how many people are engaging with these new storytelling experiments. CNN declined to share any numbers related to its mobile messaging efforts, saying only that they are "happy" with how the program is going so far.
Similarly, it's hard to say whether chat apps will ever become meaningful sources for news. After Facebook rolled out a bot platform for Messenger this spring, few publishers seized on the chance to build one for the social network.
But while that plays itself out, Ahuja will be there, offering readers a say in what they see. "It's me, on the ground," Ahuja said.
https://digiday.com/?p=192287