'Like buying a helmet for walking': Blockchain fever has spawned a cottage ad tech industry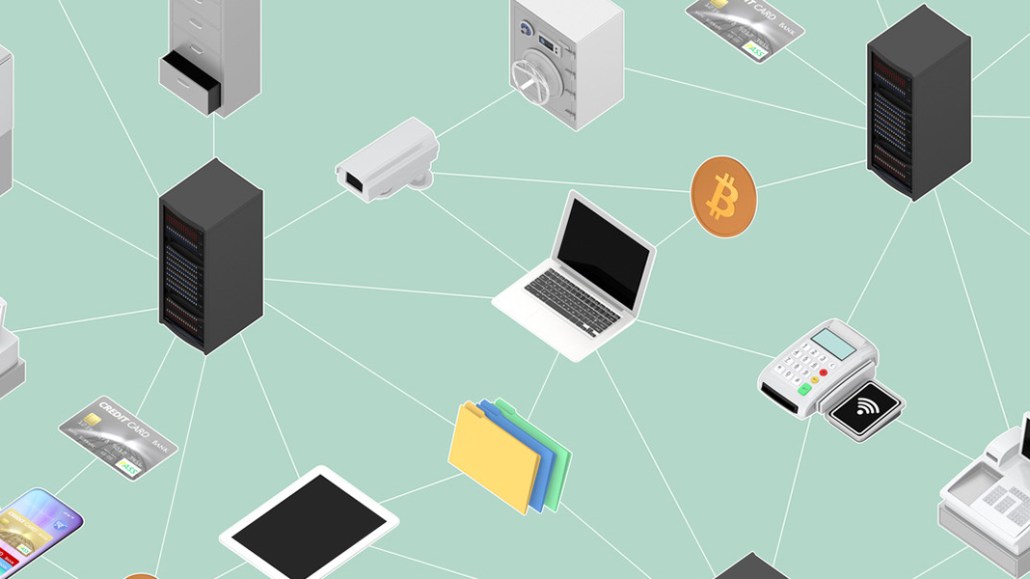 Ad tech is not immune to jumping on new trends. Remember big data? These days, blockchain is the latest craze. Interest — if not precise understanding — from advertisers and publishers in how the technology could be applied to the digital ad supply chain to make processes more transparent has spawned a cottage industry of vendors rolling out flashy decks and concepts. The problem, per usual: The promises more often than not far exceed the present-day reality.
For every smart blockchain business proposition, there are four more startups making loud, but mostly empty claims about what they can deliver. It's either that, or they're randomly asking for people to donate to their initial coin offerings, but without any sign of a viable product.
"No one has a viable product yet at scale," said Dan Wilson, CEO of London Media Exchange. "I'd say 95 percent of current blockchain vendors will be blown up inside 18 months, maybe less."
Publishers may find the concept interesting, but for most of them, it's too early to warrant investment. "It's another case of a barrel load of tech inventing a problem that doesn't exist," said a publishing executive. "Currently, it's like buying a helmet for walking."
The hype and interest in blockchain's potential has spurred agencies to jump on the bandwagon and spawned a flurry of recent events on the topic that cover how the theory of blockchain can actually be applied. But to attendees, it's clear there is a way to go before the technology can move beyond the theory stage, for advertising at least.
"Blockchain has been discussed at length [at these events], and yet there seems to be a complete lack of understanding as to what it actually can deliver and how it will work," said Julia Smith, an independent digital consultant.
Over the years, digital ad trading has become less transparent and increasingly untrustworthy both for advertisers and publishers. That's why blockchain technology, which acts as a ledger that validates all transactions on an encrypted basis, has been hailed as a highly attractive proposition for solving real problems in media, such as removing the long-criticized opacity of the programmatic ad trading ecosystem.
That lack of understanding is what some players are banking on, according to sources. It's a familiar story for ad tech. Emphasizing the complexity around the nuts and bolts of how digital ads are bought and sold programmatically used to be a useful tactic for ad tech vendors hoping to maximize publisher and advertiser investment in their services. Today, publishers and advertisers have more control over their supply chains and understand what questions to ask. But blockchain is exhibiting similar patterns, according to sources. Things easily get confusing when there are no protocols, precedents or standards around them yet.
It's not just the din made by certain opportunists trying to make a quick profit off the back of the interest in the technology. Another big, unanswered question is around the currency behind blockchain, rather the premise of blockchain itself, according to Smith. Blockchain's basic premise — to allow for a record of transactions and deliver transparency — is generally welcomed, but its association with cryptocurrencies is putting some people off. "What publishers and advertisers are concerned about is that in order to trade using blockchain, the currency has to be cryptocurrency," Smith said. "As an investor in bitcoin, I have seen firsthand the volatility of this currency, and this is making the industry nervous and therefore reticent to jump in with both feet."
That said, publishers and advertisers whose inboxes are getting increasingly clogged with pitches from blockchain startups aren't likely to see it slow down anytime soon. For now, the topic is here to stay. So the key is knowing the right questions to ask, rather than being dazzled by the tech lingo. "First, ask what business challenge a blockchain ad tech vendor will solve for you," said Paul Gubbins, programmatic lead at News UK-owned video ad firm Unruly. "Then ask to see an end-to-end flow of examples of how it has worked for other clients in your sector, as well as whether the information will be stored on a private or public ledger," he added.