The Huffington Post U.K. is tapping into readers' fascination with the Labour leadership race, having Labour leader Jeremy Corbyn take over its Snapchat account for 24 hours this week.
Stephen Hull, editor-in-chief at the HuffPost U.K., said the experiment tied in with the publication's philosophy of being an open platform. "We've found that takeovers have been a fantastic way to engage with our readers in new ways and attract new audiences to our social channels," he said.
Paul Waugh, executive editor for politics at The Huffington Post U.K., said readers "love the 'behind the scenes' feel you can get from Snapchat, and the quirky, personal angles that are often missed by traditional news coverage. It gives us a new tone to offer to our readers."
Guest editors and takeovers are a regular for Huffington Post. Previously Olympic boxer Anthony Fowler took the reigns during Rio, grime artist Big Nastie has snapped from Reading music festival, and comedian Luisa Omielan took charge during the Edinburgh Fringe Festival.
Corbyn in April became the first U.K. politician to activate his own Snapchat account, and his early efforts drew criticism for being staid. While the results this time around weren't exactly edgy, there are some more human moments, like a touching card from a young fan named Annabel, who has named her puppy Jeremy, as well as more political moments, like behind-the-scenes shots at the launch of his women's policy.
Hull wouldn't say how many views the HuffPost got for Corbyn's contribution, but reactions on Twitter have ranged from positive to confusion.


Others are more surprised that the politician is on the platform at all.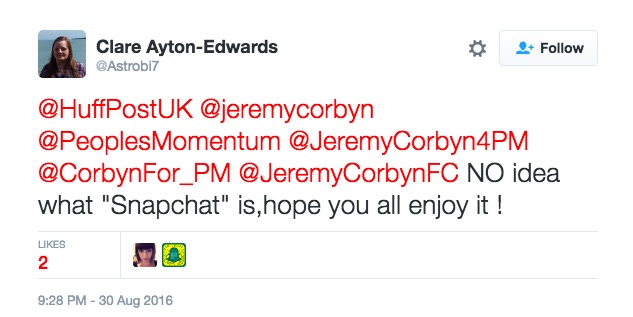 "On the one hand, by engaging through Snapchat, Jeremy Corbyn's team shows that it understands the importance of newer media to his core support base, which over-indexes among young people active on social media," said Nick Laitner, managing director of PR firm MHP Communications.
"On the other, this story exemplifies Corbyn's problem, and the problem faced by many communicators — if the product is terrible and the communications strategy non-existent, it doesn't matter how clever the execution is. The public will never buy it."
Next week, Labour leader contender Owen Smith is taking over the account, with the results of the leadership contest looming large on September 24.
https://digiday.com/?p=196533