Hulu's NewFront pitch: Unlike TV, you only pay for what's viewed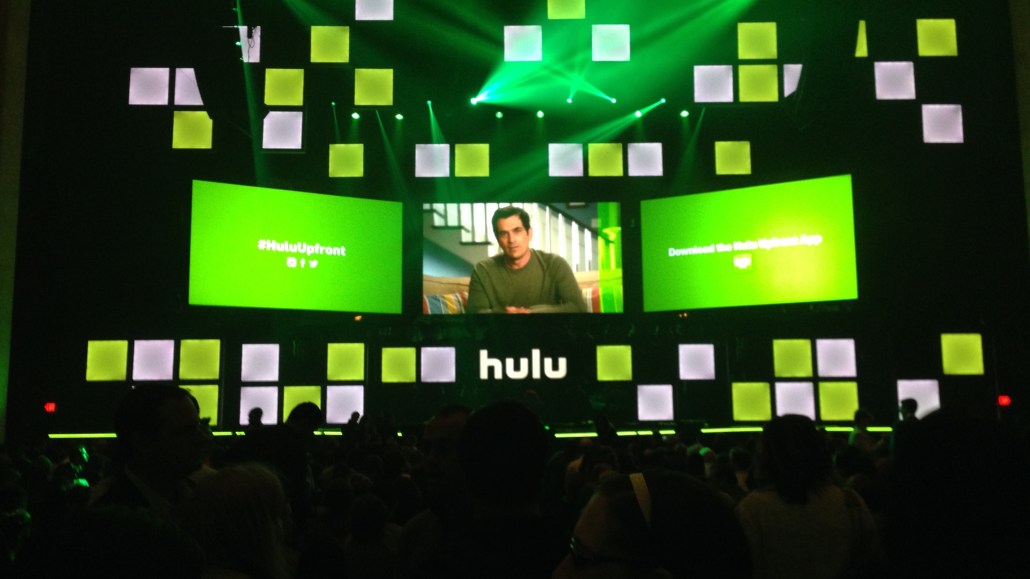 The pitch
Hulu is a better buy than traditional TV, according to Hulu. The video streaming platform boasted that 82 percent of its viewers are in the coveted 18-49 years old demographic compared with just 32 percent on traditional TV. (Cecily Strong — the "Saturday Night Live" cast member who emceed the affair — hilariously skewered this an incredibly inexact demographic. "If I saw that in a Craigslist personal ad, I would think it was either from a very confused 30-year-old, or someone who wanted to put me in a barrel," she said.) And advertisers will never waste a penny when trying to reach these "tech savvy early adopters," head of ad sales Peter Naylor said. Hulu only charges advertisers when its ads are viewed at 100 percent completion, he said.
Hulu is also looking to double down on its version of native advertising. Hulu brought out "Late Night" host Seth Meyers to talk about his Hulu original animated series "The Awesomes," and how the show integrated beef jerky brand Jack Link's into its programming since its inception. Hulu has created similar branded series for Chipotle and Subway. With Hulu "quadrupling" its investment in originals this year, there will be plenty more opportunities for these kinds of integrations.
Prospects for success
Hulu's pitch that advertisers will only pay when their ads are viewed completely is an alluring one given the anxiety about the effectiveness of ads on traditional television (and the future of traditional TV, in general). Growing concern about time-shifting — viewers recording television so they can watch it later — has networks pushing advertisers to adopt "C7," an arrangement that would have brands paid for ads viewed seven days after a show's initial run. Under the current C3 agreement, brands only pay ads viewed three days after the original broadcast. Exacerbating those concerns are worries that cord-cutting and the looming Supreme Court decision about the legality of Aereo will tear the traditional TV business asunder altogether. So, given the climate, Hulu seems a worthy ad investment.
The scene
The event was relatively straightforward save for some of the talent lightheartedly trolling the audience to its collective face. The non-Hulu presenters took glee in making fun of advertising, and the crowd took it with a laugh.
Notable quote(s)
"I asked the hosts of the 'Today Show' how you host something so early, but they weren't listening because they were busy shooting cocaine into their eyeballs." — Cecily Strong
"We're here because you're' advertisers, and if 'Mad Men' has taught me anything, we have to talk in the morning because you'll all be hammered by noon." — Cecily Strong
"Oh, right, this is a Hulu event. We shouldn't just read an ad, we should give the audience a choice of the ad they want us to read." — Danny Pudi, "Community"
Buyer's take
"I was excited to see Hulu evolve its mobile offering with the recent announcement of the availability of free streaming of select ad-supported full TV episodes," Whitney Fishman, MEC's senior director of innovation and consumer technology, told Digiday. "The move beyond free streaming on desktops allows Hulu to give consumers access to the content that matters most to them anytime, anywhere, while offering advertisers access to participate in the consumer experience."
https://digiday.com/?p=73672