The Sun took the wraps off its redesigned website last month as part of a post-paywall strategy to drive traffic. Today, the News UK tabloid claims homepage traffic is up on average by 25 percent, although the publisher wouldn't give out specific figures.
As part of the wider strategy put in place at the beginning of this year, the title has also been optimizing for search — something The Sun didn't need to rely on while it was behind the paywall — and has updated its content platform.
"We're going for volume and velocity," said Keith Poole, digital editor at The Sun. "In the world of the free web, you need to make a noise because it's such a big place. We want as many people to experience our content as possible, we think if we can pull them in, we can convert them to loyal readers."
When Poole joined as editor in January, The Sun was publishing around 25 stories a day; today, its editorial team of 100 is publishing 250 stories daily, as it tries to prioritize exclusive scoops and cover even more foreign news and specialist advice around its main content pillars, like health, science and sport.
By velocity, Poole means journalists are now able to file copy quicker, and the site loads faster with a new design and back-end platform. Rather than an updated news feed, the News UK tabloid has opted for content on the new site to be ordered in horizontal rails. Photos are more prominent, and navigation has been added at the top to showcase more content, so users can scroll down into sections like sport or show business. The Scottish Sun, which has a separate site, still has the old design and is changing over in the next two weeks.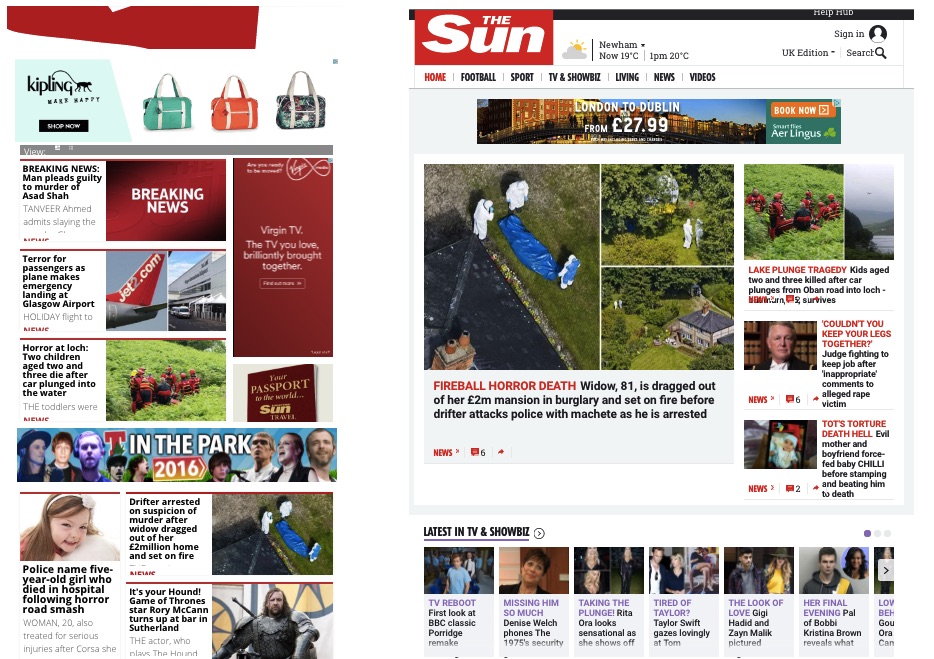 Since launch, direct traffic to the homepage is up by a 25 percent, according to Poole. During Brexit, which was a huge news event, traffic to the homepage doubled, staying at this level over the weekend and into the next week, when England crashed out of the Euro Cup the following Monday night.
Headline- and picture-loading time has decreased from 2.8 seconds to one second, and the whole page-loading time has gone down from 15.8 seconds to 11 seconds. Poole notes The Sun is still in the early stages, though. Google PageSpeed Insights scores the homepage at 63 out of 100 for speed, and 99 out of 100 for user experience.
Keeping up with a fast-moving news events, like Brexit or the release of the Chilcot report, would have been much more difficult with the old Escenic CMS. Previously, journalists had to make a request with the picture desk to feature images. It has since switched to a customized WordPress site. Now reporters themselves have access to a new image and video CMS, giving them control over when and where those elements go in, rather than having to put in a request.
Historically, during the title's paywall days, Google's web crawlers wouldn't pick up The Sun's stories on things like football or celebrities. Now, with an SEO expert in-house, it's using using proper keywords and linking back to previous stories, tactics deployed by other publishers for years. It is paying off. In January, 18 percent of its traffic was from SEO referrals; now, it's 29 percent.
More focus is being put on breaking-news stories and exclusives too, as Google favors original content. Last month, it got the scoop on Taylor Swift dating Tom Hiddleston. The majority of The Sun's readership comes from social referrals, the Hiddleswift story is a much more preferable even split, with 38 percent referrals from social, the rest from SEO, referrals and direct traffic, according to Poole. "On search, we held position one and two across all combinations of 'Taylor Swift and Tom Hiddleston' for the two days surrounding publication."
Poole is anticipating increases in traffic numbers as it continues on this path, in May the ABC circulation figures for The Sun is 2.4 million daily uniques. During its paywall days last year, it was half of this. "With the site redesign, I was warned that people don't like change, and to expect traffic to go down. But when the next ABC's come out (July 21) we're expecting double-digit growth."
https://digiday.com/?p=187126