How The Guardian differentiates in the crowded content-marketing industry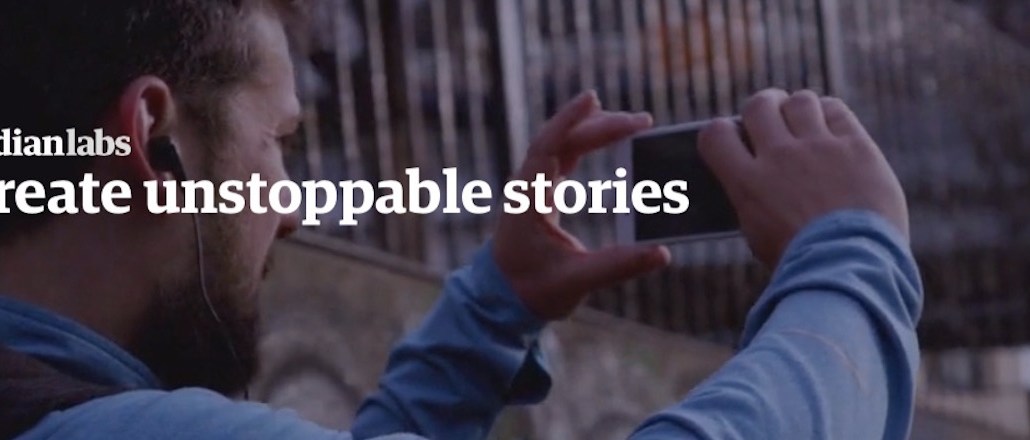 Standing out in a saturated online content market is tough, even for Guardian Labs. The publisher's creative shop has laid out an ambitious 2016 global road map, which details its hopes of tapping into new ways to distribute branded content off-site — specifically through Facebook Instant Articles.
The Guardian is also exploring virtual reality and smartwatch distribution for its branded content, along with aligning its British, American and Australian outlets to better answer global briefs, something agencies are in hot pursuit of. It will also ramp up mobile video.
"Quality is the impetus for campaign performance. We can't just think myopically about branded content but consider how it stacks up against the plethora of content out there," Guardian Labs managing director Anna Watkins told Digiday.
This is how it plans to stand out from the crowd.
"Follow the water"
The Guardian views branded content distribution much like NASA treats its mission strategy: "Follow the water," at least that's how it's pitching the proposition to agencies, according to Watkins.
So far it has identified much water on Facebook. Already among the handful of partners to publish directly to the social network via Instant Articles, it hopes to evolve that by publishing articles produced by Guardian Labs there too.
Facebook hasn't officially confirmed that it is opening Instant Articles to native content, but publishers including the Guardian have been in contact with it to discuss the potential. If and when it does, the Guardian will be first in line, Watkins added.
Apple smartwatches are also of interest for distribution, despite still having a relatively small audience (sales were reportedly around 3 million in the summer). The Guardian has just sold its first iWatch sponsorship with eBay which it worked on with MediaCom.
Justifying a decent return on investment with a simple sponsorship of iWatch content is a hard sell, so instead, the publisher is using the smartwatch content more as signposting, to direct users back into the mobile app where they can then hit them with deeper messaging.
Global footprint for global briefs 
Agencies often cite national media reach as restrictive when answering global client briefs, so harnessing overseas Guardian Labs resource will be a priority in 2016. It got the ball rolling with a joint U.S. and U.K. "Internet of (nearly) everything" project this summer for Cisco. Next year, the plan is to get the 130 content creators working across the British, American and Australian Guardian Labs outlets, pulling as one on global briefs, according to Watkins.
Agencies welcome global expansion, although they also want to see the publisher continue to hone its U.K. Labs output. MediaCom's director of digital trading Martin Galvin said, "Next year will be a big year for Guardian Labs, but if global expansion is to the detriment of the U.K., that could harm them a lot."
MediaCom is a big Guardian Labs spender, though the publisher's overall slice of the agency's media budget has diminished in the last few years, according to Galvin. "The Guardian is still an excellent partner, but the lead they had over the opposition has been substantially eroded since their debut, despite the investments in great talent they've made. There are others in market which are arguably better," he said.
However, Watkins countered that The Guardian has a rich "goldmine" of first-party data on its side and will start monetizing that more next year as part of its "Audience Explorer" package.
The best partnerships are those in which The Guardian can match its own readership data with a client's first-party data and technology, such as it did for HP during the Ryder Cup. Part of the project involved using HP's social listening tool to monitor conversations around the golf tournament, data which then informed a series of articles including "From One Direction to illegal tweeting: the social story of the Ryder Cup", that wouldn't have been possible otherwise.
The Guardian's editorial teams already identify real-time traffic surges for articles, but the plan is to start feeding that data back more to agency and brand "news rooms," according to Watkins. It has begun doing this with a couple already including OMD, but next year it will scale it.
Virtual reality
The Guardian is already interested in pursuing virtual reality editorially, and Watkins is keen to capitalize on the potential commercial opportunities. She added that Labs currently has two VR proposals out to brands, both of which feature mobile and video.
"If we can get those off the ground, it's a great way to fund immersive journalism," she said. The publisher is confident VR is the future, if not for these current proposals, then for future ones. So much so, it is already assessing four different VR production companies so that if one of the two proposals should come through, it can "push the button" on production, according to Watkins. However, she was quick to stress that any VR experiences created for The Guardian would be decided by editorial.
https://digiday.com/?p=150412