Facebook pages can be tricky pieces of real estate to make the most of. For brands, it's about engaging their customers, offering deals and promotions; for publishers it's a place to push out content and connect with readers. But for agencies? Well, it depends. At the very least, it looks rather odd to not have one.
"Agencies need to practice what they preach to clients and keep their pages up to date in real time," says Joe Ciarallo, vp of communications at Buddy Media. "Some are doing better than others," he adds charitably.
Some are indeed doing a better job than others. Digiday has sorted through the Facebook pages of 25 top agencies, mostly from the Ad Age's A-List agencies and some of our own selections. Call it quasi-scientific, if you will. Many agencies have pretty standard pages that just mechanically post press release-type content announcing awards and projects. Not that many have custom landing pages. Most are good about posting job opportunities and events. However, overall it seems that these agency Facebook pages are more useful internally and aren't really being used to their full potential.
"The page should do what the agency's URL cannot," explains Stephen Goldblatt, executive creative director at digital agency Evolution Bureau. "When people go to an agency's site they should expect to be introduced to the people, culture and work of the agency in a very personal way."
This notion of getting a real feel for an agency's personality was the prime factor in sorting through the agency Facebook pages. Using the criteria of number of likes, audience interactions, dynamism of content and, most importantly, how much the vibe of the agency comes through on the page, we've chosen five that stand out.
Huge
Likes: 2,588
Pros: Lot's of fun behind-the-scenes pics of what goes on during creative process. Has a jobs section.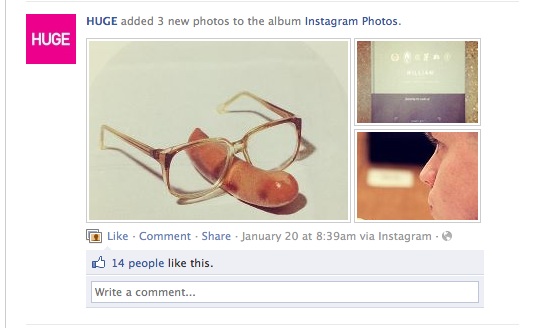 R/GA
Likes: 7,638
Pros: Posts links from their blog along with interesting, fun content from around the Web that isn't just R/GA-related.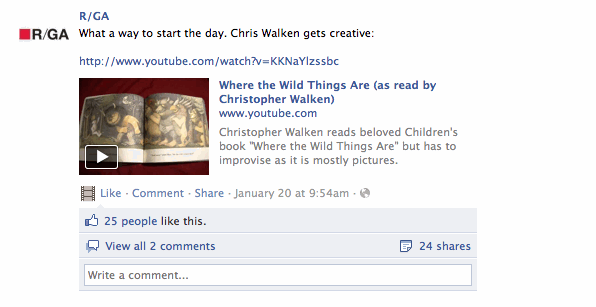 Carrot Creative
Likes: 2,908
Pros: Fun Instagram pics of staff and office. You get a feel of what it's like at the agency's Brooklyn office.
72 and Sunny
Likes: 2,683
Pros: fun/funny content that isn't just self-promotional (like Bieber pics and "overheard at the office" tidbits).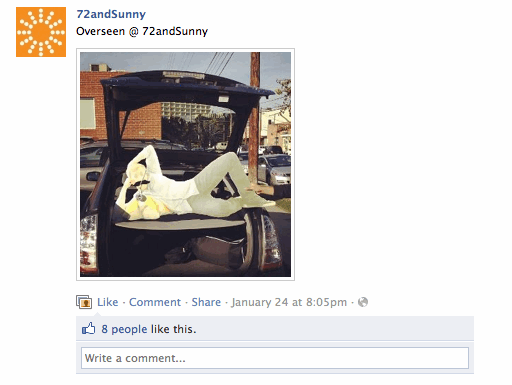 BBDO
Likes: 10,131
Pros: Showcases their own work along with other industry-related content. Has custom sections like "Thought Leadership" and "Digital Lab." Also showcases some of its fun side-projects like this New Year's Resolution generator.
https://digiday.com/?p=6287