Facebook Notify is here.
Today, the social network finally debuted its new news-centric app that delivers instant notifications from 75 publishers. Basically, the stand-alone app combines the premise of Apple News with the immediacy of Twitter in one app.
Users pick the categories they want to see news from (i.e. Sports, Business, Technology, etc.) and the publishers they want to hear from straight to the phone's lock screen. For example, choosing Fox Sports delivers sports scores and the Weather Channel sends weather updates. How novel.
After clicking the notification, the publisher's website loads within Notify, unlike on Apple News, which provides a stripped-down version of it. Here's what opening a notification looks like: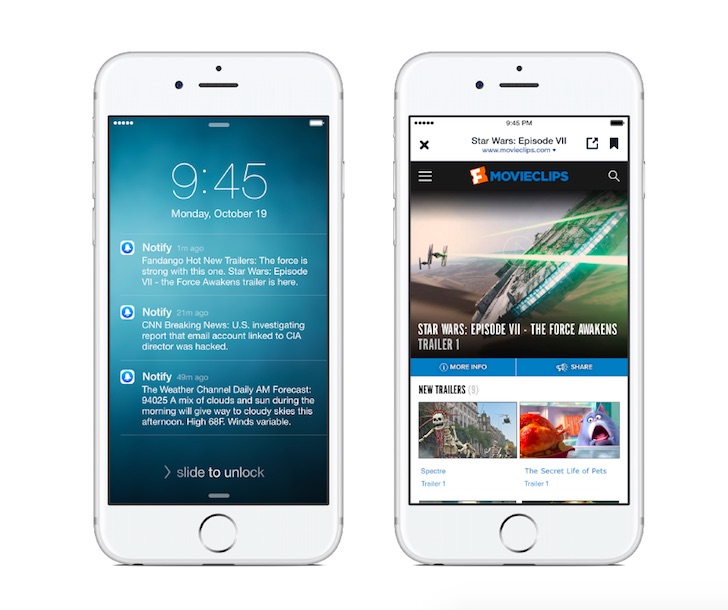 There are also options to share and save the notifications. Also, Notify doesn't have any ads (yet) and it has yet to be determined how much of a battery drain Notify will be since it's constantly pinging alerts and some stations, such as Eater's new restaurants tool, require Location Services to be turned on, which is a notorious battery-drainer feature.
The menu of sources contain the usual array of publishers, from newspapers like the Washington Post, The New York Times and Condé Nast titles to digital companies the Verge and Bleacher Report. Joining Notify benefits them because they get the extra exposure and the page views, meaning people will see their ads.
Notifications, which deliver important information without the hassle, have been growing in importance to publishers like The New York Times, which has an 11 person team working on push alerts. But is there a need for another app that delivers news from publishers people already follow?
Michael Cerda, a Facebook product direct, told Recode that notifications are becoming their own entity that people want in addition to following the news on other apps.
"People have different ways they want to consume information," Cerda told Recode. "Search is one way. Social is another way. And we think push notifications might be yet another. We see that as an evolving medium and want to be a part of that."
For now, Notify is only available for iOS devices.
https://digiday.com/?p=146183