'He doesn't have a plan': The Washington Post's David Fahrenthold on figuring out Trump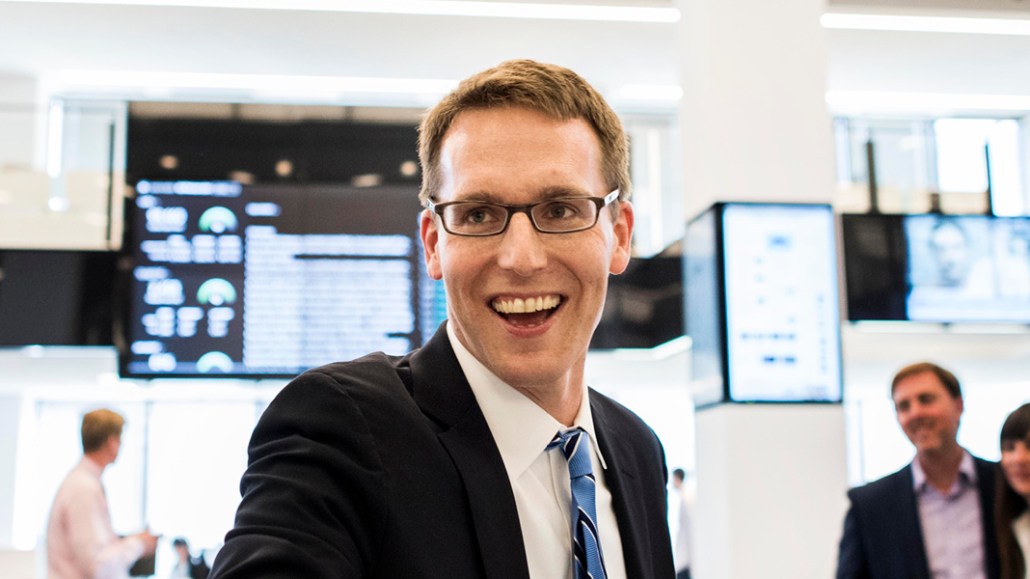 The Washington Post's David Fahrenthold has been one of the political reporting stars of this past year, with his coverage of Donald Trump's charitable activities winning journalism's highest honor, the Pulitzer Prize. He spoke with us about what still perplexes him about Trump, bursting people's filter bubbles and who he fears more than The New York Times. Answers edited for flow and clarity.
Each week seems to be more incredible than the next in terms of news from the Trump White House. Do you worry about a wearout effect on readers?
Definitely. When I first started, people could keep up with the news. Now, I worry not that people will get tired of the news in general but that things that were big today will not be remembered the next day. We used to take it for granted a big story would last.
When you were investigating Trump's claims of philanthropy, you made a point of going on right-wing media to talk about your coverage. What was that about?
When I was writing last year about Trump giving to charity, the campaign's response was not to respond to me. [Going on the radio] was to hear their side of the story. I want people to think I'm too trusting, open to all sides. I think it's important to show people what we know, the efforts we're making, so they can see every step of the way. People like that and they respect the stories that come out of it. People gave me the kind of information I'd never have gotten on my own.
Do you think efforts like that can help people get out of their filter bubbles?
I don't want to toot my horn. I don't think it's made much of a difference. The structures of it — what people watch on television, get from their friends on Facebook — I see it in my own life. It's not within the power of a reporter to get beyond that.
Should Facebook take bigger role in trying to change that?
It's an interesting question, what their responsibility is here. It's two parts — it's fake news, the teenagers in Macedonia writing stories about the Pope endorsing Trump. What should Facebook do to combat that? I don't have a good answer for that question. I know Facebook has taken some steps to let users flag "fake news" so it can be checked out, but I don't know their system well enough to recommend how to do it better. The other part is, Facebook connects me with my friends and people I know, and if my circle of friends posts stories of one persuasion, I don't know if they have a responsibility to break that rule of my choosing.
As you've observed and covered Trump, what's surprised you about him?
Just his lack of strategic thinking. He doesn't have a plan. He reacts often to things that are about his perception of himself. It's all about right now.
What's your overarching question about his presidency?
My big-picture pieces are, is the presidency good for Donald Trump's business overall, and if so, which ones. There are some in blue states that depend on regular people to stay at his hotels. What happens to that business? If it fails, does he intervene? And places that are succeeding: Does it become the main business model, selling services to those people in foreign countries?
You've suggested Trump's tweets got too much attention. What would you change about the campaign coverage if we could do it over?
I think it's important to give people a thread to follow a story day to day. We were used to how, if [a candidate] did something shameful, there was a whole cycle, of minimizing, apologizing. Trump was a different kind of candidate. He would just do something outrageous today and something different outrageous the next day. That was hard to write about because there wasn't a string of stories. Things like calling out falsehoods, we used to rely on elliptical language. It was not strong enough for Trump.
You've spent your career at the Post. One recent shift is that there's been a greater emphasis on growing subscriptions. Does that thinking trickle down to the newsroom?
I haven't heard people talk in those explicit terms. We want people to read a lot of those stories. We want people to turn to us first. If that's your goal, a subscription is a natural outgrowth of that. I don't think we do anything different because we want subscriptions rather than eyeballs. But it's been wonderful for me. You used to only hear about people in the context of canceling their subscriptions. So to have people say,
https://digiday.com/?p=256736