Digiday Research: Publisher execs say Apple News+ taking subscriber ties as risky as bad revenue split
Apple News+ is the latest platform testing ground for publishers, but it poses serious dilemmas for companies deciding whether to participate or not.
In a poll of 109 publisher executives conducted by Digiday last week, 29% said that losing control of the consumer relationship was the greatest challenge when working with Apple News+. Apple taking too high a share of the subscription price, half of the $10 subscription price, was the chief worry for 24% of publishers.
Other issues that were cause for consternation among publishers was the minimal audience data Apple will share with publishers about Apple News+ readers and the lack of branding opportunities for publishers within the app.
"Long term, what you worry about is that these customers are Apple's customers, not your readers," said David Chavern, president and CEO of News Media Alliance.
To Chavern, giving Apple that direct line to the reader runs contrary to what publishers have been trying to achieve in the last several years. "This is in an era where publishers are told all the time that they need to have a closer relationship with their audience," he said. So suddenly and voluntarily accepting a more removed relationship makes little sense.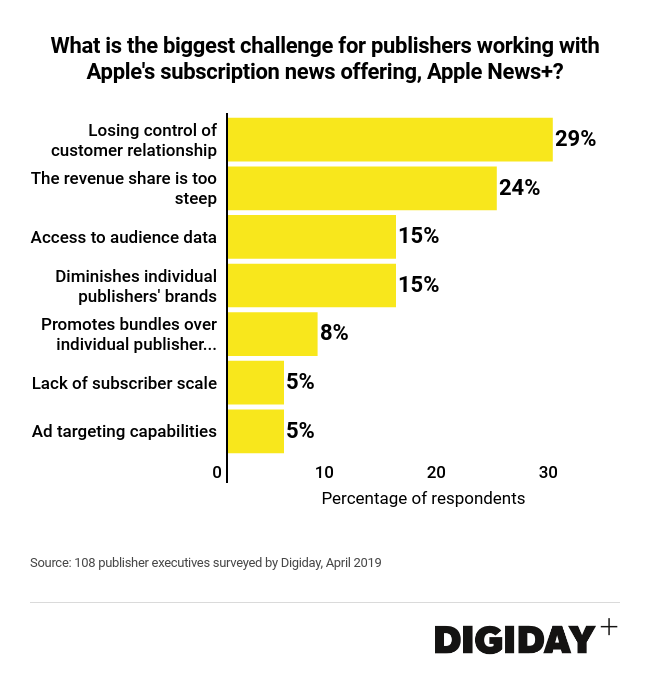 Among the other issues surrounding Apple News+ is that content is becoming commoditized and indistinguishable from one publisher to the next, limiting users' ability to connect with a particular publisher. Meanwhile, making meaningful revenue from Apple products is far from guaranteed either.