How a football publisher repurposed one event's worth of video for 4 different platforms
January 19, 2017 • 4 min read
•
•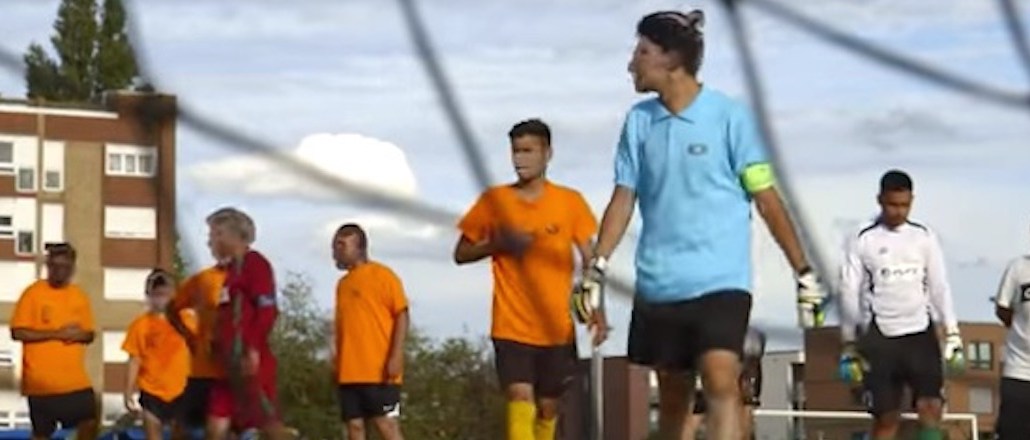 This month Copa90's documentary of a refugee football tournament, "The Liberté Cup," landed on commercial TV broadcaster ITV's online hub. It was a year in the making.
In aautumn 2016, four members of Copa90, the distributed football publisher, traveled to the Calais Jungle after months of planning to hold a football tournament near the refugee camp, drafting camp-members into the tournament along with seven teams from around Europe.
"Football is the most universal language," said head of Copa90, James Kirkham. The refugee crisis "is a difficult subject matter. We can't become preachy to our audience; we're not making political statement."
With a core team of four videographers embedded in the refugee camp, Copa90 turned 18 hours of filmed footage into about 40 pieces of video content to distribute across Facebook, YouTube, Twitter, Instagram Snapchat and on ITV's online hub. While it hasn't received ratings from ITV, the content posted to platforms has reached 600,000 people organically, according to the company.
"Horizontal and vertical photography are a consideration, but simply flipping a camera doesn't make something suitable for a different platform," said Gavin Rowe, co-founder and chief creative officer of the company. Viewers on each platform expect something different, and each channel has its own formats and rules. With that in mind, here's how Copa cut one piece of content for each platform.
YouTube
Copa90 began five years ago as a YouTube channel that focused on football coverage from the perspective of the fans, a deviation from the usual coverage from the player's perspective at the time. Since then, it has grown to 1.3 million subscribers.
It published a six-minute video for "The Liberté Cup" under the headline "This Tournament Will Give The Daily Mail Nightmares," a dig at that paper's anti-refugee stance. It's racked up 35,000 views.
"That's as much of political side as we'll get into," said Kirkham. "People can then make up their own mind. The comments section was representative of that. There's more vitriol on the YouTube comments than on Instagram."
Because people subscribed to the channel will be familiar with the football brand, this footage could afford to go into more detail on the plight of the refugee crisis, overlaid with newspaper headlines and a longer voice-over narrative. It's not until halfway through the YouTube video that it gets to the actual "Liberté Cup" tournament (the refugees' faces blurred to protect their identity).
Facebook
"On Facebook, we needed to hit them at that fleeting-phone moment," points out Kirkham.
Copa has nearly 2 million followers on Facebook. For the tournament, it posted five videos to the social network, ranging between 30 and 90 seconds. This is in line with the majority of Copa's videos, which are between 30 and 45 seconds, with most of the action happening in the first 30.
While scrolling, people need to be attracted to the action shot of quick tricks or penalties. The Facebook videos are subtitled, with much less dialogue than on YouTube, and range from roughly 17,000 to 80,000 views. Often the accompanying text encourages viewers to "tag a friend who does this" or "share if you agree."
Instagram
"Because Instagram is such a visual, aesthetic channel, we can leverage a wide variety of football images, whether that's a pair of boots or a beautiful setting sun," said Kirkham. "Instagram has to have that look and feel."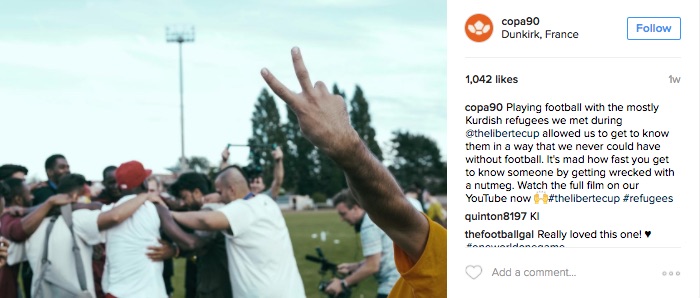 The Copa team created several dedicated accounts just for "The Liberté Cup," one on Instagram and on Twitter, as it plans to continue hosting the tournament in future months. "We wanted it to stand on its own two feet," said Rowe. The Instagram account is still fledgling, with a few hundred followers and 40 posts, but it's been boosted by cross-posting a handful of more artful shots from the Copa account too, which has 100,000 followers.
Snapchat
In a similar way to Instagram Stories, Copa used Snapchat Stories to show snippets of action as the tournament unfolded in real time, before the video was spliced up and posted on any other platforms.
"Conversations on Snapchat were immediate and ephemeral, transient, less precious, we were pointing people there straight away," Kirkham told Digiday.
These were also used to point people to the full documentary, although, Kirkham notes that using platforms as a marketing tool can ignore the reasons why people are on that channel.
"It's not a marketing device to send people to hero content. There may be some crossover," he added. "But otherwise people need to be able to get the story from just that piece of content."
https://digiday.com/?p=218059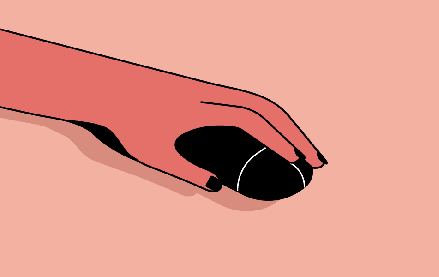 December 1, 2023 • 3 min read
People claim that the role of chief diversity officer is vanishing. However, AI is booming, and the CDO can help ensure responsible AI.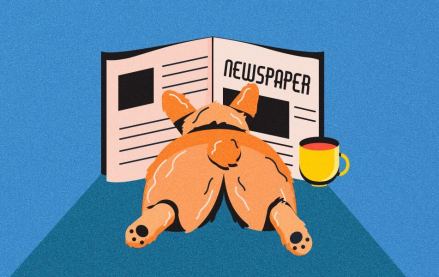 November 30, 2023 • 4 min read
Digiday+ Research found that publishers' programmatic ad revenue didn't quite live up to expectations this year, but they still see it as a growth area.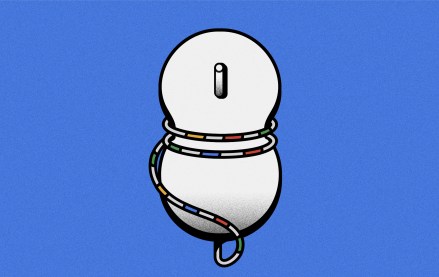 November 30, 2023 • 13 min read
For a couple of publishers, referrals from Google are down upwards of 60%.