How About.com is trying to keep fly-by visitors on its new home site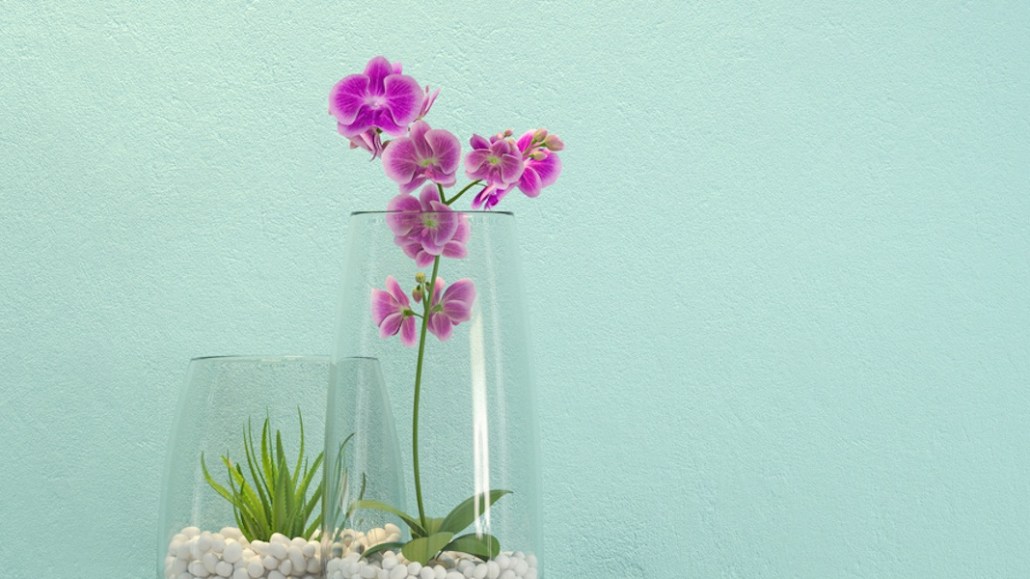 About.com is busy unbundling itself, moving from a one-stop shop for search visitors to a collection of vertical media brands. Next up: The Spruce, a new home and food site, slated for launch on Feb. 22.
The Spruce is the latest branded vertical site to come from About, which has been slicing up its content as portals fall out of favor with users — and advertisers. This is the fourth vertical media brand About has launched in the past year, after health-focused Verywell, financial information site The Balance and Lifewire, about technology.
The Spruce had a Pinterest feel, designed for exploration. There are DIY stories and recipes, but also inspirational posts, like decorating ideas. ("Make your best home" is the tagline.) The challenge is retraining people to come directly to the site and stick around.
"It's the first site we've built to be very browsable," About CEO Neil Vogel said. "The challenge is: How do you create a browsable experience that more than likely came in through search?"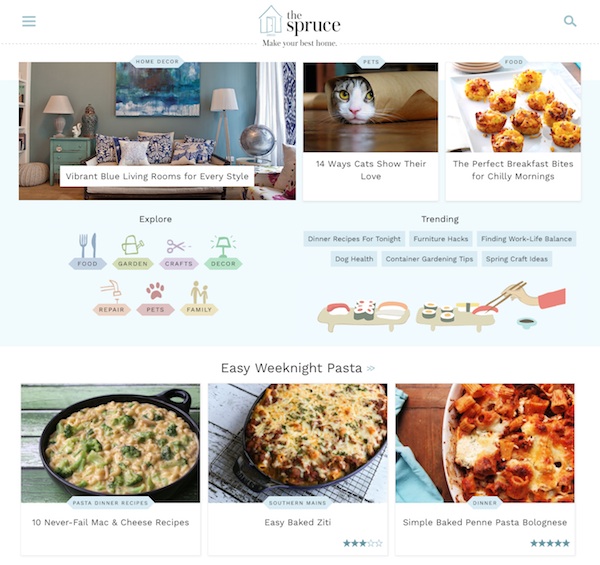 It helps that The Spruce has 80,000 pieces of content to put to work. About tagged its content so that no matter what people came for in the first place, there will be a lot of directions they can go in from there. For example, a chicken recipe could be tagged dinner, picnics or other types of meals. The tags that get shown on a given article are based on which page the visitor landed on first, because About has learned that there's a connection between where people first land and where they're likely to go next.
The end of an article is another obvious place to give readers more suggested articles. On its finance and health sites, About used the traditional infinite scroll at the bottom of its articles that many publishers use to serve related articles. For The Spruce, it built a cards-based article recommendation widget that was a way to provide a plethora of content choices.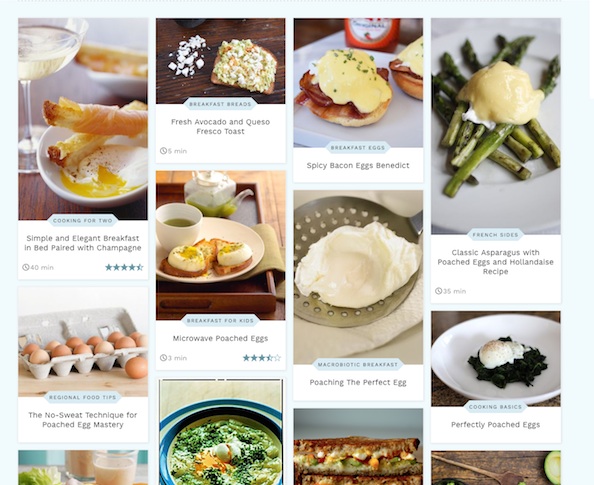 "More often than not, they are looking for broader 'horizontal' suggestions, like other types of pizza or other things with bacon or other dinner options," Vogel said. "An infinite scroll experience in this case, can be limiting."
At a time when publishers are going ever more niche — food, for example, has splintered into cocktail- and breakfast-focused sites — The Spruce seems almost mass by today's standards, by taking in not just food and home but pets and family content.
But slice the audience too thin and it's hard to get the scale sought by the packaged-goods advertisers the site is going after. And lifestyle is a big category as it is. About.com's Lifestyle Network, which comprises its home, food, style and people & relationships content, received 11 million unique visitors in January, ranking it only 37th in comScore's Lifestyles category. (In the narrower home category, About expects The Spruce to be No. 5 as measured by in comScore at launch.)
"We have the scale already. The question is, to serve a user, what's the best thing to do," Vogel said. "We think it hangs together pretty well, and we can always go more narrow."