Yahoo CEO Marissa Mayer: We need to move faster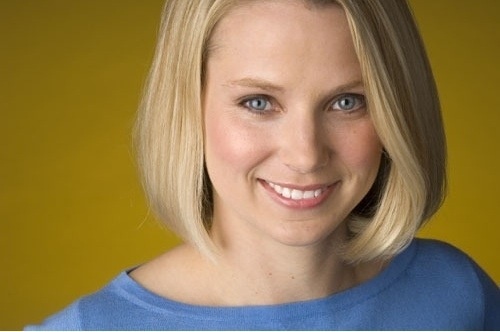 This is an installment in a series exploring Advertising Week. This series is sponsored by Celtra, provider of the first cross-screen HTML5 technology for brand advertising.
---
It's tough to be Marissa Mayer. The Yahoo CEO has been working hard to transform the portal's creaky old display advertising business into a hybrid advertising-content company that can keep up with big players like Facebook and Google. Now, in her third year on the job, Mayer is still facing questions — many of them impatient — about whether a Yahoo turnaround will ever actually happen.
Convincing them hasn't been easy.  Not only is Yahoo's core advertising business eroding, and its investors are increasingly pushing the company for its plans for the $9.4 billion Alibaba windfall. Some investors even want the company to sell to AOL.
Still, Yahoo and Mayer are doing their best to spin a happy narrative. "This may sound strange, but we think of ourselves as the world's biggest startup," Mayer said during a lengthy on-stage interview during this year's Advertising Week. "We're embarking on a transformation to rebuild Yahoo for this new mobile age and respond to all the changes and trends. This means we have to move fast."
In a wide-ranging interview with Fast Company editor Robert Safian, Mayer spoke about the present and near future of Yahoo, which is trying to get a little faster every day. Here are some excerpts.
On what Yahoo's investors are missing
"If you're undervalued, there's a real opportunity as you execute and create new products that build towards the transformation we're working to. We knew that the transformation of Yahoo would take multiple years, and we knew there would be challenges along the way."
On getting Yahoo to move a little faster
"We have a mantra in the company that we need to make decisions within a week, big or small. When you're constantly making progress, a good decision today is better than a great decision tomorrow. Time is of the essence. We need to get faster, we need to get caught up, we need to do this transformation more quickly."
On (not) getting Yahoo users to pay for its content
"It goes back to core competencies. Yahoo has always been an advertising-supported company. For us, advertising is the form of monetization that works best for us and our users."
On the digital struggles of traditional media companies
"Whenever there's a form factor change like the Internet or mobile, it causes all kinds of business models to be disrupted. What we all have to do — Yahoo included — is be pragmatic about that, look at different ways of running a business."
On native advertising
"I love native advertising. I think of advertising as an art form. When you look at more advanced fields of advertising — billboards, magazines, television commercials — those ads are native by definition. They all match the content around them. TV commercials are thirty-second stories inside of thirty-minute stories. Today we have ads [on the Web] that don't necessarily match the content or fit into the experience, but you're starting to see those ads that do fit in tend to work better. The holy grail in online advertising will be when the ads are so good that they attract more users."
On Yahoo's competition
"I don't think of it as competition, necessarily. There's a lot of great services out there and people are going to use an array of them. They're going to use some of our services, but not all, and very few users are going to use all of our products. Some will use Yahoo Finance and Yahoo Mail, others will use Yahoo Search and Flickr. They're going to pick the products that suit their liking and suit their needs. If you build high quality products, you get more users."
https://digiday.com/?p=90327