Politicians desperate to tap into the youth vote ahead of the EU referendum took to Facebook Live on Friday June 10, for a town hall debate hosted by BuzzFeed.
The lineup included armed forces minister Penny Mordaunt, first minister of Scotland Nicola Sturgeon, UKIP leader Nigel Farage and U.K. prime minister David Cameron. Over the course of the afternoon each politician had roughly 40 minutes to answer questions from the audience and Facebook. BuzzFeed split these up into four separate videos as the social network only allows live streams that last up to 90 minutes.
"We wanted to bring the EU referendum debate to as wide an audience as possible," said Andy Dangerfield, BuzzFeed News U.K.'s social media editor. "Not all of our fans will click-through from our Facebook pages to our election stories. On Facebook Live, we're sharing the story natively on Facebook rather than demanding referrals."
At time of writing the four videos had cumulatively reached approximately 6 million views, bringing in more viewers than Sky News and ITV's live TV debates combined (398,000 and 4 million respectively). BuzzFeed's U.K. Facebook page has just 1.3 million likes.
Indeed, BuzzFeed was chosen by Facebook two months ago to host the debate partly because of the publisher's access to younger audiences, desired by both the social network and the participating political leaders. BuzzFeed also happens to be one of the media companies that is funded by Facebook to shoot live videos, as are others like Vox and Huffington Post.
Farage and Cameron, prominent figures who drew bigger audiences, had the most reactions and views. Currently the most viewed is of David Cameron, with 2.5 million views. However, only 1.5 million of those last longer than 10 seconds, as Facebook Live videos autoplay as people scroll past them. Although this video did generate 93,000 reactions, comments and shares. Overall there have been 200,000 engagements across the four videos. 
"We wanted to make an interactive experience where the barrier to entry was as low as possible," added Paul Curry, developer, new formats at BuzzFeed U.K. "Post a reaction or submit a comment natively within Facebook: All things viewers know how to do."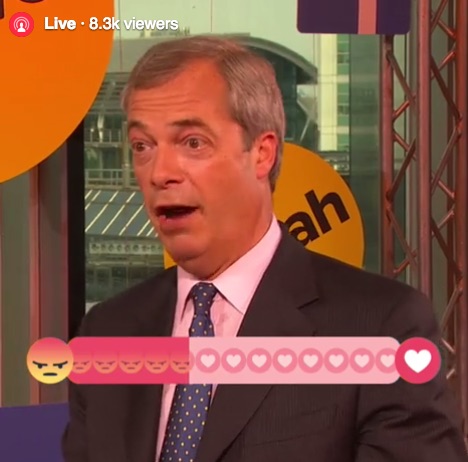 A live sentiment tracker, created by Curry in under two days, allowed viewers to share whether they loved or hated what was being said. The politicians' performances were measured by the number of smiley or frowny faced emojis they inspired.
The tracker was on screen for each politician's 60-second opening speech, then if something controversial was said — for example, when an audience member swore at the prime minister — the bar flashed on-screen again, prompting more viewers to add their own reactions.
"Interaction with the audience is obviously key to making them feel like a valuable part of the broadcast," said Curry, "it's not TV, it's live. This won't be the last piece of audience interaction technology for Live that you'll see from us."
Dangerfield said BuzzFeed will be experimenting with the reactions and using them for other videos, interviews, interactive quizzes, and "other fun stuff involving cute animals."
Online streaming is not regulated in the same way as TV, so from the beginning BuzzFeed was able to set the more colloquial and conversational tone, said Dangerfield. "We scripted in some swearing at the beginning. We wanted it to a bit more relaxed, a bit more irreverent, more self deprecating, so the audience weren't afraid to challenge the politicians."
Since the beginning of March BuzzFeed has been posting around three Facebook Live videos a week, and plans to keep that up, depending on the week's news cycle.
"Facebook Live stories need to be simple, original and engaging," said Dangerfield. "Our most successful Facebook Live videos are where audiences have an understanding of what the expected outcome is," this, he said, creates the tension, for instance, audiences knew at some point the watermelon would explode. "The most successful videos are the ones which have a sense of jeopardy." 
Images: Courtesy of BuzzFeed.
https://digiday.com/?p=182829