Brands eye new ways to foster innovation with agencies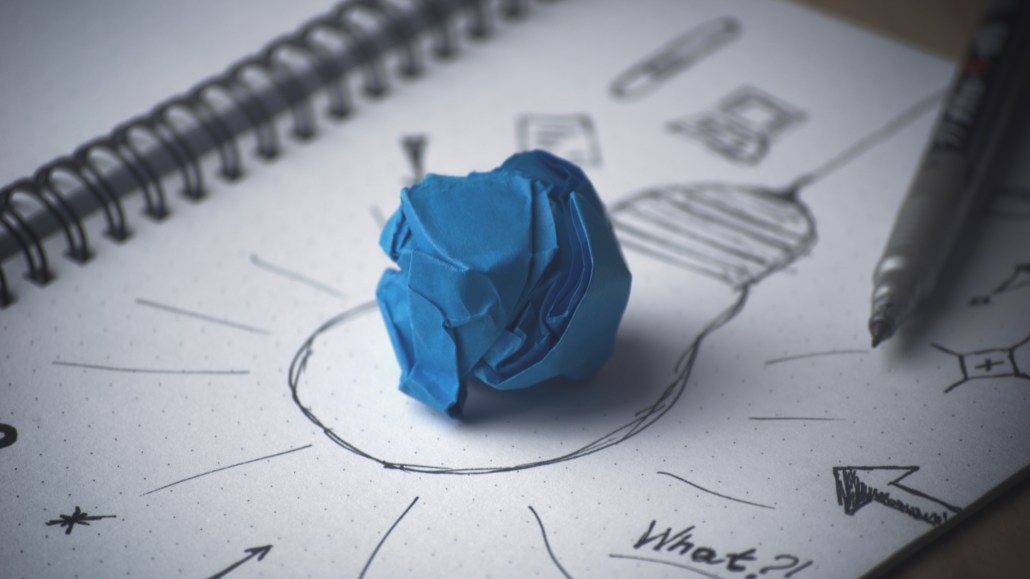 Brands are starting to exert more control over how their agencies commercialize their innovation briefs amid the industrywide push for greater transparency in advertising.
Much of the transparency debate to date has centered on media trading, but as a former advertising executive anonymously confessed to Digiday recently, innovation isn't always what brands get when they invest in an agency's accelerator scheme or hub. While marketers have raised similar concerns in the past, they are more likely to act on those now that they are under more pressure to innovate their way to top-line growth.
"Clients are aware of all of the changes that are happening as the changes are impacting their business day by day, so they require different solutions from their agencies," said Nicole Yershon, the former innovation chief at the now-defunct Ogilvy Labs and founder of innovation consultancy LabForHire. "It's all happening now because for the last 18 months, these solutions have not been forthcoming, and market forces are beginning to exert themselves both through marketing and procurement in client organizations."
For people working in innovation roles, Yershon said those changes started to manifest 15 years ago, "so it is not like it is out of the blue." She added, "That's why the lab concept is not a short-term and immediate money spinner — it needed a culture change to blossom, and this change has not happened."
The likes of Coca-Cola, Unilever, Santander and Visa have attempted to take marketing innovation in-house over the years, yet it's difficult to gauge how successful they have been. Coca-Cola shuttered its startup incubator late last year only to launch a more commercially driven version in its place just months later. While these efforts arguably try to disintermediate agencies to get to startups, other brands think the way forward is to structure their relationships with innovation leads at agencies around business outcomes and metrics that promote mutual value.
Hussein Dajani, Nissan's gm for digital marketing for Africa, the Middle East and India, has taken this approach to his role since he joined the company last month. When most agencies and clients were at the Cannes Lions, he was scoping out the latest innovations from Google, Facebook and Amazon in Silicon Valley, where he could get closer to trends other marketers might have relied on agencies for updates on. Dajani's decision has been crucial to his early efforts to give his markets more autonomy to interpret innovation briefs and, consequently, work closer with the key partners in its Nissan United network of Omnicom agencies. Rather than thinking of an innovation as an incremental product, he encourages his teams to think of it in terms of holistic strategies, whether that be the technologies used to gain operational efficiencies internally or developing services that could revolutionize the business.
"Innovation is no longer a strategy that comes from global," Dajani said. "We're saying to our markets, 'This is the global strategy, but feel free to adapt it to your markets as long as the overall objectives are being met.'"
Santander is another brand trying to be more hands-on when it comes to how its agencies invest in innovation on its behalf. While the bank has funded startups since 2014, it recently changed how it works with its agencies in the U.K. on digital transformation projects. Those agencies now have shared KPIs and budgets from the bank in order to help root investments in its challenges, and its marketers are being trained on collaboration software like Slack with the hope the tools will help with project management.
Elsewhere, British Airways arranged a "Dragons' Den"-style event where several agencies pitched how they could "make the world better" to around 200 of the airline's employees. The move was a part of the wider digital transformation at the airline that's pushed its marketers to reassess the type of agency they work with.
"If you want to think digitally, you need everyone to think digitally," said Jack Smith, head of digital at British Airways, at an Oystercatchers event earlier this month. "Customers want a relevant service; it's not about personalization."
But for all the talk of why marketing innovation is now so important to corporate growth, some industry observers believe few companies have embarked on that journey, while those that have still face challenges. It's why companies like Yershon's LabForHire; Broody, the joint venture between creative agency Mother and former EE chief marketing officer Pippa Dunn; and Co:Cubed, formed earlier this year by Jeremy Basset, the former boss of Unilever's Foundry accelerator scheme, have emerged to try and convince senior marketers and CEOs to invest in new businesses based on their insight and knowledge of gaps in the market.
"It's not unusual [for a senior marketer] to spend a million pounds developing an innovation proposition, and at the end, it amounts to a PowerPoint presentation," Dunn said. "Where the real gap lies is if you can create a new breed of agency and take it [money] from existing marketing budgets and aren't asking CMOs to come up with more money; then, you're just giving them something that's more tangible and concrete in return rather than what they'd normally get."
https://digiday.com/?p=246262