Founded as a sports site, USA Today's FTW finds other interests
Focus is rare among publishers looking to grow. The push to attract more readers and a wider base of advertisers means publishers are tempted to expand beyond the subjects they covered at launch. Consider Business Insider, which began as a site covering the New York City tech scene; Mashable, which initially focused on social media; and The Verge, which started out covering gadgets but has branched out into culture, science and transportation.
USA Today sports site FTW is mulling a similar expansion. The site, which has mastered the art of fast-twitch viral news stories designed to get sports fans clicking and sharing has used those tactics to fuel its push into coverage of food, entertainment and Web culture.
Some of the most popular examples of that output are stories about beers readers should try before they die (shared 220,000 times), the best sandwich in the world (shared 120,000 times) and the fallout of this year's Miss Universe competition (shared 63,000 times). The result: FTW, whose monthly unique visitors comScore said doubled to 12 million in November compared to the year before, now gets 10 percent of its traffic from its culture coverage, which represents 10 percent of its overall output.
"We're mostly still a sports property, but our sports writers do have other interests,"said Jamie Mottram, USA Today's director of content development. "So long as they're able to cover sports at a high level, we see no reason not to have them weigh in other subjects that they care about."
Mottram pointed to FTW's lead baseball writer Ted Berg, who also turns out a "Walking Dead" recap series called "Walking Ted." Fellow writers Nate Scott and Micah Peters, who are former music writers, also lead FTW's music coverage. Overall, the site's writers publish around five culture stories each day. FTW hasn't hired any new writers to focus on culture coverage.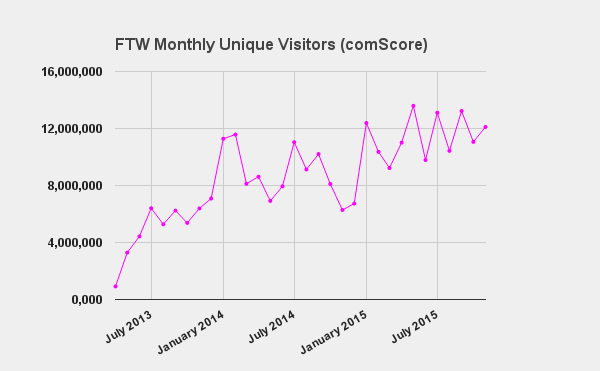 Such coverage drift has become typical of digital publishers looking to grow, but it's a double-edged sword. While a broader editorial mandate can attract more readers and advertisers, it also risks diluting the site's brand and alienating core readers. Sites also risk losing their sheen in the the eyes of brands.
"There is a perceived premium to sports content sites not only from a contextual relevance standpoint but also from a targeting perspective," said Manny Rodriguez, media buying director at 22squared. "When a sports centric site moves away from endemic sports coverage there's a definite loss of that 'sports' identity."
But what connects FTW's culture coverage with its core sports coverage, Mottram said, is the site's focus on fans and the topics they talk about.
"Digital news organizations often broaden their scope in ways that don't ring true to their beginnings, but I don't think that's the case here," he said. "I don't think this is us broadening in an unnatural way."
https://digiday.com/?p=154238