Barstool Sports' Erika Nardini: Barstool aims to hit $100m in revenue in 2020
May 14, 2019 • 3 min read
• By
Digiday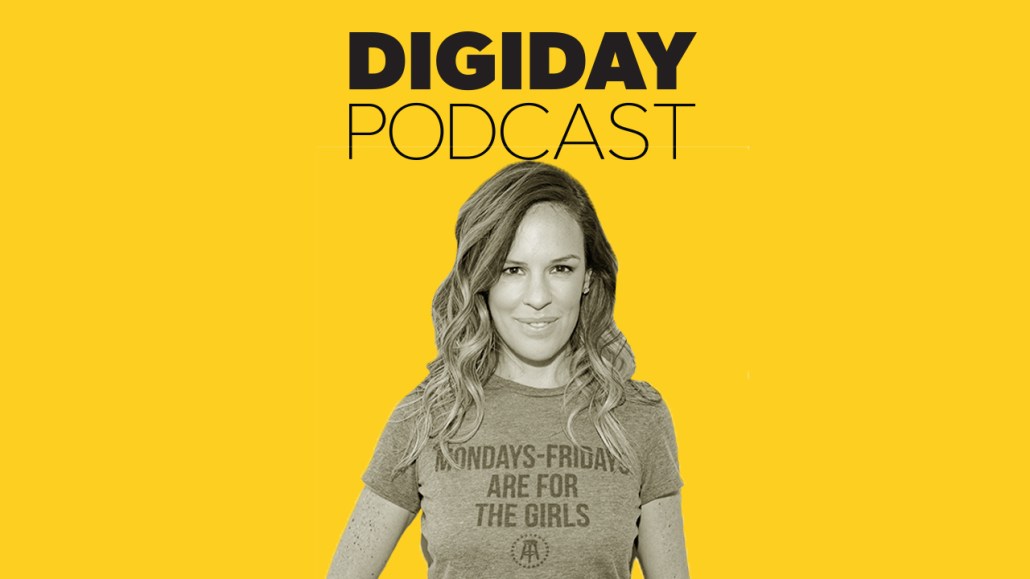 Subscribe: iTunes | Spotify | Google Play | Stitcher | Anchor
Barstool Sports CEO Erika Nardini believes Barstool can be a $100 million revenue company "within the next year and a half." That will have to come from growing channels of revenue and not depending on any one of them, especially advertising.
"I want zero dependency," Nardini said on this week's episode of the Digiday Podcast. "The minute we become dependent on one partner or advertiser, [our brand] will change in cloud and make us think twice before we do something. We have a healthy advertising business and a commerce business. But we're also building a subscription business and a pay-per-views business."
The idea, she says, is to break away from the common practice in the media business to cater to the advertiser.
"It's very common [for media companies to] correlate the word customer and advertiser. In our business, when we say customer, we mean a fan. We think about how we can get a bigger share of their feed and making them a t-shirt they'll love or how to build a subscription product that they'll subscribe to. Most companies are not as unafraid and as consumer-oriented as we are. When you're solely oriented to advertisers, it makes you risk averse and you think about what's politically correct and what's acceptable to your advertiser."
Nardini discussed how Barstool is building out these revenue streams, why personalities matter, how podcast revenue is lucrative for Barstool and more. Edited highlights below.
It's time to rebrand as a lifestyle brand.
"We're one part media brand, one part a collection of influencers, one part lifestyle brand. You'll see people wearing our t-shirts, buying our merchandise, coming to our events and paying for our pay-per-views. We behave in a way of a traditional media company in the sense that we publish content, distribute it and monetize it. We're an influencer brand in so far as we have a collection of personalities who run their own socials, engage in their own dialogs and champion their one merchandise. We're a lifestyle brand in terms of how we're building things outside the internet."
Barstool wants to build personalities, not just hire them.
"Personalities are the new publishers. Our fans look to our talents' reaction around the things they jointly care about. They wait for it. Barstool [talents] never professes to be professional journalists or experts on anything. They professed to be fans of sports, comedy and entertainment. We create an organic real estate for ourselves everywhere we can — Facebook, Instagram, Twitch, Snapchat. The commenting around a single piece of content beats an algorithm."
Advertising is increasingly lucrative.
"Advertising is about 55% [of our revenue.] Brands are finding that if they want to reach an 18-34 year-old and move product, we are an exceptionally good bet. When we partner with Cash App, "Stoolies" [Barstool fans] download CashApp. Podcasting is a significant part of our advertising revenue. Three years ago, we had three podcasts. Now we have 25. We grow brands through podcasts and we are incubating 10 additional podcasts at Barstool. Podcasts are significantly bigger than the website in terms of revenue."
https://digiday.com/?p=333750