Al Jazeera's distributed content unit generated 2.2 billion Facebook video views in 2015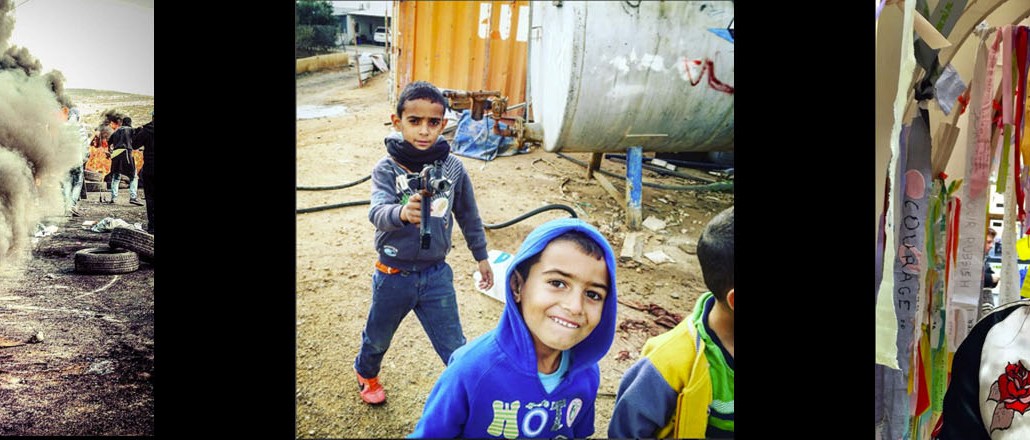 Al Jazeera's 15-month-old digital-only offshoot, AJ+, has made a big bet on distributed content, trading a website for an editorial strategy centered on building audiences directly on Facebook and other platforms. Its output, focused on social issues, is created with mobile viewing in mind — which is to say, short, sharable and made so that it can be viewed with the sound off.
That formula has helped the 100-person AJ+ reach a sizable audience across platforms. AJ+'s 70-person content team produces around 50 videos a week, most of which are about a minute long. On Facebook, where it has 2.8 million likes, AJ+ got 2.2 billion video views in 2015 (around half of those were 30-second views.) It's the seventh-most-popular video publisher on Facebook, directly behind NowThisNews, according to November numbers from Tubular Labs.
AJ+'s strategy is very much weighted toward Facebook. It has 56,500 followers on Instagram, 170,000 subscribers on YouTube and 166,000 on Twitter.
"The advantage with this approach is that it makes us much more audience-focused," said Jigar Mehta, AJ+'s engagement lead. "We're a lot more thoughtful where the audiences are and how they're consuming the content there. Thinking about it like that helps us push the form of how to tell stories on each of these platforms."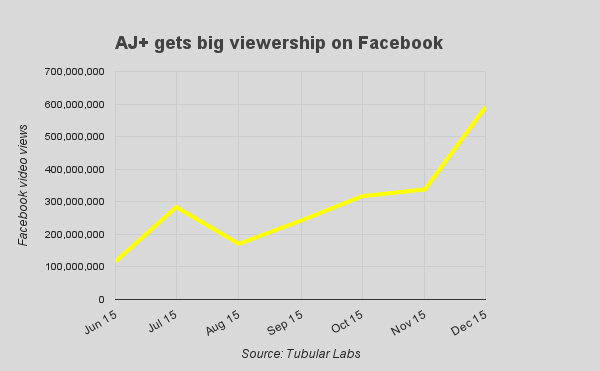 Distributed content strategies have become the latest flavor of the month for publishers, which are looking to boost their reach by teaming up with and creating content directly for platforms such as Facebook, Instagram and Snapchat. The likes of BuzzFeed, Business Insider, Quartz and Fusion have all made it core to their growth strategies.
NowThis is AJ+'s closest competitor in the purely distributed approach, and both were conceived with the platform strategy in mind. The monetization strategy for these publishers is still unclear: build big audiences, then work with the platforms on ad deals, or team up with aligned brands looking to reach those big audiences. The problem is that playbook has worked on YouTube but cannot be exported, at least currently, to Facebook. Mehta said that AJ+ has yet to ink those kinds of direct deals with brands but says that on-platform monetization is on the horizon in 2016.
Mehta said that AJ+ has avoided the temptation of simply repackaging existing video content for each platform. Instead, the publisher has approached each platform with an eye for what works on each. For its recent coverage of the Syrian refugee crisis, AJ+ used Facebook to post a three-minute explainer on what refugees were searching for on Google.
On Instagram, where it doesn't post video, it has focused on visuals by photographing and profiling refugees in the captions.
That platform-first focus extends to production as well. With its reporting out of last year's disturbances in Ferguson, Missouri, AJ+ recorded video using iPhones, not professional equipment. "We try to approach these platforms in a way that's authentic and natural to each," Mehta said.
AJ+ isn't equally bullish on all platforms, however. It has yet to crack Snapchat, for example, because it's not sure how to best tell thoughtful stories in a format that works on the platform. (It did, like other publishers, rush to grab its handle on Peach.) Figuring out the balance between investing in new platforms and improving its processes with existing ones is one of AJ+'s biggest challenges, Mehta said. It's a challenge shared by other publishers as well.
"We're past the stage where we have the ability to be experimental and try stuff just to see if it works. That's something we're starting to struggle with as we become a more established organization."