Now that emojis are all over digital marketing, there's growing demand to measure their impact in brands' campaigns, just like the rest of their media. This demand is spawning a cottage industry: A number of companies are starting to put science and data behind the seemingly frivolous emoji market.
Companies with names like Snaps, Emogi and Swyft — to name a few — are figuring out how to apply traditional digital ad measurements to emojis, GIFs and stickers. The emoji phenomenon has been partly propelled by messaging apps, where most people communicate using the visual symbols, and by social media like Twitter, where emoji is the lingua franca.
"This is a pretty big problem for brands today," said Evan Wray, co-founder of Swyft Media, a virtual keyboard maker that specializes in emojis, GIFs and stickers. "There are more than a billion messaging app users who are highly engaged, but you can't reach them with traditional mobile ad spending."
Swyft has worked with brands including Ford and Dell to implement emoji and sticker campaigns, big advertisers that demand to carefully count every dollar spent.
In typical digital campaigns with display ads and videos, there is mature technology that tracks view counts, measures costs, and gauges sales and brand lift. Emoji campaigns are more difficult to measure in those ways, but that could change as technology improves.
Swyft tracks basics, like the number of downloads and shares, and also gathers retargeting data, Wray said. Advertisers can retarget emoji campaigns to users who showed interest in an earlier one, he said. For example, Swyft provided some insights into the Ford sticker campaign that ran on messaging apps — 1.4 million Ford stickers were shared generating 34 million impressions. The stickers cost Ford $2 for every 1,000 impressions.
Emoji marketing can cost as little as $1.50 for a 1,000 impressions, Wray said. On Facebook, rates are consistently higher than $5 for 1,000 impressions. When someone shares a brand in a personal message among friends, that's a substantial endorsement, Wray said.
Of course, Facebook is a much more targeted medium, and the emoji players are trying to develop the technology to become targeted environments, too.
Emogi is a sentiment-analysis platform that puts emoji-based surveys into ads so consumers can rate them. The platform works by serving digital display and video ads and letting people click away from them if they submit an emoji — happy, sad, neutral — to express how they feel about the brand.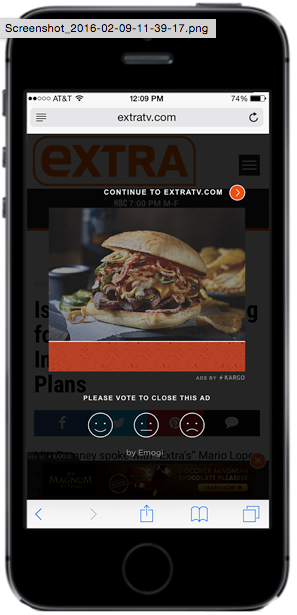 When people submit an emoji reaction to Internet ads, Emogi builds analytics around the emojis and uses that to build audiences. The people who gave a smiley-face response become good targets for follow-up messages, for example. Emogi is helping brands like IBM implement the technology into its email marketing and mobile video ads. It is also developing more analytics to track sentiment around a brand based on what emojis are being used when the brand is mentioned online.
Social media analytics company Spredfast looked at Twitter campaigns before and after the launch of branded emojis for advertisers like Coca-Cola and Starbucks. In all cases, shares of the campaign hashtag soared on Twitter.
Snaps, a messaging marketing platform, helps brands manage and measure campaigns that involve emojis and stickers, by tracking how emojis are helping generate shares and views for their campaigns. "We can show it drives scale and real ROI and that the media buy has been effective," said Christian Brucculeri, CEO of Snaps.
Advertisers are measuring for all the usual signs of success like brand lift and sales impact. "A low six-figure investment can deliver millions in media value," Brucculeri said.
Still, not all brands care about return on emoji investment, according to agency veterans. Branded emojis are still mostly good for branding campaigns, not driving foot traffic to stores.
They're a typical awareness play, based on building brand stories. "We haven't seen much in the way of research designed to specifically determine the ROI that emojis can add, but we aren't incredibly interested in pursuing that type of research," said Richard Guest, president of North America operations at Tribal Worldwide. "Just like we wouldn't try to measure the ROI of great design or art direction."