It's little surprise that so many agencies feature murals: Creative wall paintings can evoke the ethos of a group in a way that words often cannot.
From Leo Burnett in Chicago to RPA in Santa Monica, agency murals share common characteristics while also uniquely showcasing the spirit and philosophy of an individual shop.
Here are some of our favorites:
RPA
RPA's courtyard features a large mural designed by one of its own group creative directors, Nathan Crow, who started at the agency as a copy typist over 15 years ago. The three-story mural, which serves as the backdrop to various meetings and lunches, is completely hand drawn and consists a series of portraits meant to evoke a sense of diversity — a source of pride for the agency.


"It's the people that make a place and matter the most, which is why I've always loved the idea of illustrating people," said Crow. "I wanted people to be able to see themselves in the mural, but whether the characters are directly inspired by people at the agency is open to interpretation."
The BAM Connection
When The BAM Connection first opened the doors of its office in Brooklyn's hip Dumbo neighborhood, it put out a brief to the artist community there, asking them to interpret its driving philosophy "Simplicity Liberates Creativity." The winning pitch came from Beau Stanton, who was then commissioned to paint the mural.

"It is the absolute first thing people see when they walk in every day — it is inspired by a neighborhood that inspires us," said Maureen Maldari, CEO at The BAM Connection. "The key visual represents hands reaching out from the tree of creativity."
Droga5
When Droga5 moved into its new digs on Wall Street in 2014, it wanted the new space to reflect its Australian heritage. So each of its eight conference rooms is themed after a deadly Australian animal. There is a white shark mural, for example, as well as a box jellyfish room, among others. These conference rooms are spread out across the 10th, 11th and 12th floors, and were created by teams within the agency.


"It was our attempt to 'Australiafy' the new space, and it has since become a part of the vernacular here," said Rich Greco, design director at Droga5.
Posterscope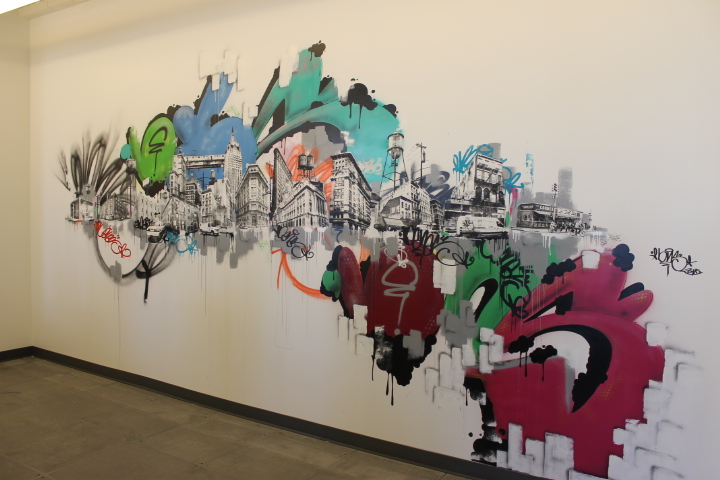 Posterscope prides itself in being the out-of-home expert, so its New York City-inspired mural is an homage to some of the city's most iconic buildings and locations, including the Flatiron building and Katz's Diner. Brooklyn artist Mariano Pilatti of The Raw Art created the mural, which leans on the tropes of street art to symbolize freedom of creativity and expression.
jones knowles ritchie
JKR Global's mural was done in a surprisingly temporary medium: chalk. It is the first thing visitors see when they get off the elevator in the agency's Greenwich village offices. The mural was the brainchild of its co-founder and global executive creative director, Ian Ritchie, who envisioned it as the common thread binding its offices around the world.


"We feel that in a digitally saturated world, it's important to have a reminder of human touch in the studio — to remind our team of what they do every day, which is helping create beautiful things by hand for brands," said Sara Hyman, managing director at jones knowles ritchie New York.
Iris Worldwide

When this British agency network opened its flagship U.S. office, it dedicated a long white open wall there for a massive mural. The shop tapped British artist Shantall Martin, who took inspiration from everything around her — the room decor, the toys and even the gadgets on people's desks — and made a surreal black-and-white mural drawn in pens.
Leo Burnett Chicago
The giant mural right across from the reception desk at Leo Burnett's Chicago offices combines the city's skyline and the agency's own icons, such as apples and Alpha 245 black pencils. There are two additional murals in the space, one of which is a "HumanKind scale," where every piece of work from the global network in evaluated every quarter.
"The imagery celebrates two sources of pride for us — creativity and our home, Chicago," said Leo Burnett Global CEO Rich Stoddart.
Giant Spoon
A graffiti-esque painting called "Exodus" adorns the Los Angeles offices of Giant Spoon, which it shares with agency Troika. It is acrylic and spray paint on wood by creative duo DevNGosha, a collaboration between artists Devin Liston and Gosha Levochkin.


The mural depicts the journey of a jovial alien species known as "Dreamweavers" as they depart their home planet after defeating evil forces to find a foreign paradise known as Los Angeles.
BBDO
BBDO's mural is located in the seventh floor Café area of its New York City offices and is packed with quotes that are meant to drive creative inspiration. The mural isn't just a collection of generic or well-known quotes — rather, they are spunky sayings written by staffers.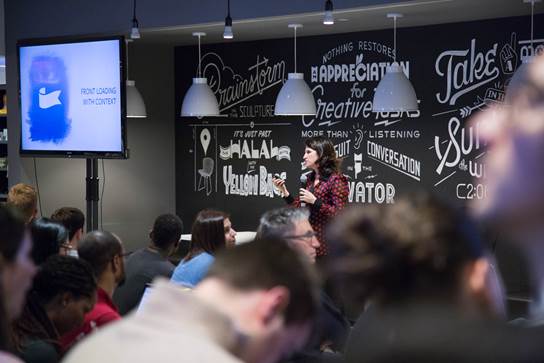 "Travel is always great for inspiration. Visit someplace outside your comfort zone, like the 5th floor," says one. "Nothing restores appreciation for creative tasks more than listening to a blue suit conversation in the elevator," says another.
David&Goliath
One of the most prominent features in the agency is its "Wall of Goliaths": a wall of over 180 picture frames showcasing its employees' fears, from a fear of public speaking to fear of dancing. Directly opposite this wall is a mural rendition of it by renowned contemporary artist Eric Haze, who has painted his interpretation of what "Brave" is, facing down the Wall of Goliaths.


"We gave him a one word directive: Brave," said David Angelo, founder and chairman of the agency. "It now serves as a visual reminder to all of us to be the 'Brave' one."
https://digiday.com/?p=160662