'A whole new world': Coke has a sponsorship deal with a virtual soccer star in 'FIFA 18'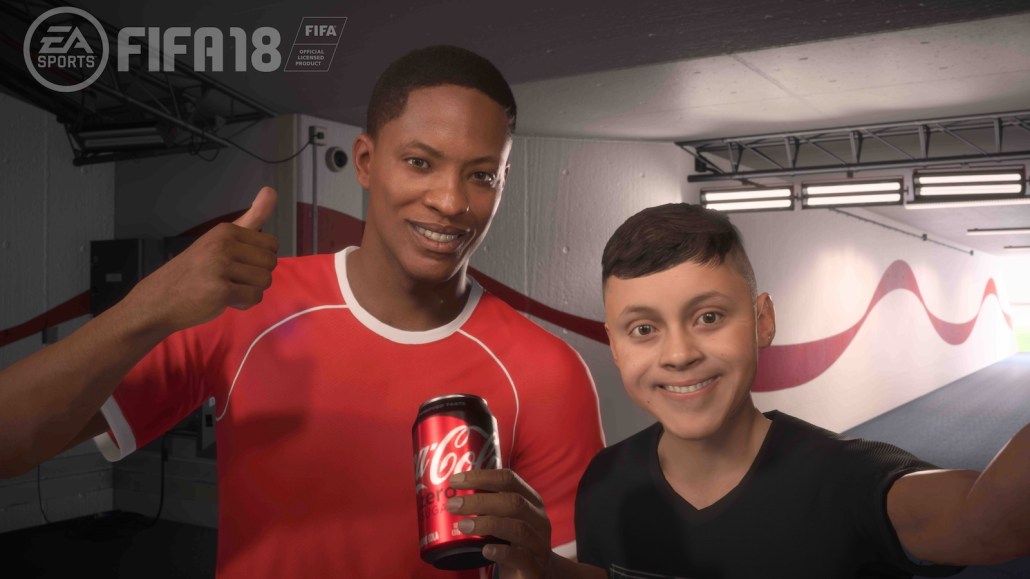 From Alex Morgan to Cristiano Ronaldo, Coca-Cola has a long history of using soccer sponsors. Now, for the first time, the beverage behemoth is using a virtual one.
In EA's upcoming "FIFA 18" game for Playstation 4, on sale Sept. 29, Coca-Cola will be promoted through the fictional soccer star Alex Hunter. Players can play as Hunter, who, after rising to fame as a member of the LA Galaxy team, signs a deal with Coca-Cola and shoots a commercial in one of the scenes of the game. The initiative is the latest part of Coca-Cola's 20-year partnership with EA and was created in collaboration with Anomaly, Mercado McCann and Havas.
"For us, this reinvents brand content and how we approach advertising," said Alban Dechelotte, senior entertainment marketing manager for Coca-Cola Co. "This is a whole new world."
For Coca-Cola, it's all about engaging fans across multiple dimensions. "It gives another way consumers can appreciate the brand," said Matt Wolf, vp of entertainment, ventures and strategic alliances at Coca-Cola Co. "We think it's a natural evolution of where content is going."
Coca-Cola and EA are using their virtual sponsor in every way they would a real celebrity in an effort to "try to blur lines" between reality and the virtual world, said Dechelotte.
For instance, to promote the in-game story, Coca-Cola has created a spot from the scene where Hunter stars in a Coke commercial. Dechelotte said the story reminded his team of Coca-Cola's commercial featuring Pittsburgh Steelers star "Mean" Joe Greene, which premiered in 1979 and aired during the Super Bowl in 1980. Today, it has more than 3.6 million views on YouTube. So the team decided to pay homage to it, further blurring the lines between reality and imagination. In the original commercial, a kid offers his Coke to "Mean" Joe Greene. In this version, a kid offers a Coke to Hunter. The brand is sharing the spot on social media starting on Sept. 21.
Coca-Cola is also distributing limited-edition custom cans with the digitalized Hunter at 7-Elevens and Walmarts in the U.S., Canada and Mexico. Under the tab of each can of these Cokes is a code that consumers can then enter in the FIFA game to download exclusive content that can help them along "The Journey."
In June, EA even created a Twitter account for the character (@MrAlexHunter), which already has 49,900 followers. On Monday, Cola-Cola had the character account tease a still from the game.