'What's a cask?': What Macallan has learned from its Facebook chatbot
September 29, 2016 • 3 min read
•
•
Digital is a core tenet of premium Scotch whisky brand Macallan, and it's hoping its experiment with a new Facebook Messenger chatbot will be the next step in its marketing growth.
Two weeks ago, Macallan launched a chatbot that was the first in its category: Available on Facebook, it both educates customers ("what's a cask?") and also helps them pick the right whisky — and then directs them to a place they can buy it.
The brand said it's a natural progression. Even on Instagram, its fastest growing social channel (it grew 250 percent to 73,000 followers in the last quarter alone), it has focused on creating lifestyle content tailor made for millennials, especially those new to whisky. The chatbot is a Messenger iteration of its "Did you know?" series that demystifies what goes well with whisky, how to drink it, whether there's an "e" in it (not in the case of "Scotch whisky," for the record), and so on. "We continuously want to innovate in this space so we are testing technologies to communicate who we are," she said.
Here's what the brand has learned so far from its chatbot experiment.
There is benefit in guiding people to a sale
While the chatbot also does fulfill the educational aspect, it also drives people looking for the right whisky to a place they can buy it. In two weeks, the company has seen 1,600 engagements with the chatbot. "The ultimate goal is to purchase, even if it isn't an immediate purchase," said Samantha Leotta, digital marketing head at Macallan. "We'll use this to inform our other channels."
The bot has to sound human, but not too human
Leotta said the team is constantly tweaking and improving the bot. The hardest part was to have the bot talk in a language and way that matches the tone.  "That's also what our users expect from our brand, especially in a one-on-one interaction like this," said Leotta.
For example, when the bot engages a user it might ask the person if they know when Macallan was founded. One of the preset answers the user can choose from is: "I don't believe so," a relatively formal style befitting the company. It also has ao anticipate all sorts of questions. But one of the major complaints with bots so far has been that it's a relatively clunkier experience. Leotta is okay with that. She's found that customers want to chat naturally, but want the bot to not sound too human. "It has to talk in a formal way," she said. "People know they're not speaking to a human, and that's good."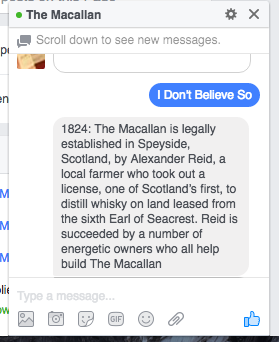 Keep it simple
The brand tried hard to anticipate questions without confusing people too much. "Their path needed to be clear and we tested extensively to make sure it flows like a natural conversation, gradually revealing more information as they ask more questions. We also needed to ensure people wouldn't get lost or stuck in a dead end," said Leotta.
A brand bot needs a brand story
While publishers are able to use bots to serve up content, the chatbot works best if the brand already has a clear story to tell. For Macallan, that story is about its rich Scottish heritage. "Macallan has a rich story about how to make its whisky, and people are genuinely interested," said Leotta. There is also a certain cultural cachet right now in whisky, something that Leotta recognizes. The brand runs tasting events throughout the country that are attended by millennials, and almost 50 percent women. Because it's cool to know about whisky, a bot that can teach you about it in a medium that's already easy for that consumer makes sense.
https://digiday.com/?p=201028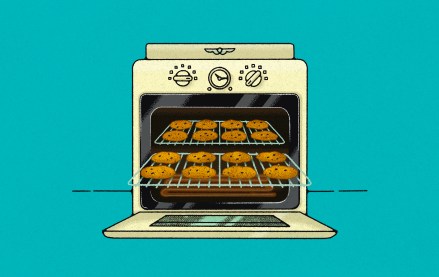 December 11, 2023 • 1 min read
Digiday Programmatic Marketing Summit attendees speak out on why they rate the overall industry's post-cookie readiness so low and what it'll take to raise it.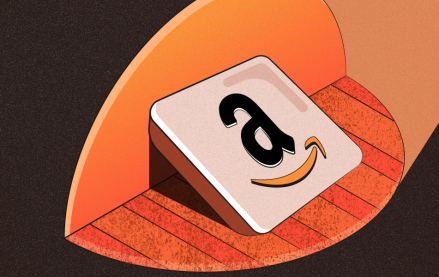 December 11, 2023 • 4 min read
Retail advertising is poised to have its moment, and brands and retailers are upping their marketing spend on Amazon and making the channel a more important part of their holiday plans this year.
December 8, 2023 • 3 min read
For Atlas Creative, expanding into Roblox is not solely a play to scale up. The company believes there are concrete benefits that will come with having a hand in multiple metaverse platforms.