Mark Duffy has written the Copyranter blog for 11 years and is a freelancing copywriter with 25-plus years of experience. His hockey wrist shot is better than yours.
If you would like to skip the rest of this post, here's the trick: Google Image search "Fallon McElligott ad" and start scrolling, clicking and reading. That's it. It costs nothing. Spend a couple of hours with the ads, let the creativity flow through your brain, and then go about the rest of your day. The next time you have to "ideate" or write copy (of any kind, even "native" "content" bunkum), you will be better, or at least harder on yourself.
However, if you keep reading, you'll learn even more about how to be an even better copywriter/art director/content maker/creative technologist (still for free).
Most of you have never heard of Tom McElligott. Creative director/copywriter McElligott and his art director partners Nancy Rice and then Pat Burnham — and also the slew of excellent copywriters, art directors and creative directors who worked at then Fallon McElligott (initially Fallon McElligott Rice) — created hundreds of good ads and scores of great ones in the 1980s and 1990s. (McElligott left the agency in 1988, but part of his creative psyche lived on, at least while his name was still on the door.)
The creative, and often specifically the copywriting, that came out of the Minneapolis agency during that period stopped you and grabbed you hard by the noggin. The writing was like nothing ever seen in the ad industry (and ever seen since).
If you performed the aforementioned Google search, you probably came upon the blog of Dave Dye. Dye, currently a CD and head of art & design at JWT in London — and one of the most talented art directors in the U.K. (so, therefore, the world) — has wonderfully collected almost every print ad produced by and under McElligott. See them all here.
For now, take a look at a few examples.
The Episcopal Church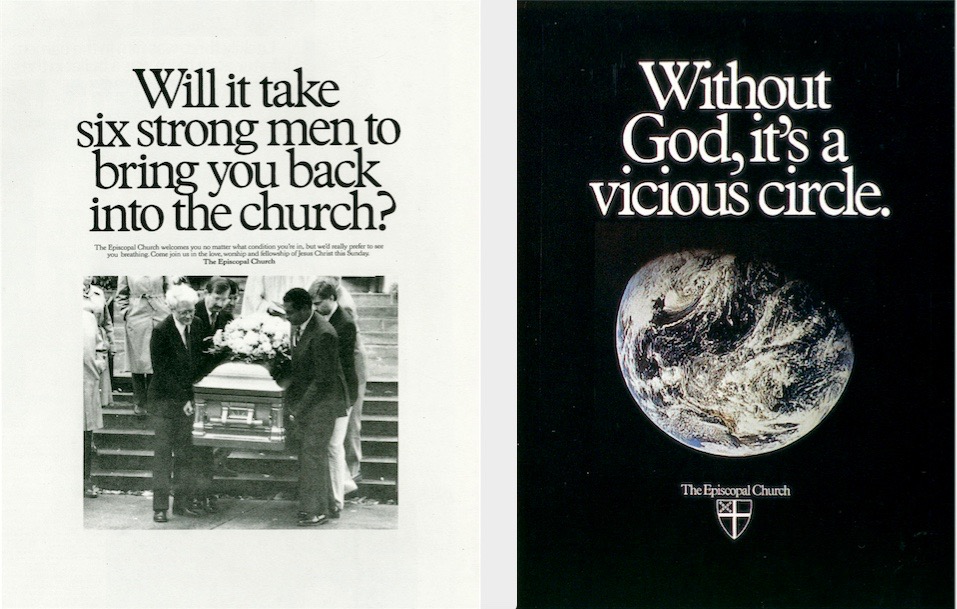 What would Jesus do? Back then, he would have certainly retained Fallon McElligott as his ad agency. Just two out of about 30 excellent print executions produced for the church. See them all at Dye's McElligott post.
Porsche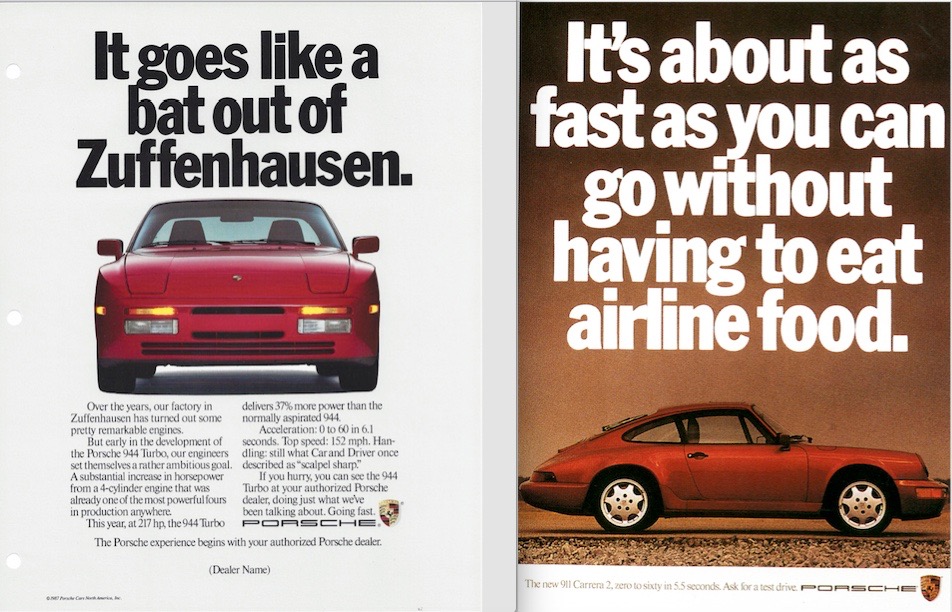 Show the car, write something great. Easy formula. Hard as fuck to execute. Seriously, try it sometime. You'll give up after a couple hours. Again, see about 20 more excellent McElligott Porsche print ads here.
Drunk Driving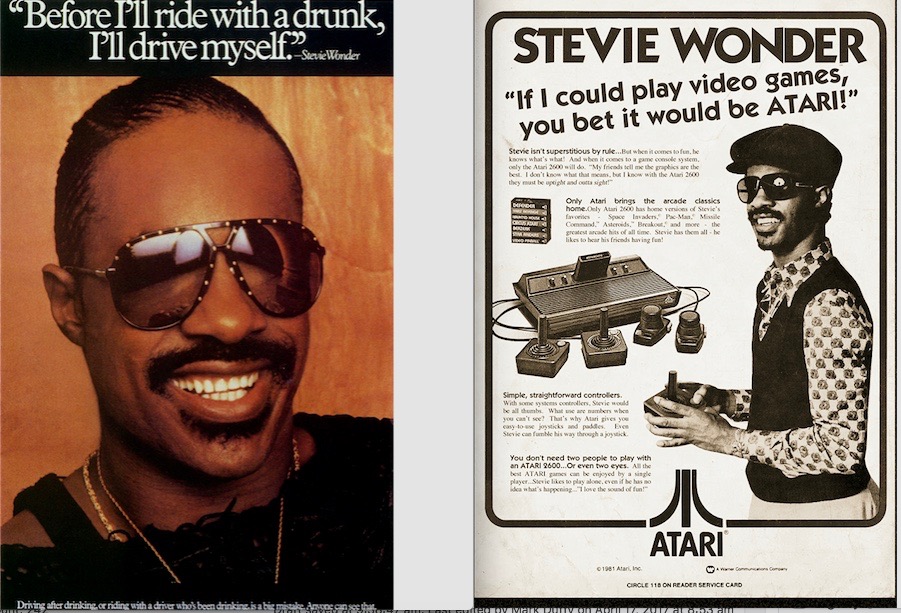 The Stevie Wonder ad was about the only celebrity ad McElligott ever created, because celebrity ads suck and don't work, unless the celebrity is the creative linchpin of the concept, like so, above. The copy reads: "Driving after drinking, or riding with a driver who's been drinking, is a big mistake. Anyone can see that." FYI: The Atari ad that you and everybody you know has shared on Tumblr is a fake.
Children's Defense Fund
Lastly, take a look at two ads for the same client produced about 15 years apart. The left ad I'm sure is still very true today, except the military aid figure would be much higher. The right ad ran in the fall of 1999, about six months after the Columbine massacre (the anniversary of which was yesterday).
Ad schools should use these two ads to illustrate one of the most important copywriting lessons you can learn: Nothing makes for a better ad than the truth. But it depends on what truth you choose to tell, and how you tell it, that makes for great advertising.
No agency has ever combined brains and guts more powerfully and effectively than Fallon McElligott did. And no shop today comes even remotely close.
P.S.: If you're interested in learning more about Tom McElligott, Dye posted a podcast interview with him this past January. McElligott told Dye it's the first interview he's given in 25 years and that he's not going to give another one in the next 25 years. The podcast lasts over two hours, but if you're earnestly interested in becoming a better creative, you should take the time to listen to it — here's the link. (The interview starts at about nine minutes in.) Just fucking do it.
https://digiday.com/?p=232597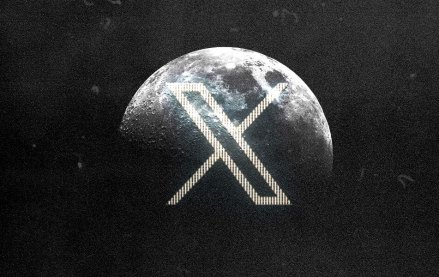 November 30, 2023 • 4 min read
In the packed DealBook conference in New York yesterday, owner Elon Musk bluntly told them to shove it.
November 30, 2023 • 2 min read
WorkTok, or CareerTok, is in full force. Combined, those hashtags on TikTok have over four billion views and it is benefiting Gen Z.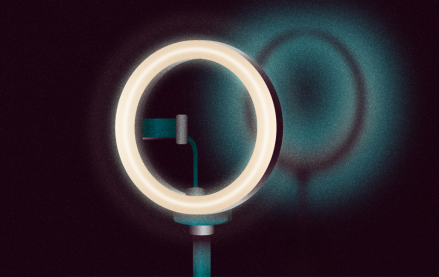 November 30, 2023 • 5 min read
In this week's Digiday+ Research Briefing, we examine how brands have been upping their TikTok investments this holiday season, how Lyft and the MSG Sphere are positioning themselves as ad opportunities beyond OOH, and how publishers are committing to building their events businesses in 2024, as seen in recent data from Digiday+ Research.