Unilever's Babs Rangaiah: 'There's a crisis in the ad business.'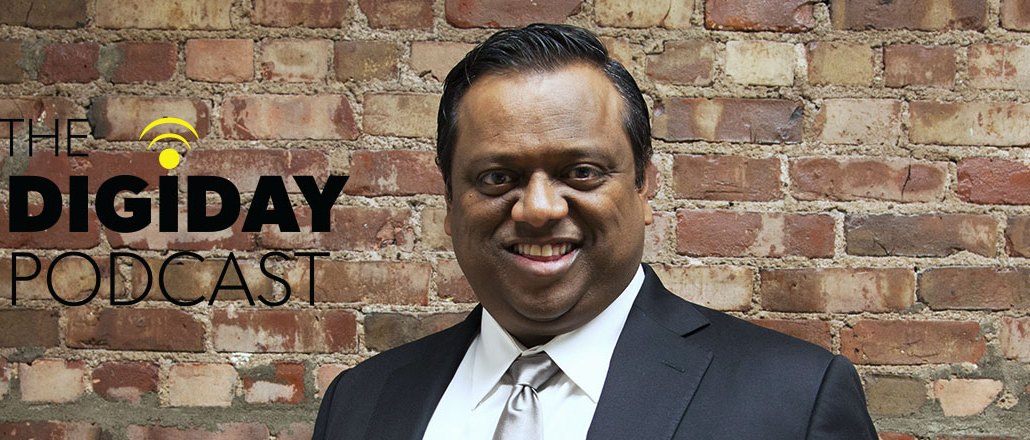 From cord cutting to ad blocking and fraud and measurement worries, there's no shortage of bad news when it comes to the ad business.
And for a marketer like Unilever, which is the second largest advertiser in the world in support of brands like Dove and Axe, that's cause for concern, said Babs Rangaiah, global media innovation and ventures at Unilever, this week's guest of the Digiday Podcast.
"There's a bit of a crisis in the ad business," he said. "We're having genuine issues over how to reach our consumers. It starts with DVRs; it's much harder to get through to our consumers in TV. Now we're having issues of fraud and verification. We're having some questions about what the definitions of views are and viewability. The thing that's most recent is ad blockers."
Below are edited highlights from the half-hour conversation with Rangaiah.
The ad-blocking threat is real.
For all the consternation over the threat of ad blocking, there's a large contingent in marketing and media who believe the whole thing is overblown. Ad blocking gets a lot of press, but the numbers are still not that large. Rangaiah does not agree, especially with the move by Apple to allow ad-blocking apps in its new operating system.
"It was typically teens and techies that were using them," he said. "We now see it as a real crisis for the ad industry. Once it becomes mainstream and simple to use then, it becomes much simpler to skip our advertising. Consumers have the ability to skip ads, and given the option, they will."
But ad blocking doesn't have to be a bad thing.
What's driving consumers to use ad blockers is what ails digital advertising: Bad ads that create a poor user experience, hog bandwidth and sometimes infect devices with malware. The wake-up call could improve advertising, Rangaiah said.
"There are all these things we're not capitalizing on because we're just translating the old to the new," he said. "What this could do is to create content that's worthy of this medium and capitalizes on all the things" that make digital unique.
Brands need to work directly with platforms.
Unilever doesn't rely on its agencies to deal with platforms: The marketer had a direct relationship with Google, Facebook and the other giants. This allows for both sides to learn from the other, Rangaiah said, and results in more innovative use of the platform. Dove, for instance, worked with Facebook to create the "ad makeover," which allowed users to change ads with stereotypical portrayals of female beauty with an ad of their choosing. The changes are then broadcast to the user's network.
"That's the way to reframe communications for the digital age," Rangaiah said. "It's to work directly with the platform companies to create something that's fit for purpose for today's world."
Unilever's working with startups.
The large platforms are key for a marketer like Unilever, but it's also on the hunt for the next big platforms — and wants to work with them much earlier. Through an initiative called "The Foundry," Unilever is bringing 100 startups to its U.S. headquarters in New Jersey as part of an "internal accelerator." The companies will get briefs from Unilever brands and will then have the opportunity to answer them and be part of an accelerator inside the company and operate there for up to a year.
"They provide us, who are well-schooled marketers with a sense of tech savviness, we provide them with how marketing works and how brands are built," said Rangaiah. "It serves both of us."
Programmatic's got problems, but they're from immaturity.
The rise of programmatic advertising has not been without its bumps in the road, as seen by the worries over ad fraud, viewability, ad blocking and metrics. But it's important to realize that in the grand scheme of things, that shift to programmatic ad buying is very nascent, said Rangaiah.
"It's such an early stage that it's almost at the experimental phase," he said. "Even Wall Street was pink sheets and penny stocks. Now it's the most data-focused, automated, high-speed operations there is. In the early stages it's remnant inventory, you're not dealing with the premium properties, you're dealing with all kinds of players and no guidelines. It's a little chaotic and complex."
Ad needs to be "cleansed."
There are simply too many point solutions in ad tech, and marketers like Unilver want the system "cleansed." If that means mass consolidation around a few platforms, so be it, according to Rangaiah.
"If that's what it takes to clean it up, make it automated and clean out the fraud, I'm fine with it. I'm sure there's other companies in the space that aren't fine with it, but as a marketer, I just want the best solution available. If the big companies want to buy up the small companies and use their technology, fine. We just need a model of how to do it internally, how to work with agencies and who the companies are we should be working with."
https://digiday.com/?p=145266