Even on Instagram, the message is in the bottle.
A look at the growing Instagram presence of Stoli Vodka finds that it isn't exclusive pictures of alcohol-soaked parties or shots of Coyote Ugly bartenders that get Instagram followers hitting the like button. It's something much more prosaic: pictures of vodka bottles.
According to market intel firm SocialRank, bottleshots rank highly among Stoli's most popular posts. Its most popular post by likes and comments in the past six weeks was this shot of a recipe and a classic Stoli bottle.
Director of marketing Sarah Gorvitz said that, until recently, the brand had been pushing the same content across all three social platforms: Facebook, Twitter and Instagram. In February, the social content team at Stoli decided to "dramatically" shift its strategy to be more analytical. The team looked at the best-performing posts on the platforms and then decided to rotate content so it wouldn't be the same pictures and videos on the three at the same time.
That's when they figured it out: "Overwhelmingly on Instagram, our best-performing content was pictures of bottles," said Gorvitz. That wasn't true on Facebook or Twitter, where bottleshots got decent engagement, but other posts like those on marriage equality, for example, led. Gorvitz doesn't know why the bottleshots resonate, only that it does. One reason they might be so popular could be this: SocialRank found that cocktail and vodka are among some of the most popular hashtags that followers of Stoli on Instagram use.
Until February, the mix of bottleshots versus other content was the same on Facebook, Twitter and Instagram, but Gorvitz upped the number to become 50 percent bottleshots and 50 percent other photos on Instagram by March. By April, it was 60 percent. Today, it's 66 percent. (The total number posted per day hasn't changed; it's still between one and two posts a day.) Gorvitz said engagement — likes and comments — have gone up since she increased bottleshots.
According to an annual ranking of "digital IQ" by research firm L2, Stolichnaya actually outstrips other vodka brands like Absolut, Ciroc and Smirnoff on Instagram. According to a research analyst at L2, spirits brands were initially hesitant to adopt Instagram since there was no way to tell if users were under 21, but over time, the platform has gained "near-ubiquity." About 97 percent of spirits brands are on the platform today, up from 82 percent last year. Most spirits brands find that product-centric content does better on Instagram — basically, bottleshots. That's in contrast to beer, where lifestyle content resonates equally.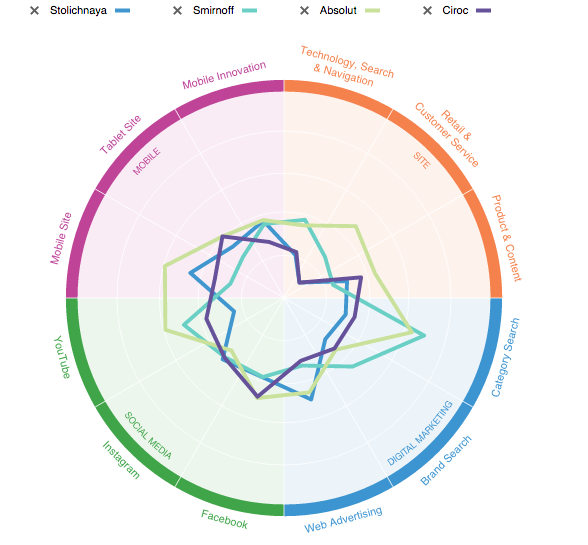 Gorvitz said that the Instagram push also came from a "frustration" with squeezed resources — something most brands focusing on social content strategy report. "Our budgets just don't support a decent advertising schedule on Instagram, so we have to consider organic growth." (Instagram is generally an expensive buy, about $500,000 for a monthly ad buy, according to people familiar with the matter, although those prices have dropped now that it has opened up its API.)
It has created an interesting push-pull internally at Stoli too. "Our creative partners often say, 'really?' when we ask them to create lots of bottleshots," said Gorvitz. "But I say, 'yes, really.' The ratio of bottleshots has to be higher than any other photos on Instagram."
https://digiday.com/?p=131581