'Nobody at Yahoo understood Tumblr': Why Marissa Mayer's big bet on Tumblr never panned out
June 12, 2017 • 6 min read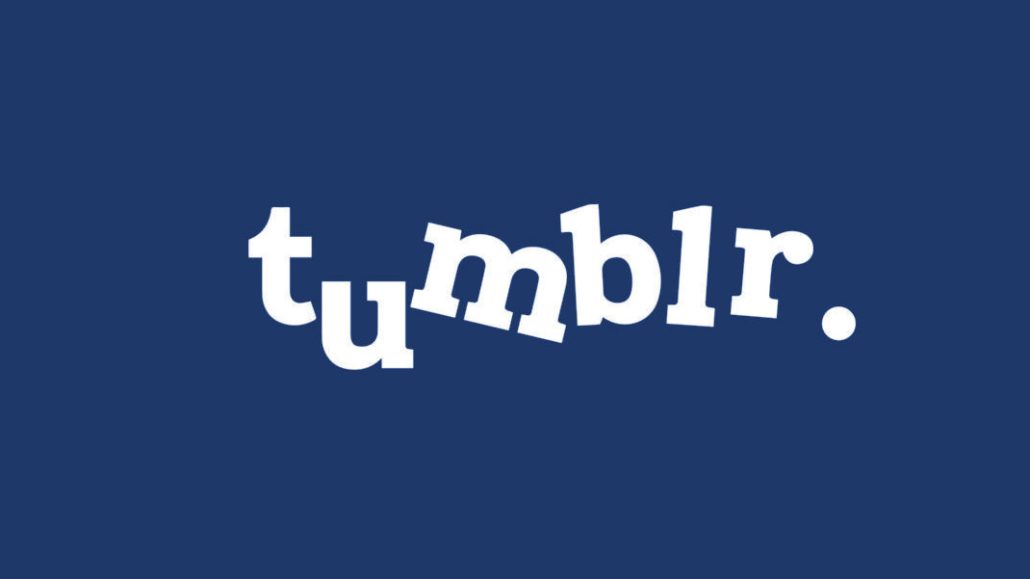 Yahoo is about to be swallowed by Verizon, putting an end to CEO Marissa Mayer's tenure and ill-fated efforts to turn around the beleaguered portal. Mayer's most high-profile acquisition and hope for turning around Yahoo was buying Tumblr in May 2013 for $1.1 billion. Now, the acquisition is seen as yet another move that failed for Yahoo, which is set to write down the entire acquisition.
"Yahoo was making a speculative bet on future revenues that could in theory be achieved by tapping into the 'millennial' audience early," said John Matthews, managing director of investment bank DeSilva+Phillips. "Yet Tumblr wasn't designed by its founder David Karp to really be an ad-monetization platform."
The main reason Tumblr never worked out is that the platform never figured out a way to turn its large user base into ad dollars. Tumblr suffered from lack of ad-product innovation, eclipsed by Instagram and then Snapchat; management collision with Yahoo; and multiple sales reorganizations in recent years. In its advertising business, Tumblr always held a somewhat ambivalent view, with founder and CEO Karp famously opposing advertising before the Yahoo acquisition.
"I don't know if David ever gives a shit about advertising. He was forced to because Yahoo wanted to see return on its $1.1 billion investment," said a Tumblr executive who left the company lately. "Nobody at Yahoo ever understood what they bought and what Tumblr was. That fundamental issue is the core of lots of problems. If you don't understand something, how can you sell it?"
Tumblr's failure to innovate reveals a cultural misfit
Mayer hoped to turn Tumblr into an advertising cash cow. But Karp's dislike of advertising set the tone and direction for Tumblr, where ad innovation was never a big focus for the company until Yahoo forced it to.
"In my experience there, probably only one person was working on ad products at any given time. But I heard that Tumblr hired more people after I left," said the former Tumblr executive. "Yahoo never gave Tumblr the time and support to innovate ad products. By the time Yahoo realized how far in the race Tumblr fell behind, it was already too late."
Tumblr's direct-sold ad formats include sponsored posts, sponsored video and sponsored day (homepage takeover) and carousel units, none of which is as innovative as, say, Snap's sponsored lenses.
"Tumblr unquestionably isn't among the primary or secondary ranks of leading digital platforms in the consideration set for most advertisers," said Mike Dossett, associate director of digital strategy for agency RPA. "The depth and breadth of innovative ad products and targeting capabilities isn't at the level of the major players."
Tumblr's failure to innovate reveals a poor cultural fit and lack of management attention from Yahoo. As a former Tumblr employee described, working with Yahoo is basically like "a bunch of cool teenagers hanging out with your grandpa." Some Yahoo employees reportedly think Mayer gave Tumblr and Karp too much freedom for too long after the acquisition and then put the wrong people in charge of the team.
"Mayer rarely talked to us, only once during my years at Tumblr," said the former Tumblr executive. "She has bigger problems to solve."
Sales force integration started Tumblr's fall
Mayer famously promised "not to screw it up" when Yahoo acquired Tumblr. That was mostly true until January 2015, when Tumblr's sales team was integrated with Yahoo's sales division under the leadership of Yahoo's chief revenue officer Lisa Utzschneider. That pushed Lee Brown, former global head of brand partnerships for Tumblr and now chief revenue officer for BuzzFeed, to leave the company. Brown's departure was followed by a sales exodus at Tumblr, according to people familiar with the company.
As part of the integration, Yahoo started moving salespeople from Tumblr's headquarters in Manhattan's Flatiron district to the Yahoo office in Times Square.
"Nobody wanted to work for Yahoo because Tumblr had a great company culture," said a former Tumblr employee. "I still remember that when Yahoo announced the integration, Lisa Utzschneider came in to talk to us and her first question was, 'I just came back from the CES [Consumer Electronics Show]. Does anyone know what the CES is?' We were like, 'Are you kidding me?' It was really off-topic."
Salespeople at Tumblr also started to leave because Mayer publicly set the sales goal of $100 million by 2015 for Tumblr, according to this former Tumblr executive. "That was completely made up from nowhere. Nobody knew where that number came from, but she used it," he said. "It was crazy because $100 million was not even remotely close to attainable."
Within a year, Yahoo started rolling back the sales integration after Tumblr failed to hit its revenue goals. Media buyers think Tumblr's multiple reorganizations through ownership and leadership changes have made it difficult for its salespeople to make a compelling case for why Tumblr should get on a brand's media or content plan.
"It's less an issue of lack of sales competence or an inability to sell Tumblr's ad products. It's more a factor of constant turnover," said an agency executive who prefers anonymity. "It's difficult for any sales organization with significant, recurring turnover to get a robust understanding of what a specific brand is trying to accomplish and what formats or ad products are of interest."
For instance, this agency executive said there was a period where four or five new Tumblr sales reps called on his team, repitching ad products that were previously rejected as compelling opportunities.
"I don't think I'd be alone in saying that if the sales and marketing teams had an opportunity to be somewhere other than Tumblr, they would take it," said the agency executive. "It can't be easy constantly pitching a product that is behind the market in both utility and brand perception, especially with the multiple changes in ownership and uncertain future of [Yahoo]."
Yahoo Gemini is another problem for Tumblr
If you still use Tumblr, you may spot many "native" ads in your news feed. Those ads are not context-driven, but their copy and images are constantly shuffled and reorganized. Some ads on Tumblr are just irrelevant. For instance, Wells Fargo served a 23-year-old Tumblr user an ad that is supposed to target people nearing retirement, which looks out of place.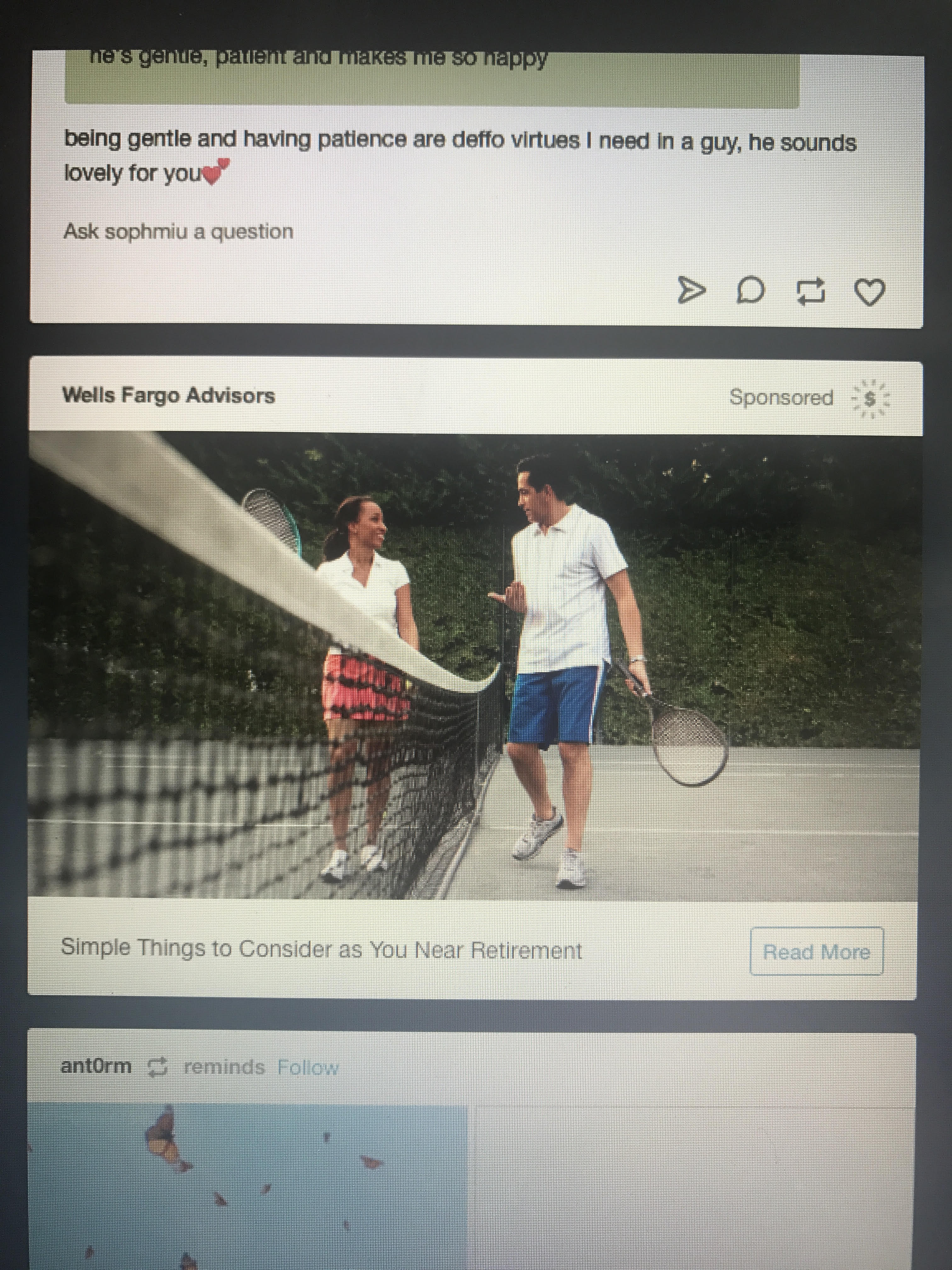 Those ads, served by programmatic native network Yahoo Gemini, Facebook Audience Network (mobile) and other ad networks, are bad for user experience on Tumblr. The former Tumblr executive said the company is aware of this problem, but there is branded inventory on Tumblr, and Yahoo wants to make at least some money on it.
"Yahoo didn't care about user experience. You are serving life insurance ads to teenagers on Tumblr? It doesn't make sense," he said. "Gemini has lots of issues in serving ads on Tumblr. There were situations where clients said to us, 'If you can give us Moat verification and third-party tagging, we are ready to run with you.' We told the Yahoo team about those requests, but they never offered a solution."
An executive from a big tech provider added that Tumblr failed because it didn't control content safety on the platform, and advertisers didn't trust the company to clean it up.
"[It's a] similar situation to what we're seeing now with the increased skepticism around YouTube's quality-control issues," he said.
https://digiday.com/?p=240222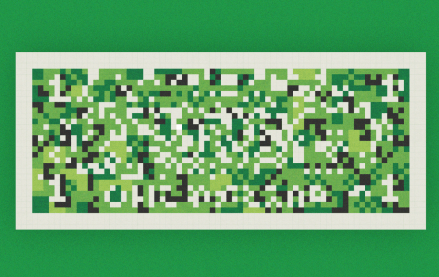 September 21, 2023 • 3 min read
Ducati has legitimate reasons to investigate Web3 tech as a marketing tool. Building a community of Ducati enthusiasts, or "Ducatisti," has been a core element of the brand's marketing for decades.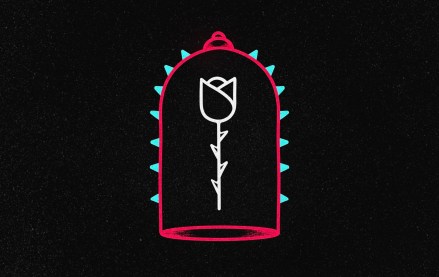 September 21, 2023 • 5 min read
In this edition of the weekly Digiday+ Research Briefing, we share focal points from Digiday's recently released reports on agency and brand confidence in TikTok, and on how publishers are making Instagram work for them.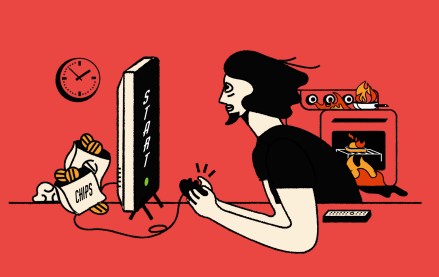 September 21, 2023 • 4 min read
While this is the first gaming related livestream Fandom has done with Instagram, it's part of a bigger push to celebrate and embrace the vast gaming community among the Gen Z demographic thriving on Instagram's platform.