Most brands respond to customer service complaints online with canned tweets and Facebook messages. But a little creativity can help you strike viral marketing gold, as travel app Skyscanner discovered when its humorous response to a customer query went viral on Facebook, getting over 17,000 likes and over 2,700 shares.
It all began last week, when a user named James Lloyd got a suggested itinerary from the app saying he would have a layover in Bangkok lasting 413,786 hours, or 47.2 years.
The amused Lloyd shared a screenshot of the itinerary on the brand's Facebook page on Aug. 23, with the caption, "Hi Skyscanner. Just wondering what you'd recommend I do during the 47 year layover your website has suggested?"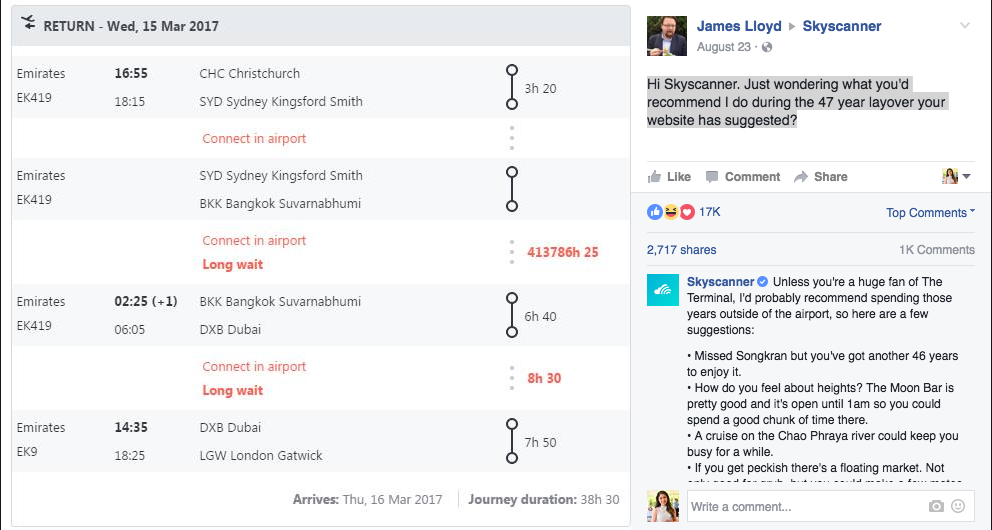 A rep named "Jen" responded to his post three days later with a detailed itinerary of Bangkok, rather than a run-of-the-mill reply directing him to a call center.
"Unless you're a huge fan of The Terminal, I'd probably recommend spending those years outside of the airport, so here are a few suggestions," she said, before recommending that he go check out a rooftop bar, take a cruise, check out the floating market and even become a Tai chi expert.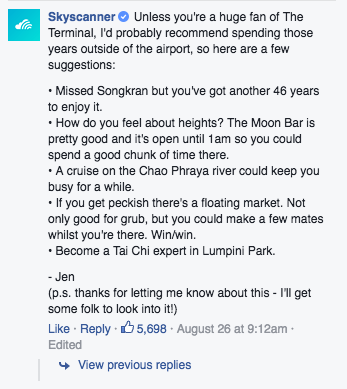 Jen from Skyscanner didn't stop there. She went through the comments, initiating several other conversations — even throwing in a Game of Thrones reference when someone asked for her full name.
Such unscripted responses by brands' social media agents is a growing trend, said Paul Johns, CMO at social customer service company Conversocial.
"Customers increasingly appreciate it, because they've gotten bored of the sterile nature of branded customer service," Johns said.