Topshop pulls $700 jacket over copyright backlash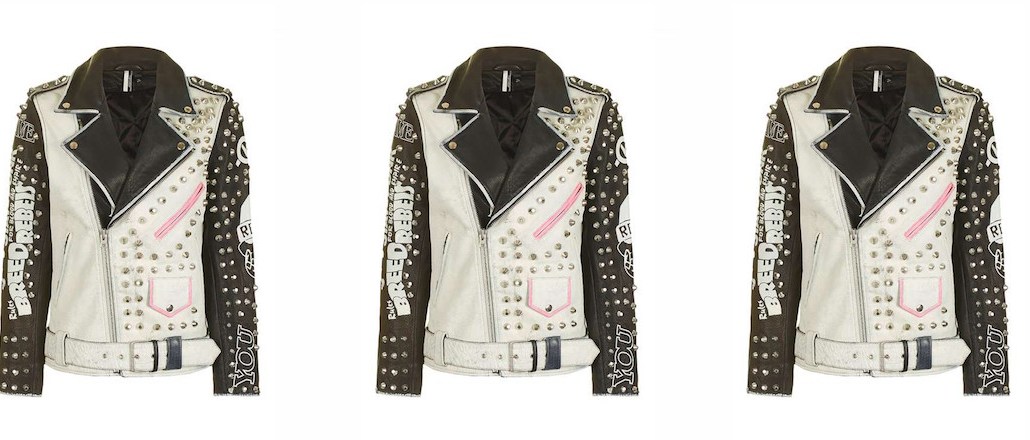 Another day, another copyright infringement disaster. This time, Topshop has pulled a $700 leather jacket from its online store after complaints on social media that it used punk bands' logos without permission
The jacket, emblazoned with logos from several punk bands, found its way toAgainst Me musician Laura Jane Grace, who tweeted at Topshop with an image of her band's logo on the jacket's sleeve. She told the retailer it was "not cool" that the  trademark had been used without permission.
Topshop has now pulled the jacket from its site and is in the process of removing it from stores, telling Jane Grace it is "looking into this".
While Jane Grace thanked Topshop for removing the item, others on Twitter weren't sated by the move.
@LauraJaneGrace @Topshop Even leaving aside the trademark infringement, using a punk band to sell a $700 jacket is a fucking shitty move.

— John Lightbody (@janl78) September 17, 2016
@LauraJaneGrace @Topshop what "punk" has $700 to spend on a jacket?

— Andy Spoor (@andy_spoor) September 18, 2016
A cached version of the product page shows a leather biker jacket. Among those slogans is the logo of fellow punk band The Vandals, who criticized an image of the jacket in a U.K. store on its Facebook page. Its post received over 900 likes.
Other bands featured on the jacket include New Jersey's Bouncing Souls and the now defunct Choking Victim.
Topshop is the latest in a string of retailers accused of overstepping the mark on intellectual property.
Last week plus-size retailer Lane Bryant was accused of pinching designs from New York Shantell Martin after it sold a t-shirt with her handwritten slogan "You Are You". Lane Bryant has since pulled the item from all its online channels.
Meanwhile, Forever 21, Zara and Anthropologie have all been hit with similar claims.
https://digiday.com/?p=199007