For the world's top brands, having a YouTube strategy is no longer a choice. It's a necessity.
From tech and media brands to food vendors and financial firms, top companies have invested heavily in creating content for (and promoting content on) YouTube. But even as some trends have emerged, there's still a lot of variety in how the world's biggest brands approach the Google-owned platform. Disney has massive organic reach across its 41 channels, for example, while tech brands like Samsung and Google pay to capture a good portion of their massive audiences.
Here's what brand activity on YouTube looks like today, based on a wealth of data on the booming ecosystem:
Media and tech brands dominate, but automotive is catching up
In terms of video content published, media and consumer technology companies continue to lead the pack. That data comes from Pixability, an ad buying and video marketing platform for YouTube, which recently updated its "Top 100 Global Brands on YouTube" report.
Across the top 100 brands, as ranked by Interbrand, media and consumer tech channels published 20,200 and 22,433 YouTube videos respectively between June 2013 through September 2014, according to Pixability. Automotive brands came close to that total, putting out 19,777 YouTube videos during that 16-month period. In pure percentage terms, financial services, home and automotive brands demonstrated the highest content growth rates.
Unsurprisingly, the brand categories producing the most content also racked up the most views. Disney tops the charts for absolute views gained from June 2013 through September 2014, accruing more than 2.9 billion new views across its 41 channels, Pixability data shows. The next three top performers (as measured by new video views during that period) are all tech brands: Samsung, Sony and Google, respectively.
"For most, it's definitely a mix between organic reach and paid promotion, with Disney being an extreme example of organic reach," Pixability CTO Andreas Goeldi told Digiday. "If you upload songs from 'Frozen,' you'll get a large audience almost automatically."
Among the top 20 performing brands, only Apple operates a single channel. Visa has 7 channels, MTV has 9, Nintendo has 11 and the rest of the pack has a dozen or more.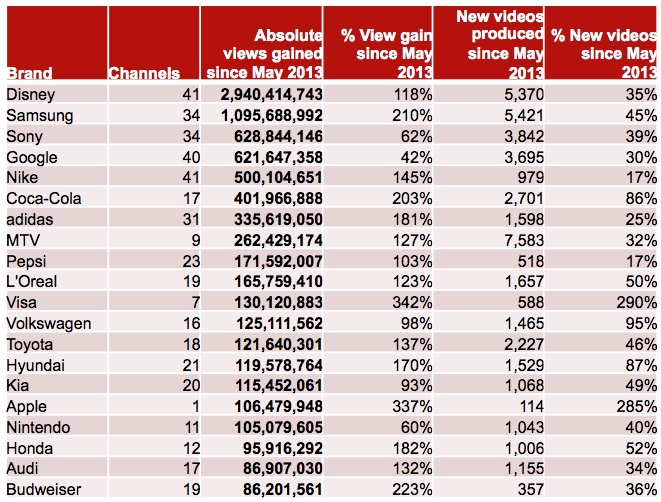 Apple earns its views, while other tech brands pay for a boost
Even on YouTube, Apple likes to stand apart from the crowd. In contrast to other top tech brands — including Samsung, Sony and Google — Apple only operates a single channel and doesn't pay for any promotion, according to Strike Social, a certified YouTube data partner that estimates online video spend.
Strike Social's algorithm separates views stemming from paid ads from organic views, then multiplies the paid views by cost-per-view average for that industry to arrive at an estimated spend per video. Using that tech, the startup analyzed top YouTube channels for Samsung, Sony, Apple, and Google itself. Sony's spend is minimal, garnering mostly non-paid views on its popular PlayStation channel. Google pumped some marketing dollars into its content, but not nearly as much as Samsung, which relies heavily on paid YouTube advertising to drive its massive view counts. Strike Social estimates Samsung has spent $21.4 million spend on its primary mobile channel alone over the past year.
"Samsung is investing in some pretty engaging content, but definitely it's the spend that's helping them really dominate," said Strike Social CMO Oliver Starr.
More views per video
The world's top 100 global brands operate 1,378 total YouTube channels, according to Pixability. Together, those 1,378 channels have hosted 360,585 total videos through all time up until September 2014, according Pixability's "Global Brands on YouTube" report update.
That total has grown by 39 percent since May 2013, when Pixability released its original report. Cumulative engagement with that content (measured in YouTube likes and dislikes, comments, Facebook shares and Tweets) has increased to 242.3 million interactions, up 35 percent from May 2013 — roughly in parallel with the cumulative video total. But across those videos, total view count has grown to more than 19.1 billion, up a drastic 100 percent from May 2013.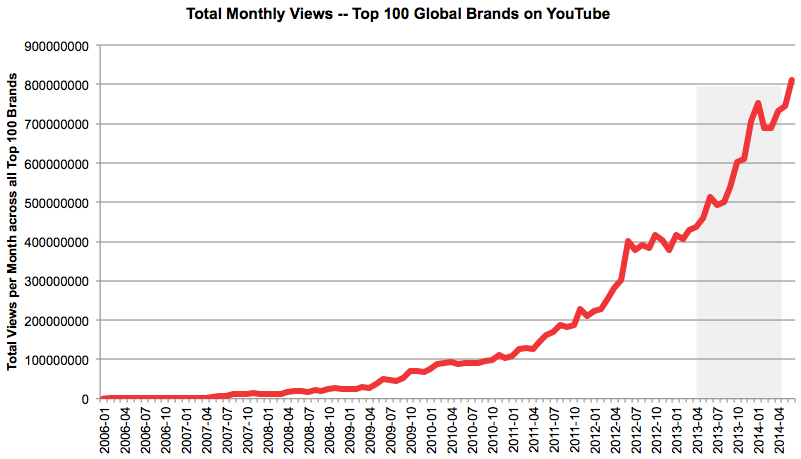 Even as they publish fewer videos per month — that figure peaked in 2012, as the chart below demonstrates — the top 100 brands now rack up over 800 million YouTube views each month, which means substantially more views for each individual video. Pixability attributes that growth to an increase in paid YouTube advertising, which drives viewers to brands' videos.
"The high growth rate of view numbers compared to new videos and engagement metrics suggest that brands are investing more in paid advertising on YouTube, concentrating more promotion budget on fewer video assets," the report author asserts.
https://digiday.com/?p=94568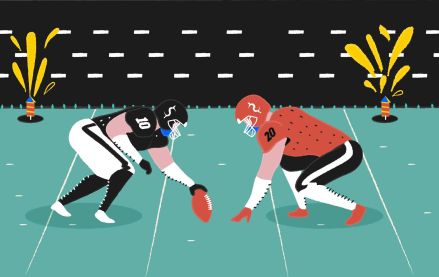 December 6, 2023 • 4 min read
In response to this challenge, the NFL's Detroit Lions have adopted a proactive strategy, introducing an extra channel for their local NFL broadcast. The objective is to broaden advertising opportunities, leverage direct-to-consumer distribution, and establish stronger connections with local fans, with the ultimate goal of increasing preseason viewership.
December 6, 2023 • 4 min read
It's been over a decade since the most recent entry in the wildly popular "Grand Theft Auto" series came out in September 2013, meaning anticipation for "GTA 6" has been building for years. Rockstar titled yesterday's trailer as "Trailer 1," making it clear that the company is poised to launch a massive marketing campaign in the lead-up to the game's 2025 release.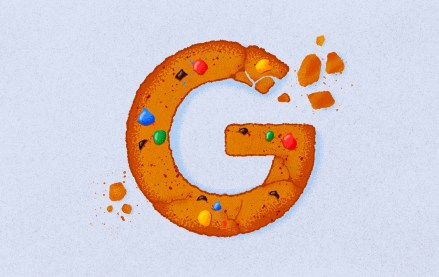 December 6, 2023 • 4 min read
A healthcare client that decided to scrap all conversion tags and cookies within weeks provides a case study for what will likely be a common experience in a year's time.