Tinder is most engaging; Zoosk has the most international fans among dating apps on social media
October 8, 2015 • 3 min read
•
•
Much has changed since Match.com launched in 1995. Today, with slick interfaces and "yes or no" swiping, mobile dating apps like Tinder and Hinge, have completely revolutionized how people find love.
Nearly 60 percent of Americans agree that online dating is a good way to meet people, with one in every five adults between ages 25 and 34 years admitting to having tried online dating, according to Pew Research. More than half (60 percent) of all online daters use these apps exclusively on mobile, according to comScore.
But while these apps are all about helping people make social connections, it is interesting to see how socially savvy on other platforms they are themselves.
"Every brand — especially one catering to millennials — is expected to be online and have some kind of persona there," said MaryLeigh Bliss, chief content officer at YPulse. "They should be creating content that provides some kind of help to users, like what OkCupid was doing back in the day with its blog OkTrends."
Using proprietary data from Unmetric and Socialbakers, two social media analytics firms, Digiday pitted seven dating apps against each other —Tinder, OkCupid, Hinge, Match, Zoosk, Coffee Meets Bagel and Bumble — to see which app has the most engagement on other platforms.
Tinder, for example, saw its fan base on Facebook grow by 56 percent between January and now. But Zoosk had the largest fan base in terms of numbers, the most engagement and the highest positive score.
Here's a closer look at their performances:
Number of fans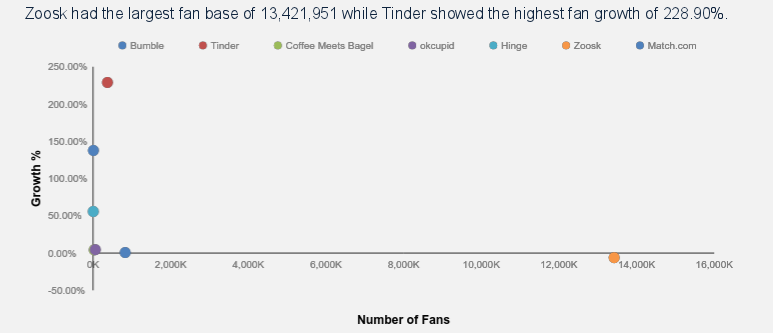 According to Unmetric, With over 13 million Facebook fans, Zoosk had the largest fan base, followed distantly by Match.com and Tinder with over 827,000 and 369,000 fans respectively. Tinder, however, saw its fan base grow the fastest, up 228 percent between January and October 2015.
Zoosk and Match.com maintain the lead on Twitter as well, with over 350,000 and 65,000 followers, respectively, and Tinder follows with over 56,000 followers.
Geographical Popularity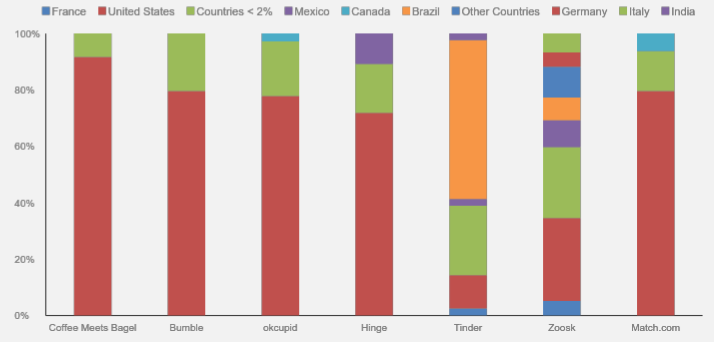 While Tinder, Hinge, OkCupid, Match.com and Zoosk all have international footprints in terms of fans, Tinder and Zoosk are the most diverse in their fan bases on social. A majority of Zoosk's Facebook fans are, in fact, international. Match.com is very popular in Canada, while Hinge has a lot of users in India. Tinder seems to have won over Brazil.
Engagement Level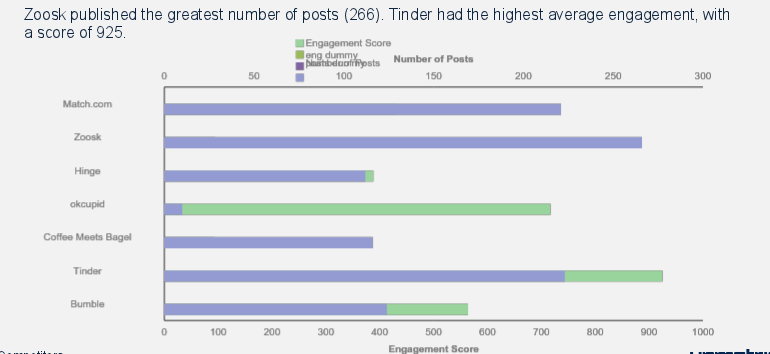 With 226 posts between January and October, Zoosk published the greatest number of posts on its Facebook wall, also receiving the most likes and comments, according to Unmetric. But Tinder had the highest average engagement and the most posts shared by fans, such as this one (36,684).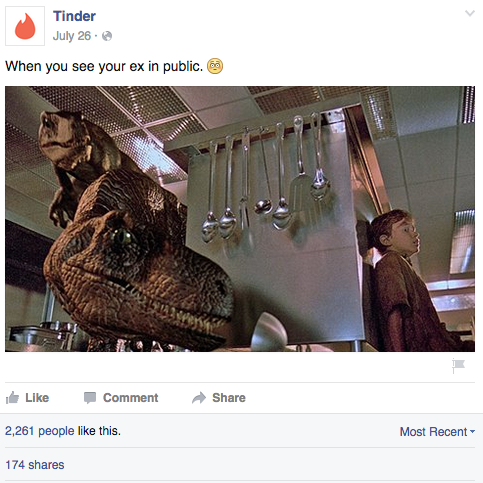 Social analytics firm Socialbakers' data also shows how Bumble is receiving increasingly high levels of engagement, despite being a relative newcomer. The app — in which girls must initiate the conversation with their matches first — saw over 3,000 interactions with its fans on Facebook between July and October.
Number of Fan Posts and Mentions

Match.com's users seem to be the most interactive, posting more than 9,000 posts on its Facebook wall between January and October 2015, according to Unmetric. Hinge and Coffee Meets Bagel followed next, with a couple of hundred fans each posting on their walls. Tinder and OkCupid did not have any user posts — suggesting that their page settings do not allow them, according to Unmetric.
On Twitter, Tinder leads the number of mentions according to Socialbakers, with over 52,000 mentions between July and October. It is followed by Zoosk and Match.com, which come in second and third with about 8,000 and 2,000 mentions each.
https://digiday.com/?p=139599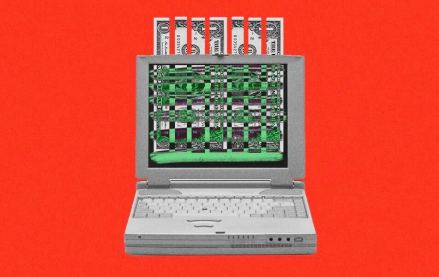 December 5, 2023 • 5 min read
Agency clients still see programmatic as an important part of their marketing budgets. But, overall, the uncertainty around programmatic could be causing them to lose confidence in online display ads as a marketing channel, and, as a result, agency clients are investing less in online display.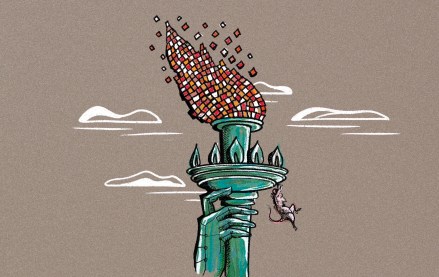 December 5, 2023 • 3 min read
There's a global AI race and different regulations in different countries might be slowing down – or speeding up – innovation. Here is a breakout of how regulations are being shaped on both sides of the Atlantic.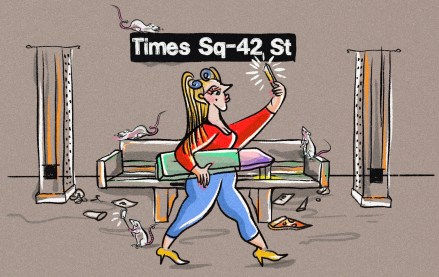 December 5, 2023 • 6 min read
Virality may mean something is simply viral within that niche rather than hitting a level like the Ice Bucket Challenge.