Things We Learned: Sometimes Brands Should Keep Quiet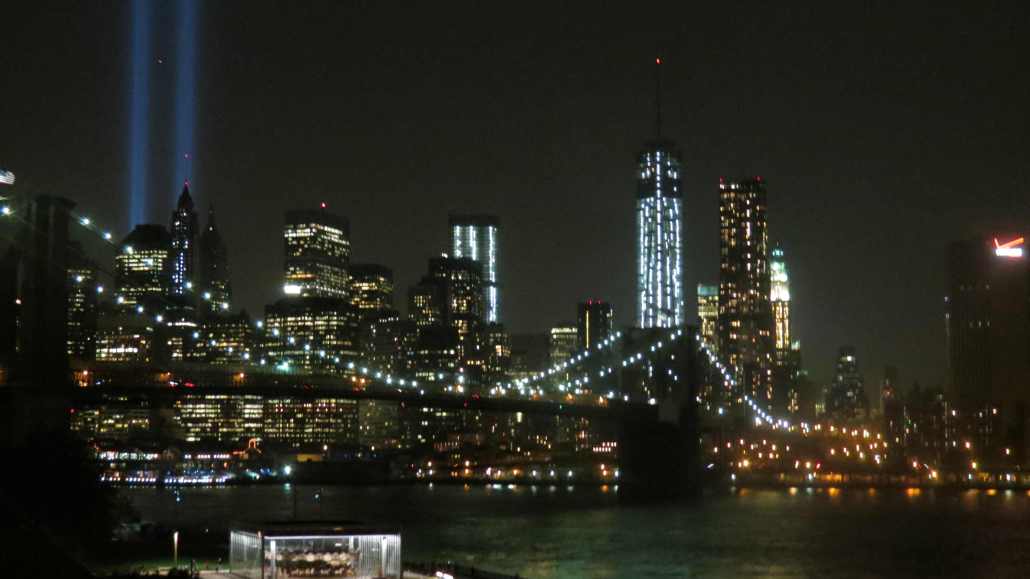 Tina Brown's exit stage left from The Daily Beast could mark the end of an era in media. The buzzy success she had with Vanity Fair and The New Yorker never translated in the digital age. Nerdier types are now the ones setting the pace, as mastering algorithms is more important than holding court at dinner parties. Here are some other things we learned this week.
Brands couldn't help themselves on 9/11.
This was a train wreck that was easy to see coming, the moment Sept. 11 met the current vogue for real-time marketing. The golf course with the $9.11 special was just an appetizer. Brand after brand tried to find the right tone for how to commemorate 9/11 without coming across as completely crass. (Some avoided this balancing act altogether. Jon Hendren found all of the ones offering 9/11 coupons pretty easily.) In the big brand category, AT&T most clearly stepped over the line, tweeting a picture of the Manhattan skyline with the Twin Towers replaced by towers of light on an AT&T phone. That didn't go over well. What's remarkable is this wasn't just some young social media intern making a bad decision. This was art directed. It went through the various approval layers at big brands. AT&T apologized, of course. It's telling, though, that Twitter had to save marketers for themselves: The platform blocked advertisers from buying promoted tweets on 9/11-related terms.
Drudge drives lots of traffic — and crazy commenters.
The Drudge Effect is known to many politically tinged sites, but a new experience for Digiday. Our interview with Politico founding editor Jim VandeHei ended up on the Drudge Report on Wednesday, leading to a predictable flood of traffic. The single link drove over 40,000 visitors to our site. Great! Now for the bad: Some of those visitors are, well, vocally passionate about their politics. The Digiday comment section quickly became home to right-wing conspiracy theorists. This is pretty representative:
Porn can pay.
Advertisers with small budgets need to be nimble. That's what made the experience of online ordering service Eat24 so interesting. It ran some fairly clever ads on porn sites, then wrote up its findings in a laugh-out-loud, smart blog post that got spread far and wide. The takeaway: Ads on porn work quite well, even better than Facebook and Google. This obviously isn't a strategy for most brands, but it works for Eat24, which clearly doesn't take itself so seriously. The effort is also a good example of how being clever can easily get a newish brand — Eat24 has been around for five years — a lot of attention.
Programmatic advertising is growing up.
There was a time when the ad tech world was a well-funded backwater. That's not to say real money wasn't going through programmatic ad systems. It's just that these things always start on the direct-response side of things. Big publishers were wary, and big brands were confused. Things have changed. There are big, solid companies growing in the field that will have successful IPOs. (There will be plenty of casualties too.) Platform giants like Facebook and Twitter are making big bets on programmatic systems as the backbone of their future. And efforts like the programmatic upfronts, which sounds like an oxymoron, are a sign that big brands are paying attention. The trick now is for the industry to communicate what it does, how it does it, and why it matters in clear, simple language that big decision-makers at brands comprehend. That's going to be a big part of the conversation next week at the Digiday Exchange Summit. (That right there is some native advertising.)
Mobile first means more than responsive design.
Many publishers struggle with mobile. The biggest, most basic challenge is adapting existing content to be read on mobile devices. Pinch-and-zoom simply isn't OK anymore. It's shocking how many big-name publishers still haven't fixed this. The next challenge is getting the ads right. Desktop ads simply don't convert well in the mobile experience. But a possibly larger challenge looms: adapting content. It's no surprise when you look over people's shoulders when you're in line that they're flicking through Facebook and Twitter, not the New York Times. The content from the NYT's mobile app is ported over from desktop, which was ported over from the newspaper. Seven-hundred-word stories don't do well. That's why what USA Today is doing with its new NFL destination, Q, is so interesting. The content itself is mobile first: 20-50 words, delivered in a stream that's a lot like a Twitter feed. Circa is looking to do this, too, among others. It's an area to watch.
*****
Three Other Things You Should Read
The future of media is messy.
Nieman and The New York Times have collaborated on Riptide, a deep look at the wrenching changes technology is forcing on the media industry. There's tons of great stuff here. In particular, check out the optimistic thoughts on the future of media from BuzzFeed CEO Jonah Peretti and Business Insider CEO Henry Blodget. Neither has it figured out — and I'm not a fan of parts of both their models — but both are clearly not wedded to the old ways of doing things. That's probably half the battle.
The Daily Mail knows a thing or two.
The rise of The Daily Mail as the most popular newspaper site in the world is worth paying attention to for everyone. EConsultancy takes a serious look at what brands can learn from the Mail's unapologetically populist approach to Web publishing. Sure, not everyone can lean on celebrity "bikini bodies" posts, but the Mail has a knack for driving user engagement.
Twitter's making a big move in mobile.
Twitter's purchase of MoPub is a big deal, according to former Facebook ad product manager Antonio Garcia. That's because Twitter can now extend its interest and user data stores to ads across the Web.
https://digiday.com/?p=49415