The end of schmooze: How coronavirus has upended the time-honored practice of industry networking
July 14, 2020 • 8 min read
•
•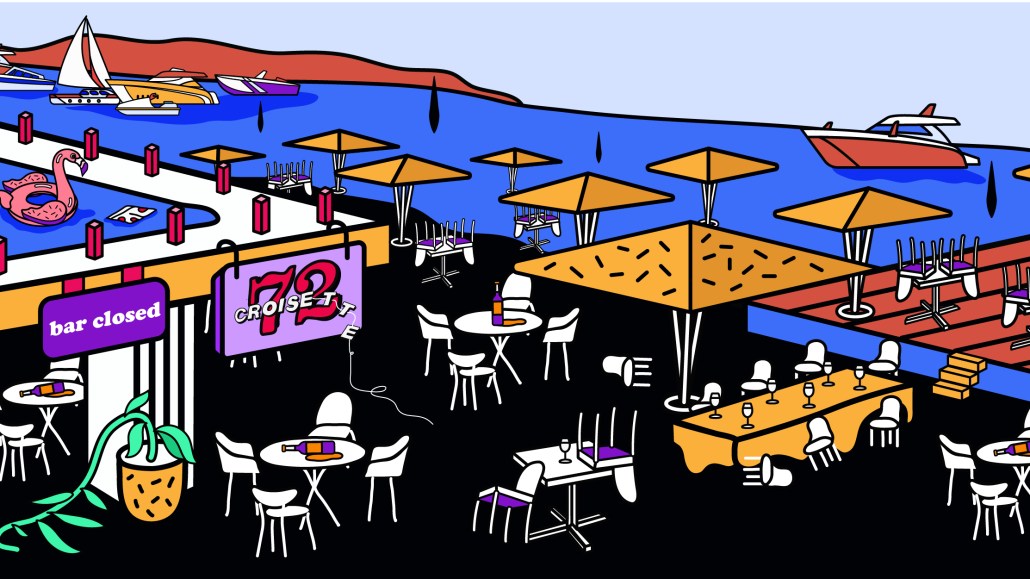 Ivy Liu
This is part of a special package from Digiday about what comes next, looking to the other side of the current crisis to explore the lasting changes that are coming about.

Asked to recall a single moment that perfectly encapsulates the Cannes Lions International Festival of Creativity, many industry veterans point towards the MediaLink/iHeart Media VIP bash. Held at the opulent Hotel du Cap-Eden-Roc, the "dinner" is arguably the hottest ticket in town during the weeklong event. Prominent agency execs, CMOs, tech CEOs and celebrities are whisked 30 minutes along the coast to Antibes and treated to intricate canapés, expensive rosé and a sunset performance from an A-list musical guest.

A decade ago, the party was an intimate dinner for senior industry leaders, hosted by industry super-connector Michael Kassan, MediaLink's CEO. In 2010, Robert Pittman became chairman of media and entertainment platforms at Clear Channel and wanted to use Cannes Lions 2012 to position iHeartRadio front of mind with advertisers. As Kassan tells it, Pittman asked whether Clear Channel could partner with MediaLink on the event. Kassan wasn't keen to have logos plastered over his own trade marketing. Pittman emphasized he could offer talent, but still Kassan demurred — guests were attending to network, not watch a concert.

"Well, I was thinking A-list," said Pittman, according to Kassan.

"Humor me, what have you got?" Kassan responded.

"Elton John."

"I said: 'Partner'," Kassan recalls.

Cannes Lions has grown into the advertising industry's totem event. The weeklong June jaunt to the French riviera is the ultimate boondoggle: a sun soaked cocktail of awards, conference sessions, beach-side meetings and late-night partying.

Founded in the 1950s, Cannes Lions initially focused exclusively on celebrating the creative side of the advertising. Over time, media agencies got wind of the festivities and started attending too. It expanded further when marketers hopped aboard.

Jim Stengel, the former CMO of Procter & Gamble, first took a contingent from the consumer goods giant in 2003.

"It changed the festival forever," Stengel said. "I did it at the suggestion of a creative director at Saatchi, to elevate our standards for creativity, and to address our systemic issues that crushed creativity."

Soon after, tech companies like Microsoft, Google and Facebook began planting their flags on the event — hiring huge sections of the beach to host panel sessions, meetings and parties. Later, flush with venture capital money, ad tech companies flooded the harbor with a flotilla of branded yachts.

As the event ballooned, so did the associated costs. Combine the price of a business class flight from JFK, a 5-star hotel stay, delegate badge, a generous expense allowance to wine and dine clients and a delegate badge and a Cannes Lions trip can easily cross the $20,000 mark for a single New York agency executive to attend. That's not to mention the fees to enter awards.
Coronavirus puts the rosé on ice
This year there were no yachts, the rosé was put on ice and rubbing shoulders with anyone — let alone A-listers in the south of France — was strictly prohibited. In light of the coronavirus crisis, Cannes Lions organizers Asciental canceled the 2020 in-person event. In its place was "Lions Live," a slickly-produced virtual event featuring content from the likes of multi-award-winning director Ridley Scott, Pernod Ricard North America CEO Ann Mukherjee and Lego CMO Julia Goldin. The awards ceremony — the part of the event most advertising creatives deem its raison d'être — was also postponed until next year.

Schmooze — seen as integral to dealmaking and recruitment in the media and marketing industries and core to tentpole events like Cannes Lions — is largely on hold this year. There are unanswered questions around whether it will return in the same way — and if it really was necessary to do business after all.

Industry veterans said the key qualities of events like Cannes are their efficiency and serendipity — there's a good chance you might bump into everyone you need to meet for the entire fiscal year while strolling along the Croisette. At Cannes 2019, FCB chief executive Carter Murray said he had around 45 meetings in the diary — many of which were held on the yacht the ad agency hires each year for the festival — plus 10-15 "informal" meetings with clients, journalists and employees.

While professionals around the world have learned to replace in-person meetings with Zoom calls, drumming up new business is trickier without the in-person element.

"It's probably harder to create new projects, new relationships and new deals — whereas if you know people, it doesn't matter. You've already met, broken bread, had a drink, socialized," said Terence Kawaja, CEO of investment bank Luma Partners. Plus, at Cannes, prospects are in a more relaxed mood. "It's in the south of France, [they're] wearing shorts or linen, or holding rosé on a yacht … context does matter when it comes to dealmaking."

Most of the veterans interviewed for this piece are hopeful that Cannes will eventually return as normal– vaccine and safety permitting. But many of those executives also said this year's break could offer a chance for a much-needed reset. The coronavirus crisis has heaped financial pressure on many agencies and media owners, forcing CFOs to drastically scrutinize ancilatory expenditures without a demonstrable return on investment. Advertising holding companies had already heaped pressure on Cannes Lions in 2017 to make the event shorter and to reduce the cost to attend and enter awards. Ascential responded with a streamlined "reset" of the festival the following year — and organizers may feel there's little fat left to cut.
Time to hit reset?
More recently, the huge worldwide conversation about racial injustice following the killing of George Floyd has sparked a great deal of soul-searching in the advertising and media industries about racism, diversity and inclusion within their own ranks. To some in the ad industry, Cannes seems like a relic of a bygone era.

"From the outside looking in, if the cast of 'Mad Men' had a summit you would hold it in the south France, with a bottle of liquor … a few boats with your people, pull in some Hollywood people you might have seen at the Vanity Fair Oscars party … to sit on a panel," said Bennett D. Bennett, principal at Aerialist and founder of 600 & Rising, a new non-profit that is working to advocate for Black agency employees.

Bennett pressed on the need for Cannes Lions to pledge to no tolerance for any form of racism or microaggressions at future events and to diversify its judging panels, potentially including activists — especially as some of next year's work is likely to focus on social justice issues.

Amy Kean, brand and innovation director, partner at &us and a former ad agency staffer, hasn't attended Cannes but is staunchly against what it represents.

"My biggest thing is the classism in our industry and this really archaic view that a decadent lifestyle should represent the advertising industry … Cannes for me doesn't represent in any way a fair and equal industry that listens and has humility," Kean said. "The more everyone talks about having brands with a purpose, saving the world, saving the environment … the more it feels inappropriate."

Marla Kaplowitz, CEO of ad agency trade association the 4A's, is hopeful next year there will be less emphasis on the "yacht culture" and "more on the learning, creativity and really doubling down on the diversity and inclusion aspect." She added, "You can't just keep looking at senior people, it's going to be more inclusive in terms of the people that get to experience it," Kaplowitz said.

Next year's event will likely offer a blend of physical and digital content, according to Simon Cook, managing director of Cannes Lions. "I think that democratizes the experience and potentially allows us to extend it," he said.

This year's forced switch to virtual events has leveled the playing field for events organizers around the world. In-demand VIP speakers are suddenly available when they don't have to take a transatlantic flight, which pits huge festivals like Cannes Lions in direct competition with company webinars.

"A lot of companies think about the 'what' — a festival of creativity — and 'how' we executive. People need to spend more time right now on the 'why' … the purpose, the value proposition," said Shelley Zalis, CEO of The Female Quotient, the official Lions Live equality partner.

Both Cannes Lions' Cook and FCB's Murray noted that following the last financial downturn, 2009's Cannes was much more focused on creativity aspect versus the boondoggle. They predict the same thing will happen again when the event returns in its physical form.

But don't write off the art of the schmooze just yet. Experts predict there will be pent up demand for the return of major events among a legion of Zoom fatigued advertising and agency staffers, pining for the razzle dazzle of one of the major perks of the job.

"2022 for something like Cannes could be cracking if the market is starting to come back," said Bruce Daisley, Twitter's former vp EMEA and now a writer and consultant on better ways of working. "People will be like the last days of Rome: 'We're here again! It's a carnival!"
Update: A previous version of this article incorrectly identified Cannes Lions' Simon Cook as Simon Thomas.

https://digiday.com/?p=372249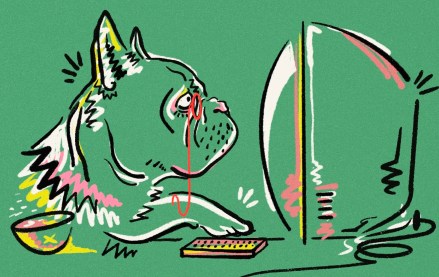 October 2, 2023 • 7 min read
•
•
When it comes to agencies, both of Meta's older sibling social media platforms may be past their primes.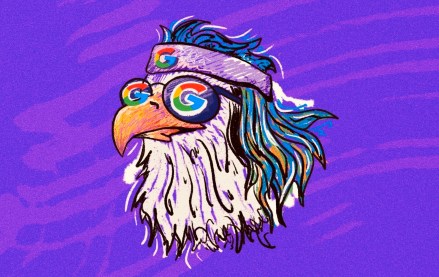 October 2, 2023 • 3 min read
•
•
The legal battle sees Apple and Google et al attempt to conceal their inner workings, developments that mirror the experience of their media customers.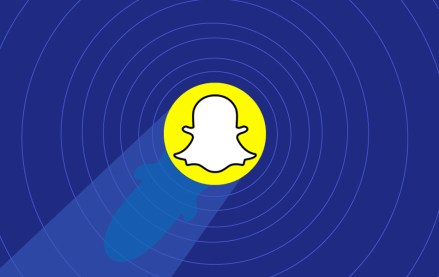 September 29, 2023 • 3 min read
•
•
"We are not diminishing the importance of AR," he said. "In fact, we are strategically reallocating resources to strengthen our endeavors in AR advertising and to elevate the fundamental AR experiences provided to Snapchat users."