'The biggest theme is uncertainty': How coronavirus has changed the wedding industry
July 15, 2020 • 7 min read
•
•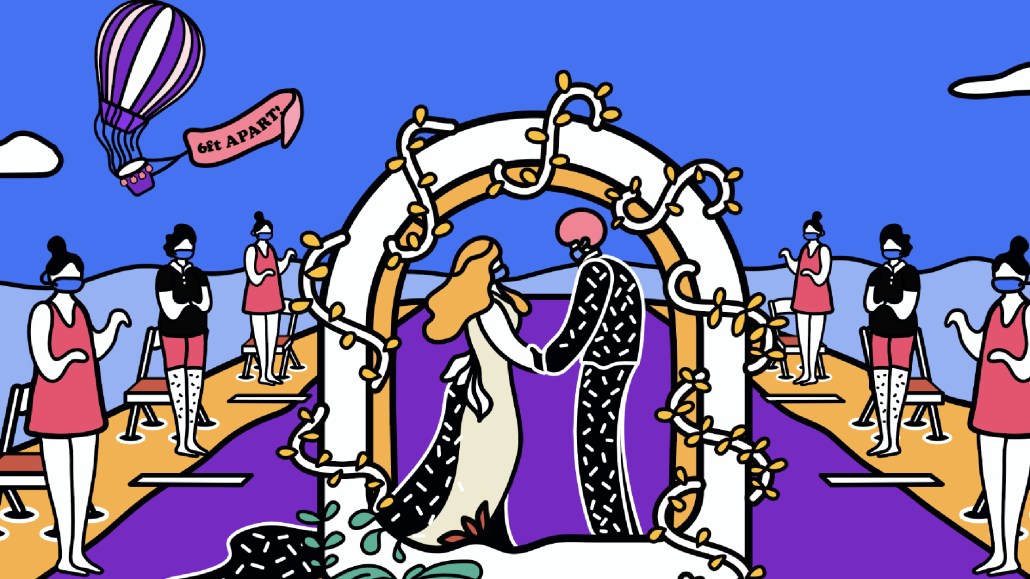 Ivy Liu
This is part of a special package from Digiday about what comes next, looking to the other side of the current crisis to explore the lasting changes that are coming about.
Mike Bennett and Michele Kraus were planning to get married this fall on October 3rd in front of 300 guests before the coronavirus pandemic hit the U.S. Instead, the Portland, Oregon-based couple is now getting married on August 1st in front of just 12 of their closest friends and family.
"It wasn't an easy choice to make," said Bennett. "We had already invested so much money and we didn't get a lot of our deposits back. But we pivoted, hard."
On the big day, an open air trolley will pick up Bennett and Kraus in front of their house and take them to an outdoor garden space where they will have their ceremony. From there, the trolley will take the couple to surprise locations that are meaningful to their relationship.
Bennett and Kraus are among the hundreds of thousands of couples who planned to get married in 2020 — The Knot estimates that between March and August of this year one million weddings were scheduled — who've had to reconfigure every facet of their nuptials. In doing so, they were able to make their wedding even more personalized than originally planned and that's one trend industry experts expect to stick around long past the pandemic.
"Couples want their weddings to be a reflection of who they are and they want to amplify the experience for their guests," said Jeffra Trumpower, senior creative director at WeddingWire.
"Thinking outside of the box may not be a new concept for vendors and couples, but we're definitely going to have to see that amplified to make it work in a time when your wedding might not be exactly what you think."
Over the last five months, couples and wedding vendors alike have set up new ways of working together to plan weddings that will likely continue, such as virtual consultations or at-home cake tastings, according to industry experts. The same can be said for the ceremony. For attendees, unable to travel in for the big day, watching over Zoom, will likely continue long past the pandemic. Some expect "minimonys," a term coined by wedding planning website The Knot for a small ceremony with up to 10 to 15 attendees, according to The Knot's editor in chief Kristen Maxwell Cooper, followed by a larger reception will continue, too.
"Even prior to Covid-19, there were people who did smaller ceremonies with families and then bigger receptions," said Maxwell Cooper, adding that this moment is making the trend even more popular.
Emily Forrest, director of communications for wedding registry start-up Zola echoed that sentiment. "For a lot of couples, the opportunity to have a ceremony with just the people you are closest to and then at a later date have a reception of your dreams is quite enticing, regardless of the pandemic," said Forrest. "This is almost making it OK to do that."
Couples will decide the future
The future of the wedding industry depends on the couples, according to vendors and industry observers, as those plunking down over $30,000 (The Knot's latest Real Weddings study found that on average couples spent $33,900 on the engagement ring, ceremony and reception in 2019) will dictate when weddings return to pre-coronavirus levels, what those weddings will look like and how much they will spend going forward.
That said, many don't believe the negative impact on the wedding industry will be long lasting as couples will likely want to celebrate en masse once coronavirus is contained. That means wedding budgets will likely remain high, per industry experts. That seems to be the case so far as 95% of U.S. couples surveyed this past May by WeddingWire are not planning on reducing their overall budget for weddings.
Some believe weddings will return in the fall while others expect 2021 to be a huge year for the industry as many couples have postponed. In June, Zola polled 500 engaged couples in its Facebook Community who had planned weddings for June, July and August. Of those, 76% are still getting married in some way on their original date, that's up from to the 30% with spring weddings who did the same, per Forrest.
A majority of the other couples, 22%, said they had made the decision to postpone entirely, while 2% said they are still waiting to decide. Of the 76% still getting married, "30% are having an intimate wedding now and hosting a larger reception later on, 27% are keeping their big day 'exactly' as planned (exactly in quotes because it is exact in so much as their venues will allow for, which varies by city / state) and 11% are going to be reducing their headcount by uninviting some guests."
Another change that experts believe will stay is the focus on health and safety at weddings. "In the past, it's been assumed," said Maxwell Cooper. "Now, let's make sure we're talking about this. We'll see a return to more plated dinners. Most couples will forego buffets. It's perceived as more sanitary to have a plated dinner. Hand sanitizer will be there either in creative ways, maybe in a welcome bag or on a silver platter that a member of the wait staff is carrying around. That's the biggest thing we'll see stick."
For vendors, uncertainty remains
For the photographers, caterers, hair stylists, florists and make up artists, among other vendors, there's an overwhelming sense of uncertainty for what the future holds when it comes to weddings that can be difficult to grapple with.
This year is a "wash" for Newport, Rhode Island-based makeup artist Allison Barbera who runs a company of 18 makeup artists. "Our revenue right now is down 60% compared to last year," said Barbera, adding that 2020 was expected to be a huge year for vendors as couples tend to like to marry on even years and that the start of a decade is also typically more popular. "Every vendor I know had projected it to be huge."
"There's definitely a concern that things will be different going forward," said Barbera. "Will people have smaller weddings now? Will they elope instead of having weddings? The biggest theme is uncertainty."
"Many couples don't want to spend tens of thousands to have their guests spread far apart and wearing masks, with no hugs and no dance floors, said Coli Michael, a wedding photographer who runs The Rhode Island Coalition of Wedding Vendors Facebook group. "It's impersonal."
Michael continued: "In addition, most couples want to celebrate with their older family members, and a wedding with 150+ guests is going to be risky for elderly family members, at least for some time."
Futurist Faith Popcorn also believes that the traditional wedding will be "less important" going forward. "When people postpone the celebration after already being married in a 'minimony,' it's almost like, 'Why bother?' with the big celebration later," said Popcorn. "The profile of weddings will change. Also, even without a pandemic with a recession, will you put down $35,000 for a wedding? I don't think so."
Still, there are already signs that love will ultimately triumph and that the industry will bounce back bigger than ever next year. Some anticipate more couples will start to get engaged soon (as some planned for the typical engagement season, which ends in February, were likely postponed due to coronavirus). Others are hearing from new couples for plans for next year.
"We're still booking new weddings for 2021," said Barbera. "That shows us that couples are still planning so that tells me that there will hopefully be a season next year. The couples are really what dictates it."
https://digiday.com/?p=372199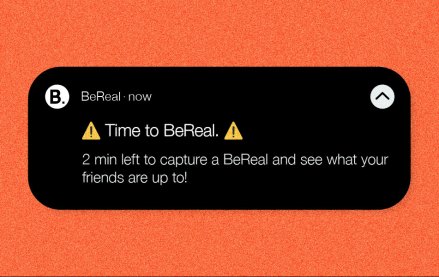 October 4, 2023 • 4 min read
•
•
BeReal launches its first global campaign, hoping to drum up buzz with users. Now, marketers are reconsidering the app.
October 4, 2023 • 7 min read
•
•
There are still those who believe that AR has a place in the marketing funnel, however big or small right now.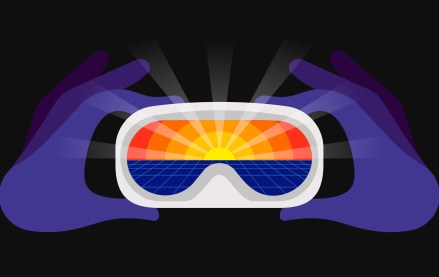 October 4, 2023 • 3 min read
•
•
With Pokémon Go revenues falling year-over-year, Niantic, its developer, is looking beyond its popular augmented reality game to generate profits.