Tequila sunrise: Inside Patron's renaissance
September 7, 2016 • 6 min read
• By
Digiday
This article is from Pulse, Digiday's quarterly print magazine about the modernization of media. This is a peek at the third issue, which focuses on the current state and future potential of video. To receive the full 80-page issue and subscribe to a year of Pulse, visit pulse.digiday.com.
When Philip Ward, Ravi deRossi and Justin Shapiro opened their specialty tequila bar Mayahuel in New York's East Village in 2009, tequila was the ugly step-sibling to whiskey and bourbon. Synonymous with margaritas at best and hangover-inducing shots at worst, the spirit was far removed from the craft cocktail renaissance that was just beginning to take off.
"Most people would get flashbacks of their 15-year-old selves drinking bottles of Cuervo and getting the most insane hangovers when they heard of tequila," says Shapiro. "They couldn't tell the good ones apart from the bad ones, since most had only ever been familiar with the cheap, 'mixto' variety."
Today, tequila has successfully shunned its lick-shoot-suck frat-boy image. Evolving consumer palettes and a shift toward more premium, 100 percent agave varieties have put tequila on a sustained upswing, with total tequila volumes increasing by 4.5 percent to nearly 14.7 million cases in 2015, according to the Shanken News Daily's Impact Databank. But significant marketing pushes have also helped tequila reinvent itself.
Leading that charge is Patrón. The brand controls a lion's share — 70 percent — of tequila's luxury segment, and has been at the forefront of the spirit's image makeover. In recent years, the brand has responded to increased competition in the category from brands like Pernod Ricard's Avión and Diageo's Don Julio by investing in new product lines and emphasizing "substance over style" in its marketing.
"We relied heavily on our swagger and our market share for the longest time," says Lee Applbaum, Patrón's CMO. "But macro trends necessitated that we shifted the focus on our story and process much more."
Fratty beginnings
First launched in 1989 by hairdressing tycoon John Paul DeJoria, the $45-a-bottle Patrón is credited with being the industry's first "premium" tequila. But it didn't get mainstream attention until the early 2000s, when nightclub and bottle service culture began to take off and the brand saw itself namechecked in hundreds of rap and hip-hop songs of the decade, including the massive 2009 hit "Patrón Tequila" by The Paradiso Girls, Lil John and Eve.
"Patrón's initial marketing strategy took a page out of Grey Goose and Sidney Frank's playbook, aligning the brand with fancy events, nightclubs and celebrities," says Noah Rothbaum, senior editor of food and drink at The Daily Beast. "That strategy and its iconic bottle undoubtedly created a huge buzz for the brand."
It certainly attracted a legion of new fans: Its sales jumped from 70,000 cases a year in 2000 to nearly 2 million cases in 2010. "For the first 20 years of the brand, our messaging and positioning was indeed built on the foundation of pop culture," says Applbaum. "I am unapologetic for that. Aspiration is critical when you're trying to build a luxury brand."
But by the turn of the decade, Patrón's party persona had become a liability. It was around this time that a new generation of craft cocktail-oriented consumers with an affinity for artisanal and handcrafted spirits was emerging, and distillers, mixologists and bartenders were becoming celebrities in their own right.
"We had our equity with the bros, but we had to play catch up with other sections of the audience," says Applbaum. "We had to start catering to the 'knows,' those who didn't care about the style and the swagger and were more interested in the product quality."
Patrón's pivot
Patrón may have become better known for its hand-blown glass bottles and cork stoppers, but it's more than just a fancy bottle. The brand decided to play up the fact that its tequila is a product of the tahona process, in which a giant stone wheel made of volcanic rock slowly crushes the agave plant to release its fiber and juice, before they are fermented in wooden casks and distilled in small-capacity, handmade copper pot stills.
Realizing that consumers today are eager for transparency and authenticity, Patrón has been leaning much more on its heritage to appeal to a growing pool of tequila aficionados. "The tahona process had been a part of Patrón for ages, but both our products and storytelling had to reflect that," says Applbaum.
On the product front, it launched the Roca Patrón in 2014, a line of high-end artisanal tequilas. On social, it has turned the focus of its messaging to mixology, the art of crafting cocktails and its brand story — including its roots and production process in a campaign called "Art of Patrón." One such video in the series, for example, highlighted the story behind how the cork in each Patrón bottle is handcrafted, netting more than 368,000 views.
Last summer, Patrón even launched "The Art of Patrón Virtual Reality Experience," which let consumers take a virtual tour of its distillery, the Hacienda Patrón in Jalisco. Combining Oculus Rift technology with drone-recorded and live-action video, the brand took viewers through its production process, from the point of view of a bee as it flew through the hacienda. It also launched a program called "Know Your NOM," which lets fans find out where a particular tequila is made by entering the "NOM," a unique identifier found on tequila bottles that identifies the distillery where it was made.
Patrón has also been doing its bit to make tequila more palatable to everyone, including pushing cocktail recipes out on platforms like Amazon's smart speaker Echo. Users can ask Echo's Alexa Voice Service for anything, from trending cocktails to facts about tequila, thanks to "Patrón Cocktail Lab," an interactive cocktail recommendation system. They can also save drinks to their profiles, print recipe cards, watch how-to videos and follow favorite bartenders.
"We aren't trying to distance ourselves from our previous image, or change who we are," says Applbaum. "We're just trying to make sure our fans know that we're as authentic as any other brand out there."
But not everyone is convinced.
A growing numbers of mixologists are switching out other spirits in favor of the highest-quality tequila brands and making classics like the Manhattan and the Old-Fashioned with tequila instead of whiskey — but not necessarily with Patrón, Avión or Don Julio. Mayahuel carries over 35 tequila-based cocktails, but it doesn't carry Patrón and uses smaller brands like Siembra Azul.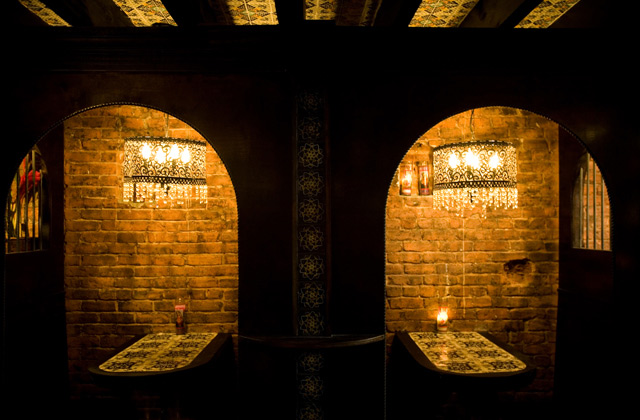 "With these brands, you're not paying for the product inside the bottle, but for the bottle itself," says Shapiro. "The reality is that they're brilliant marketers, not brilliant producers."
Still, according to Erich Joachimsthaler, CEO at brand consulting firm Vivaldi Partners, the pursuit of quality across messaging, product, marketing and distribution has given Patrón the credibility to play in the broader luxury white spirits arena.
"Its unique positioning as a premium, luxury, high price point brand and tangible brand assets like its unique bottle, have created a perception of art, design, luxury, and premiumness that give meaning to 'hand-crafted' or handmade like no other," he says.
If you enjoyed this sneak peek at the video issue of Pulse Magazine, get your yearly subscription here.
https://digiday.com/?p=196480