While most brands stay as far away from anything that even slightly resembles or faintly smells like controversy, Spirit Airlines has repeatedly proven itself a very, very different animal. Let's just say, don't expect to find Anthony Weiner on your next Spirit flight to New York City.
The cheeky airline's latest marketing stunt pokes fun at the most recent political train wreck, everyone's favorite crack smoking Canadian mayor, Rob Ford.  Spirit posted a special promotion today for flights to Toronto, offering last-minute flights for as low as $29.99 for one-way flights to select destinations. However, by Toronto, Spirit means Niagara Falls airport which is about 140 km from Toronto or an hour and a half drive, over two hours with traffic.
The image on the ad features the profile of an overweight man enshrouded in smoke. The tagline: "We're not smoking crack."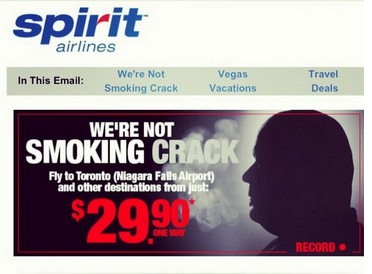 This is the latest in many of Spirit Airlines' edgy promotions. Just after then-New York Rep. Anthony Weiner's sexting scandal came to light in 2011, Spirit announced "The Weiner Sale," with "fares to hard to resist." Then, when Weiner announced he'd be running for New York City mayor earlier this year, Spirit mock movie posters for a fake film called "The Weiner Rises Again" – staring none other than Carlos Danger, Weiner's alter ego.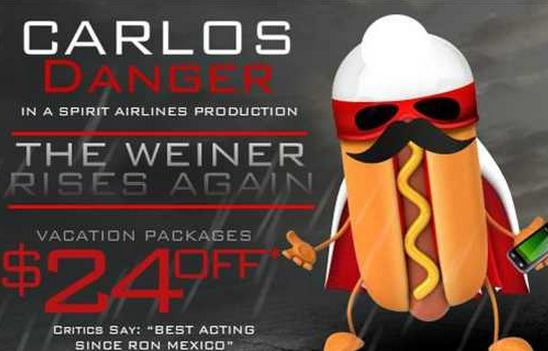 Spirit also ran a special earlier this month poking fun at the bullying incident involving Miami Dolphins guard Richie Incognito, who used racial slurs in reference to former teammate Jonathan Martin. Spirit's response? This ad:
Hopefully Spirit doesn't take it upon itself to do a promotion related to Rob Ford's latest public announcement involving allegations about oral sex. Please no pussy cat jokes. Or anything about eating. Please.
https://digiday.com/?p=56008