Sony Music Kicks Off One Direction Release With Kik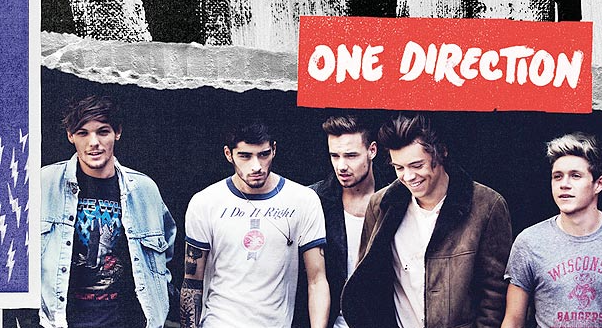 Behold, the power of boyband fans: Sony Music, with the help of IPG Media Lab, has teamed up with Kik for today's launch of a new One Direction album, "Midnight Memories."
Kik, a free phone messenger app and social feed aggregator, includes content only the Kik community can see by accessing a "1D Kik Card," which will open up more in-app One Direction content. In a particularly clever promotional twist, the more content fangirls download, the more One Direction content becomes available. Nothing like getting an incentivized fangirl to do your marketing for free.
"Kik mentioned that 'One Direction' was one of the most discussed things on the app, so we brought that opportunity to Sony Music," said Eytan Oren, director of partnerships at the IPG Media Lab.
The app, which currently has about 95 million users, has also seen a number of downloads resulting from the band's promotion.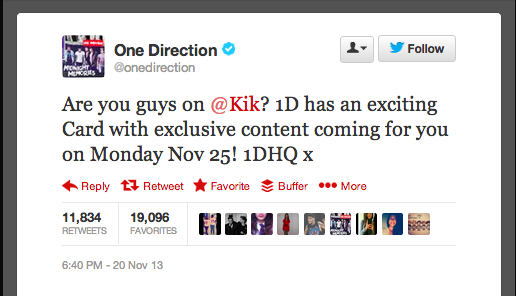 Messaging apps, like Kik, are quite a big deal among teens. As of July 2013, WeChat, a mobile messaging app by Chinese holding company Tencent, had 100 million users outside of China's 300 million users. Snapchat, according to All Things D, is popular among 13 to 25 year olds. And, Whatsapp, a close competitor to Kik popular message app, has more than 300 million users, a large portion of which are teenagers as well.
"A massive audience is something we couldn't overlook," said David Rosenberg, managing partner of the IPG Media Lab. "Just looking where audiences are amassing tomorrow, the Kik platform is a very active thing. You can't be a professional and ignore where emerging channels are focused."