Scotland opts for independence — on social media, at least
September 18, 2014 • 3 min read
•
•
The countdown is on for the historic referendum that will ask Scotland's 5 million citizens whether they would prefer to leave the United Kingdom and go it alone as an independent country. Most polling shows the vote will be incredibly close — but not so in social media.
Statistics released by Facebook show the site has been abuzz with chatter about the upcoming vote. Over a period of five weeks there have been over 10 million mentions of the referendum, with 85 percent of those originating from Scotland. While the site saw 2.05 million interactions around the Yes campaign and 1.96 around the Better Together campaign, the phrases "Vote Yes" were used more than twice as often as "Vote No" during the period. The Yes campaign's social channels have grown far faster than its competition.
On Twitter, Yes has made up between 22 and 29 percent of the conversations (compared to between 7 and 8 percent for the No campaign). #YesScotland and #VoteYes had 369,149 mentions versus 115,847 for #NoThanks and #BetterTogether, according to London shop We Are Social.
The official Facebook page for the Yes campaign, ahead by a wide margin, has grown at a faster rate. The Yes campaign has 258,000 likes and has grown at a rate of 27 percent, versus the No campaign's 182,000, which has grown by 17 percent in the same period.
This analysis from Dr. Mark Shepherd of Strathclyde University shows the full extent of the Yes campaign's advantage on social.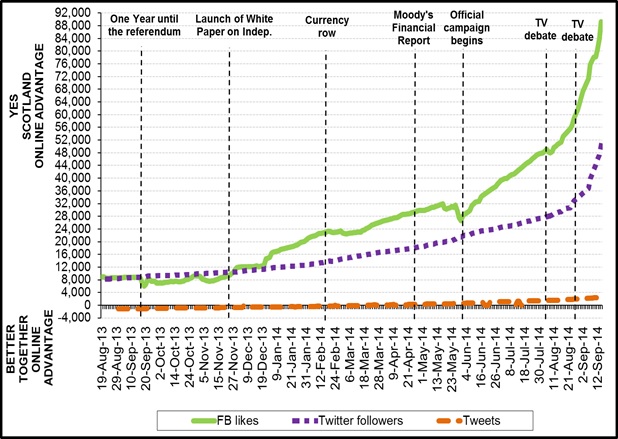 None of this guarantees that come Friday evening Scotland will opt for independence. Social media is becoming much better at being a broadly representative sample of the population, but it's not yet a perfect representation of society as a whole. Look no further than The Atlantic's explanation of why Twitter can't predict elections, which highlighted research that identified the phenomenon of the silent majority versus the vocal minority online.
The strength of the pro-independence sentiment online is more a reflection of the solid marketing campaign it has run compared to the other camp. It is also a testament to how passion and emotion reverberate in social media.
Like most brands, the Yes campaign has focused heavily on Facebook. "You put something on Twitter and you reach people within the political bubble," one Yes campaign strategist told Sky News. "With Facebook, you tap into a far bigger community."
Neil Christie, managing director of Wieden + Kennedy London, has given the Yes campaign victory in the battle of the ad campaigns. He described the No campaign's blunder in producing an ad later dubbed "Patronising BT Woman" as "Frankenstein's monster cobbled together from spare parts of strategy and research group comments."
Those in favor of leaving the U.K. are also more likely to feel passionate about the cause compared to those who seeing staying as the most practical course. Preriit Souda, senior analyst at TNS Global, found Yes voters three times as likely to comment in online discussions than No voters. According to Chris Applegate, senior creative technologist at We Are Social, the Yes campaign has had an easier task because there are simply more opportunities to challenge the status quo than to maintain it in a social media setting.
While all will be revealed later today, The Spectator's assistant editor Isabel Hardman best sums up the question of whether the Yes campaign can convert this advantage. "Will the noise [Yes campaigners] create encourage onlookers to think that independence is the right thing to do?" she asked. "Or will they fall at the final hurdle because they've all been talking to one another rather than voters who really could swing the result?"
https://digiday.com/?p=88254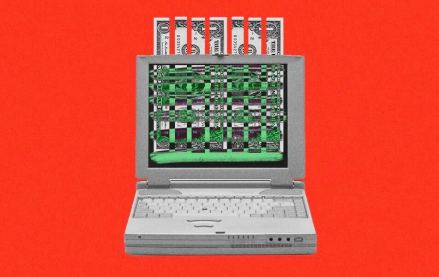 December 5, 2023 • 5 min read
Agency clients still see programmatic as an important part of their marketing budgets. But, overall, the uncertainty around programmatic could be causing them to lose confidence in online display ads as a marketing channel, and, as a result, agency clients are investing less in online display.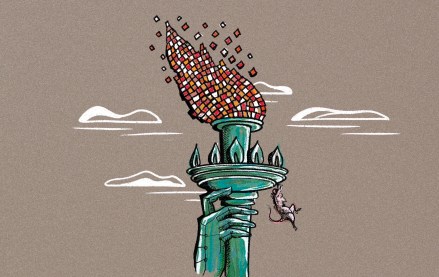 December 5, 2023 • 3 min read
There's a global AI race and different regulations in different countries might be slowing down – or speeding up – innovation. Here is a breakout of how regulations are being shaped on both sides of the Atlantic.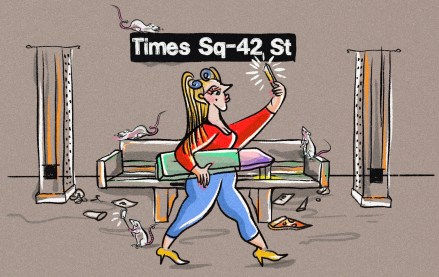 December 5, 2023 • 6 min read
Virality may mean something is simply viral within that niche rather than hitting a level like the Ice Bucket Challenge.