Snapchat's pitch to small brands and businesses: Self-serve sponsored geofilters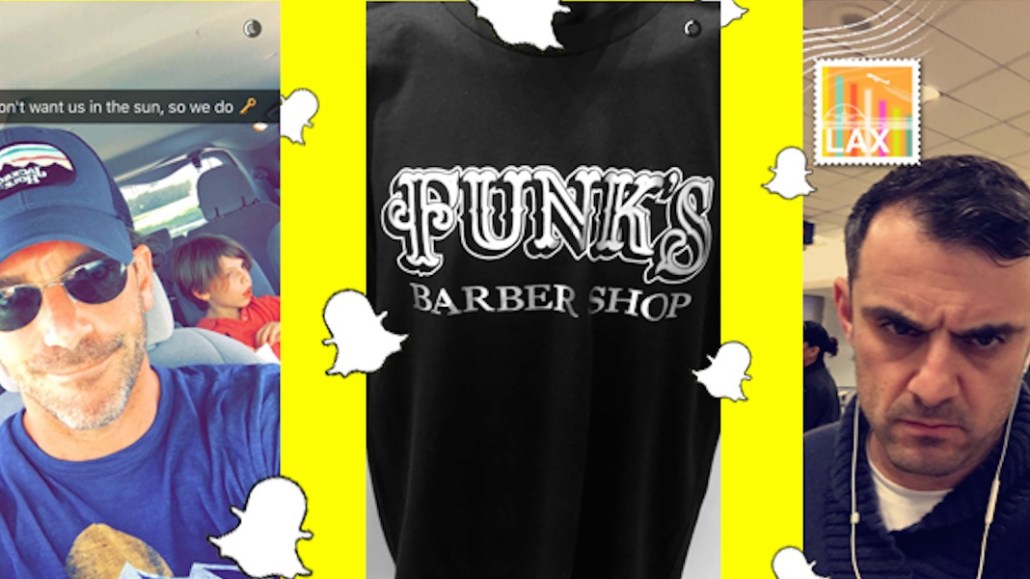 Initially focused on courting advertising bigwigs like Gatorade and Taco Bell for sponsored lenses and video ads, newly public Snap has now turned its attention to smaller brands and businesses.
Snapchat's parent company has been actively pitching on-demand geofilters to brands, as first reported by Mashable and confirmed by multiple ad agency executives interviewed for this story. "It's fairly obvious to me how they've changed their approach," said one agency executive, who did not wish to be named. "In the first era of Snapchat advertising, they wanted to compete with TV and sought broadcast equivalent ad spends, whereas now, they are moving toward scalable ad products like on-demand sponsored geofilters."
Geofilters, for the snap unsavvy, are artistic designs that users can choose to overlay over photos and videos on the app, and brands too can run their sponsored geofilters in targeted geolocations.
For many executives, the timing is key. This is an important time for Snap as it seeks to justify its $20 billion-plus valuation barely a month after going public. It must not only attract a growing roster of advertisers and advertising dollars, but also prove itself a viable alternative to competitors like Instagram, which have quite the footing with small and mid-tier brands and businesses as far as advertising goes.
"They've realized, particularly now, what a large opportunity and a hole in their current model this is," said Brian Cristiano, CEO at Bold Worldwide. "So far they'd only focused on big brands with large six, seven figure budgets, and were leaving a lot at the table when it came to smaller brands and businesses that could not afford to fork out as much and were turning to other platforms."
All of the major players have been investing heavily in scalable, turnkey advertising solutions, specifically for small business customers, said Tom Buontempo, president at Attention, KBS's social media arm. "The market is huge, and the technology allows for scalable (and thus profitable) advertising revenue growth," he said.
Snapchat's push comes on the heels of the company launching a new self-serve platform for sponsored geofilters in late December, which allows brands and businesses to purchase long-running geofilters over their selected areas by making an annual commitment. Geofilters are Snapchat's lower-cost ad product, as opposed to sponsored lenses and video ads, which can run into several thousands of dollars.
The self-serve geofilter platform gives brands more flexibility to manually choose where the filters run and also play around with the creative. A brand could run a seasonal or a promotional geofilter at different times of the year, for example, and also A/B test to see which filters perform better than others. It also lets brands set their own payment schedules and gives them access metrics such as the number of views and uses of the filters. Brands including Barry's Bootcamp, Blink Fitness, Brooklyn Bowl, United Center stadium in Chicago and the Tao Group have used the self-serve platform so far.
"Because of its large buy-in, Snapchat has not been an option for many of our clients until recently," said Amber Baumer, media manager at Blue Fountain Media. "But the annual sponsored geofilters justify the spend. Our clients have been able to get really cheap deals and get their brands in front of an audience for affordable prices."
The geofilters are not just a win for small businesses and brands but also for Snap itself, said Attention's Buontempo. "With the self-serve option, you have lesser-managed service, which means internal staff costs are much lower as you scale up," he said.
However, just because the option of sponsored geofilters is more accessible and cheap, it doesn't mean that it's the right option for all kinds of small brands and businesses, said Bold's Cristiano. Not everyone has in-house staff with social and creative chops, he said, so one of the first challenges is creating interesting or creative enough geofilters that somebody wants to put it on their story in the first place. And, he asked, even if it is engaging and creative, how much is it really helping the brand?
"If you're not Gatorade or Red Bull, no one will remember your logo or name or location, so you're probably not going to end up really helping your business," he said. "As a small brand or business, you need something that actually drives traffic and awareness, and I'm not sure a geofilter is the right way to do that."
https://digiday.com/?p=229860