'This sends a message to premium brands': What Apple's partnership with Amazon means
November 9, 2018 • 4 min read
•
•
Even Apple sometimes needs to concede. Apple will start selling a selection of its products directly on Amazon's site ahead of the holiday season.
Amazon announced Friday that in the coming weeks, customers in the U.S., U.K., France, Germany, Italy, Spain, Japan and India will start to see the latest versions of the iPad, iPhone and Apple Watch and Beats headphones selling on the site, with Apple as the verified seller. To protect sales of Amazon's Echo devices, Apple's HomePod devices won't be included in the selection.
Already, Amazon is a certified seller of refurbished Apple products, meaning customers can buy used Macs and iPhones on the site. But Amazon shoppers up until now had to wade through a sea of third-party sellers on Amazon in the hopes of finding authentic, new Apple products, and counterfeits and knockoffs are rampant.
Now, Apple will get in front of Amazon's loyal customer base — including its more than 100 million Prime members — while Amazon gets first-party access to Apple's high-end, covetable electronics, an area it's already saturated in more accessible categories like speakers, cables, e-readers and headphones.
"Apple's killing two birds with one stone. It struggles to control third-party vendors, so this will help rein that in. And they're better positioning themselves from a global consumer standpoint," said Oweise Khazi, associate director at Gartner L2. "For Amazon, it helps extend its reach into pricier, more sought-after electronics." The biggest loser in this deal is probably Best Buy, Khazi added, which can no longer say, 'We sell the Apple products that Amazon doesn't.'
Big-name consumer brands caving in and signing a deal with Amazon, which is notorious for not playing nice with brand partners, typically sends a shudder through the industry. If Apple needs Amazon, who doesn't? Last year, Nike made a similarly eye-popping announcement that it would begin selling directly on Amazon's site in an effort to quash third-party sellers, which for Nike, the number is in the tens of thousands on Amazon, according to Gartner L2 research.
But that partnership failed to do much in Nike's favor. Despite Nike's presence, Amazon's algorithms staunchly favored well-reviewed and highly trafficked Nike products, which came from long-standing third-party vendors. Now, Nike has switched gears, signing a new e-commerce partnership with the more urban-minded Jet.com, and pulling back on the product assortment it puts up on Amazon.
The Nike partnership sent an industry warning: It's not enough to simply establish first-part selling on the site — you have to do more to win Amazon, and Amazon's customers, over. Nike, which has been pushing to drive more sales to its direct channels, didn't send its newest or best-selling products to Amazon. Apple, instead, will sell its latest product versions on Amazon. In return, Amazon won't mess with Apple's pricing, said Khazi. It also is on the hook to do more to limit counterfeit products on the site, which Amazon has promised to crack down on. By the end of the year, all sellers peddling Apple products on Amazon will have to submit their products for approval by Apple in order to continue business, according to the terms of the deal.
"Apple opening up to Amazon points to Amazon playing nicer," said Khazi. "Meanwhile, brands are coming to terms with Amazon's power and search visibility on the site. This partnership should play out better than Nike's, but we'll have to keep a close eye on Amazon."
It could be a sign of Amazon turning a new leaf when it comes to brand partnerships. Amazon, in its latest earnings quarter, showed that its core retail business is relatively flat — meaning to drive sales, it needs to make more money off of its existing customers or extend to new areas of business. Winning over a brand partner in Apple is a good bet to drive business, especially with the holidays coming up.
"This sends a message to premium brands that are holding out: Be smart; meet your customer where they are. Don't presume you will be able to keep them coming back in your retail door," said Fred Killingsworth, CEO of Hinge Consulting, an agency specializing in helping sellers grow their Amazon business. "Amazon has principles similar to Apple to deliver the best experience."
And when it comes to the fear that Amazon now has full leverage to feast on Apple's data, the reality is that Amazon can already watch and respond to customer data around Apple-related search terms and third-party Apple product purchases.
"Brands feel like they're holding onto their data by not engaging with Amazon, but Amazon already has data about Apple shoppers through search queries," said Eric Heller, the CEO of Marketplace Ignition, an operational marketing consultancy specializing in Amazon. "Now Apple can get some of that data and that exposure. If you ignore Amazon instead, it's like ignoring your backyard and then acting surprised when it's all overgrown and gone to seed. The same thing is true with Amazon — engaging is the right way to build a strong brand where millions of people will be seeing it."
https://digiday.com/?p=311576
October 4, 2023 • 7 min read
•
•
There are still those who believe that AR has a place in the marketing funnel, however big or small right now.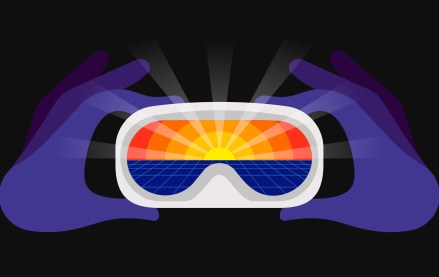 October 4, 2023 • 3 min read
•
•
With Pokémon Go revenues falling year-over-year, Niantic, its developer, is looking beyond its popular augmented reality game to generate profits.
October 3, 2023 • 2 min read
•
•
In episode four of the "Is This The Metaverse?" narrative podcast, Glossy international fashion reporter Zofia Zwiegliska spotlights the brand opportunity when it comes to fashion in the metaverse.