Why Ruffles moved its entire ad budget to digital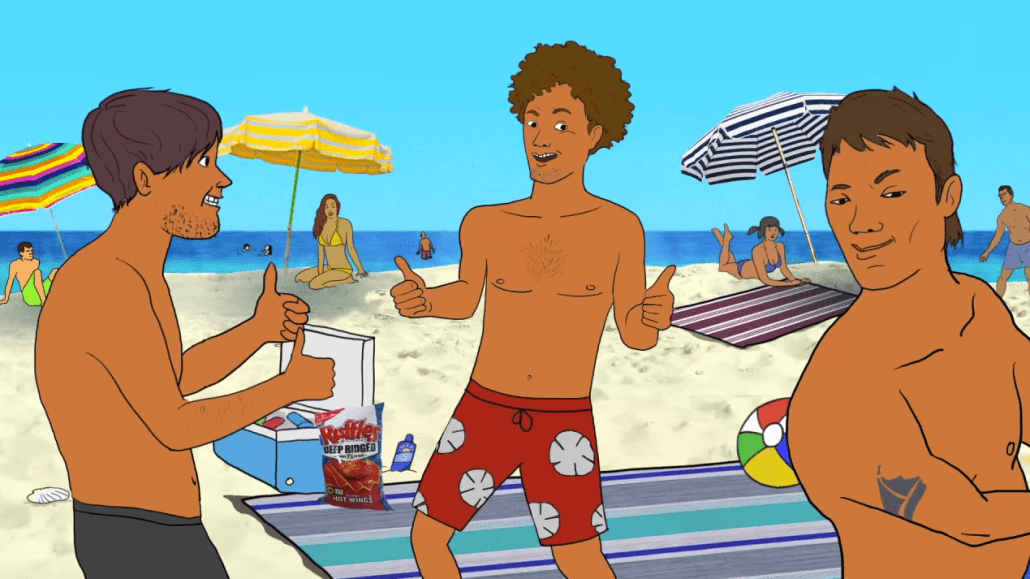 Many brands talk about being digital-first, but Ruffles lives it.
PepsiCo potato chip brand Ruffles went from in 2013 spending nearly two-thirds of its advertising budget on television and 29 percent on digital, to spending nearly 100 percent of it on digital. (A small portion of Ruffle's budget goes toward its in-store displays.)
The impetus for the decision, according to Dana Lawrence, senior director of marketing at Frito Lay, was a desire to experiment with making one of its brands entirely digital. It chose Ruffles after recognizing that its target demo, Millennial males, specifically those around age 25, consume more video on their smartphones than the general populace.
"We're really trying to reach our target, 25-year-old millennial males, in a more relevant way," Lawrence said.
This year, it has already created three video series for its #RoughLife campaign since the second quarter of this year; 15- and 30-second spots that ran during a livestream of the NFL Draft in April, animated videos created in conjunction with Cartoon Network's Adult Swim division and videos created this fall with College Humor that star "Silicon Valley" and "Freaks and Geeks" star Martin Starr.
All of the paid distribution for the videos is done via social media, Facebook, Tumblr, Twitter and YouTube specifically.
Ruffles's bravery has, at least in the short term, been rewarded; its U.S. sales in terms of dollars spent for the past 52 weeks was 8.19 percent higher than in the same period a year ago, according to market research firm IRI.
"Absolutely we were nervous," Lawrence told Digiday. "Anytime you make a significant change, you're always a little nervous about the impact."
The irony is that Ruffles creates even more video now despite spending nothing on television. The brand conducted one TV production in 2013, according to spokesman Chris Kuechenmeister. And while the amount of video production is up, Ruffle's overall ad budget decreased from the year before, a trend reflective of the high price TV advertising still commands.
The Ruffles experiment is an important one for a consumer-packaged goods company like PepsiCo, which owns dozens of similar brands under its Frito-Lay division. Like many CPG brands, its ad spending patterns don't match consumer habits.
For all advertisers, TV accounted for 38 percent of time spent consuming media in the U.S. in 2013, but for 45 percent of advertising spend, according to the Interactive Advertising Bureau. Mobile, where Ruffles is planning to have most of its videos viewed, made up just 4 percent of ad spend that year despite constituting 20 percent of time spent, also per the IAB.
"Online video is usually better because you can verify people actually saw it," said Ian Schafer, CEO of Deep Focus, the creative lead for Ruffles . "Ultimately, I could see a day where you could charge more for online video than for TV, and I don't think that day is too far in the future."
This digital divide has been a pain point for social-focused digital agencies such as Deep Focus and Vaynermedia. Vaynermedia CEO Gary Vaynerchuck has routinely complained that marketers hold digital advertising to an unfairly high level of scrutiny, especially when measuring the effectiveness of a TV campaign is inherently inexact.
This skepticism has impeded brands from moving their budgets to digital and, instead, has kept their money tied to TV. But Vaynerchuk successfully convinced Kraft brand Nilla Wafers to move its entire ad budget to digital, social specifically, last year, and it worked.
Successes like Nilla Wafers and Ruffles could be the case studies that finally convince more mainstream marketers that digital is a more efficient way to spend on media.
Image via Shutterstock
https://digiday.com/?p=97173