How Reebok pulled off the 'Nevertheless, she persisted' T-shirt campaign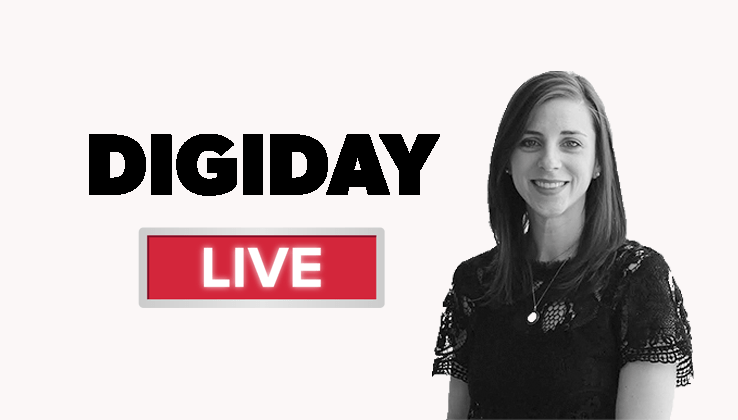 Subscribe: iTunes | Stitcher | RSS
In January 2016, Reebok combined its editorial, public relations and social media team and called it "the newsroom." At the Digiday Content Marketing Summit held Aug. 14-16 in Vail, Colorado, the newsroom's global head of editorial Blair Hammond discussed how the company takes risks in real-time marketing.
"Because the world is what it is today, we also found ourselves dabbling in a little bit of politics," said Hammond. "In 2017, we realized that the atmosphere was different. People were protesting. There's a cultural conversation happening that did not lend itself to people suddenly just trying to think about Reebok and the products we were offering."
Reebok had a chance to weigh in when Senate Majority Leader Mitch McConnell interrupted Elizabeth Warren on the Senate floor. As the incident took the nation and social media by storm, the newsroom put the tagline "Nevertheless, She Persisted" on T-shirts, and the proceeds went to charity. The shirt sold out in six hours.
Edited highlights from Hammond's session on the campaign below:
The challenge of reaching consumers
"We all know how doom and gloom it is to reach a consumer these days. They're streaming, not paying attention to banner ads and a third of millennials say they don't even watch TV. We still use big-name athletes to promote big products at the right time. So there's still the traditional sports marketing happening. We're trying to pull the consumer into our ecosystem versus pushing our advertising at them."
Finding where products and audiences' interests intersect
"On one side, we've got where we care about — our products, athletes and shoes. On the other side is what our audience cares about — things like 'Game of Thrones.' Only where those two things intersect is where the newsroom exists. We don't go too far to the left to produce tech videos to show new shoes. And we don't go too far to the right — we don't have a lot of cat videos because they don't work out."
Connecting through news
"We suddenly started seeing our consumer, who is female first, who we pay attention to. We saw our in here. We want her to persist through her workout, her life. We want her to be more human. What if we made a T-shirt with this phrase on it? And because selling the T-shirt would be too self-serving, what if we did that and donated all the proceeds? So, we did."
Marketing in real time
"Real-time marketing is great. If you miss the time, it's worthless. We asked our designer to do it [come up with T-shirt designs] by the next day, but this story happens in Boston and offices were closed the next day because of snow. Selling the idea internally suddenly became hundreds of emails. We narrowed it down to a couple of key stakeholders and came up with the final idea. The T-shirt was sold out in six hours. Talk about the huge retargeting opportunity."
The importance of controlling the message
"We were only able to do this because we had a whole host of content all around the T-shirt that allowed us a 100 percent message control. All of our social feeds pointed back to a blog post that told our story in full — why we were donating, who we were donating to, and we included a statement from our vp who had marched on Washington earlier that year. And consumers reacted exactly how we wanted them to. When consumers are coming to your site, engaging with your brand, it still has to look and feel legitimate."
https://digiday.com/?p=250621